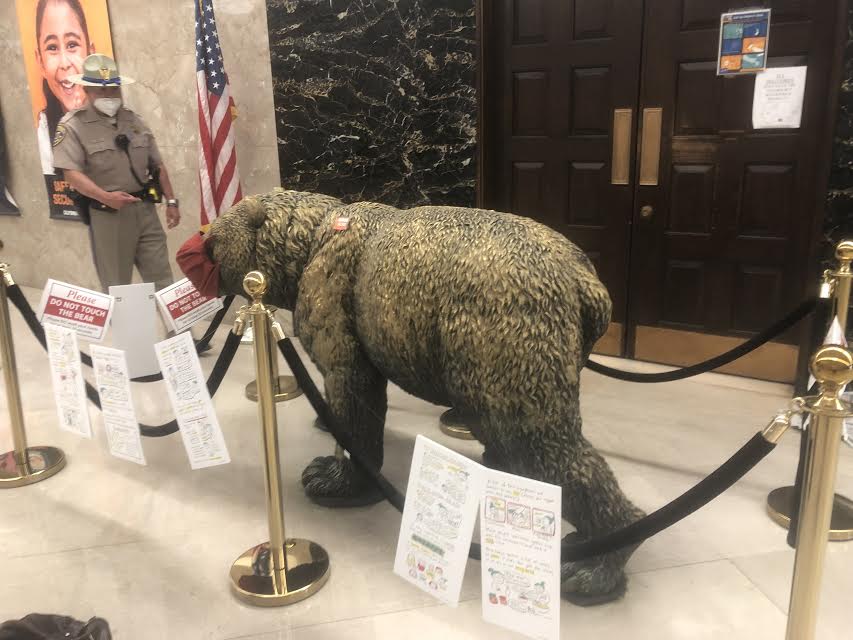 Governor's Golden Bear Statue Will Make the Temporary Move While Capitol is Renovated
'Bacteria Bear' was purchased by Gov. Arnold Schwarzenegger at an auction for $20,000 in 2009
By Katy Grimes, November 20, 2021 2:30 am
California Gov. Gavin Newsom announced Friday that the bronze bear statue in front of the Governor's Office, jokingly known before COVID as "bacteria bear," was relocated to the reception area of the new, temporary Governor's Office in the swing space.
The gigantic bronze Golden Bear statue has been holding court at the front entrance to the Governor's Office in the State Capitol since it was purchased by Governor Arnold Schwarzenegger in 2009.
The name "bacteria bear" comes from the thousands of school children who visit the State Capitol every year, with nearly every one of them touching the bear statue.
During the COVID pandemic, the bear statue was provided a ceremonial face mask.
"For many Californians making a trip to the State Capitol, one of the more memorable stops is the Governor's Office – not to see the Governor but to visit the bronze bear statue that will continue to have a place of pride at our new, temporary office," said Governor Newsom Friday. "State leaders have governed California from the Capitol Annex for nearly seven decades, and as we turn towards the next chapter, we reflect on the storied history of our Capitol and look forward to the work ahead charting California's path to a brighter future."
The Golden Bear was purchased by Gov. Arnold Schwarzenegger at an auction for $20,000 when he first was elected governor. And there it stayed, even during Gov. Jerry Brown's two final terms. "I do like the symbol because it's on our flag and it projects the strength and determination and ferocity of what will be required in the months going forward," Gov. Brown said in a 2011 interview.
Some in the Capitol press corps called the bear 'Mic' because it was used to hold resting microphones when they waited for Gov. Arnold Schwarzenegger.
The bear, which weighs 800 pounds, actually belonged to Schwarzenegger, who gifted it to future governors.
Latest posts by Katy Grimes
(see all)