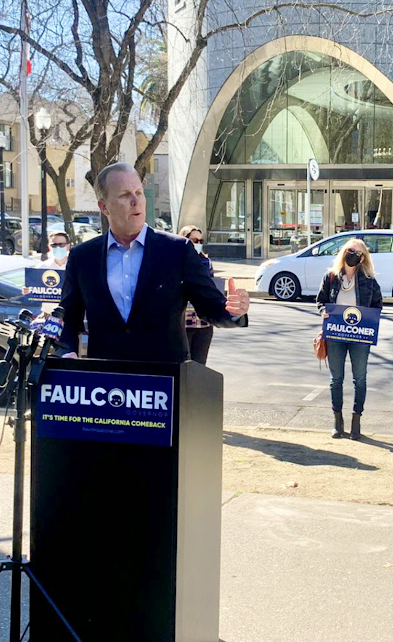 Gubernatorial Candidate Kevin Faulconer Focuses on School Re-Openings at Sacramento Campaign Stop
'I'm talking about leadership, not lip service'
By Katy Grimes, February 24, 2021 2:58 pm
Following campaign stops in Chico and Redding in Northern California, Gubernatorial candidate Kevin Faulconer held a campaign press conference in Sacramento Wednesday morning across the street from the California Department of Education. Foremost on his mind was California's school-aged children who are still distance-learning from home, staring into computers, because of Gov. Gavin Newsom's indefinite statewide lockdown, and closed public schools.
Calling Gov. Newsom California's "Promise-Breaker-in-Chief," Faulconer's primary message was that the state's public schools need to re-open, and Newsom's negotiations with the teachers unions has been a failure.
Faulconer, who said his own children are also forced into distance learning at home, addressed the growing "educational equality gap" between California students and students in other states which reopened schools long ago. "Kids are losing time they will never get back," he said. He said the mental health crisis closed schools are creating on California's students is devastating. "Our kids will live with his [Newsom's] mistakes into adulthood," Faulconer added.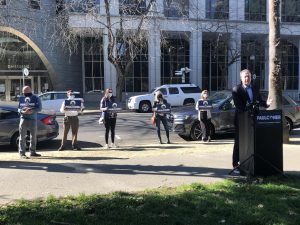 He expressed concern that too many school districts have not made re-opening and in-person attendance a priority.
"California families pay taxes so kids can learn in person," Faulconer said. He added that because students have been "attending" schools that haven't been open for in-person instruction, parents should receive education stimulus checks to pay for all of the extra costs associated with schooling from home: special tutors, computers and laptops, faster Internet, and the like.
"Because of Gavin Newsom's educational crisis, we will need to make up for the learning loss," Faulconer said. He would prioritize funding to do what it takes to make up for the learning loss with after school learning, extra academic courses in summer school, and with tutors.
"The lack of leadership got us into this crisis," Faulconer said. "I'm running for Governor to help fulfill our state's promises, and will lead the California Comeback."
"We need to get back to work, back to school, and back to being proud of our state."
Faulconer said as Mayor of San Diego he had to deal with all of the same issues in order to keep the city up and running. "I worked in San Diego with police, fire fighters, librarians and others to achieve safe workplaces," he added. "I'm talking about leadership, not lip service."
"We have to protect lives and livelihoods," Faulconer said. He noted that when it came to outdoor dining, Gov. Newsom's decision "wasn't based on science. "When the CDC says it is safe to re-open our schools, we should do that."
Ironically, in a Tweet Tuesday, Faulconer addressed Newsom's inconsistency and lack of science: "If Gavin Newsom can invite reporters to gather inside a restaurant (that he closed) to ask him questions in person, kids should be able to go inside a classroom to learn from teachers in person."
If Gavin Newsom can invite reporters to gather inside a restaurant (that he closed) to ask him questions in person, kids should be able to go inside a classroom to learn from teachers in person. https://t.co/K2M9jkzvnL

— Kevin Faulconer (@Kevin_Faulconer) February 23, 2021
With Faulconer at the press conference was a group of parents from the region who spoke with the Globe. They said their high school has been open and adhering to proper distancing and other safety measures, and their kids are doing so much better back in school. They said the community came together to push for the school(s) to re-open, and the new school board was very receptive to parents' concerns. And with no regular COVID testing and a 0.043% positivity rate.
The frustration the parents expressed is that it has taken almost one year for anyone to address the needs of the children, and how the school closures are harming them. "Why are they not a priority?" one mom asked.
"We want to discuss ways to open the schools – not the ways we can't."
Latest posts by Katy Grimes
(see all)