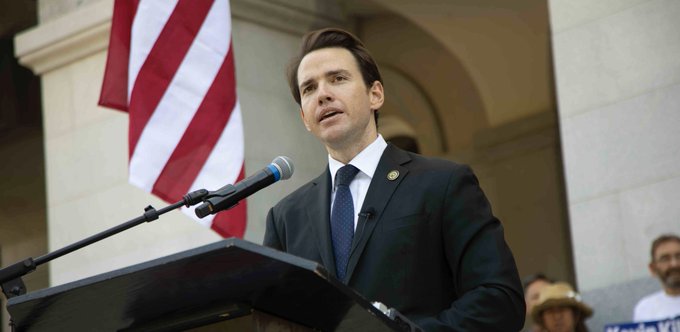 Kevin Kiley Polls with Strong Lead in House District 3 Going into Election Day
'Kiley's popularity and views have been winning out and now he is pretty much a lock for Congress'
By Evan Symon, November 1, 2022 12:53 pm
A debate last week  between House District 3 candidates Assemblyman Kevin Kiley (R-Rocklin) and Dr. Kermit Jones was found to have not impacted the race whatsoever according to polling updates, signaling that Kiley will likely have a landslide victory next week.
Begun in earnest this spring following the new 3rd district stretching from Lake Tahoe to Death Valley forming with no incumbent member of Congress in place, Kiley and Jones first faced off with each other in June during the primaries. Jones, a Navy veteran and physician, managed to perform well, winning second place and a slot for the Democrats in November with 91,217 votes, or 38.7% of the total. However, Kiley, a lawyer and, since 2016, an Assemblyman, managed to win out, getting 39.7% of the vote, or 93,552 votes. While close, GOP voters proved to be the main force as a third place candidate, Republican Scott Jones, garnered 16.2% of the vote. With the district also one of the few in California to have more registered Republicans than Democrats, Kermit Jones' second-place finish proved to be something of a high watermark in the ensuing months.
Following the primary, Kiley held a large lead throughout the summer, holding around 55% of the vote, with Jones only at 45%. Jones managed to close that gap up during the late summer in part due to Kiley being tied up in the Assembly, slowly closing the gap to 53.5% to 46.5% in early October, with some race trackers shifting from "Solid Republican" to "Likely Republican" as a result. However, this momentum was ground to a halt in the last few weeks due to a Republican candidate bump across the country caused by inflation and economic issues, nationwide polls showing a greater likelihood of a GOP Congressional takeover, and Republican strategies of reaching out more to minority communities and Spanish speaking populations proving to be effective.
Kiley increases lead over Jones
Almost overnight, the gap between the two went from Jones having an outside chance to having virtually no chance, shooting up to a 56.5%-43.5% split almost overnight. Seeing the debate as a last major hope barring some last minute scandal, Jones took on Kiley at a debate last Thursday. During the debate, Kiley managed to cut off many of Jones' attacks off early, including derailing accusations that he would support an abortion ban while in Congress.
"It's a state issue, so I wouldn't be voting to restrict anything as a member of Congress," said Kiley on Thursday.
On other issues, Kiley clearly drew where he stood, with Jones conversely avoiding drawing out too much. During a question on whether or not the semi-automatic rifle buying age should be moved up from 18 to 21, Kiley answered no, with Jones instead saying that it is "something that needs to be investigated."
Towards the end of the debate, Jones went for some final attacks, as well as reminding voters that he was in the military. "I'm not a career politician," Jones said. "My opponent decided after college to become a politician. I decided to go to Iraq and serve our country."
However, the debate proved to have moved the needle only further in Kiley's direction, with aggregate site 538 showing Kiley now with a 56.6% showing and a 96% chance of winning in total. With both candidates raising around the same amount of $2.9 million as of the latest Federal Elections Commission reports, Jones's final push appears to have not worked. And with only a week left to go, moving up six or seven points is an almost impossible task.
"Democrats were hoping for a shock win there, especially with there not being an incumbent, but the district has proven to still be very Republican," Eastern California pollster Ann White told the Globe Tuesday. "Kiley is a very well known name out here, and the Democrats would have had to put up someone big to keep the momentum going. Jones is getting more support than some people thought, but Kiley has remained a big force and has been very tactful on where he stands and what he wants to do. He's also putting 'yes' or 'no' in his answers rather than talk around the issues, which we have found to be a big reason."
"We were out talking with people about the House race outside a grocery store last week and that specifically came up so much that we had to add in a new column on our spreadsheets for that answer. Just based on demographics, Kiley was likely to always win the district, and to Jones' credit he did start inching in significantly. But Kiley's popularity and views have been winning out and now he is pretty much a lock for Congress. The GOP has said that non-incumbent races would play huge this year, and Kiley will likely help them move that way come next week."

Latest posts by Evan Symon
(see all)