Doug Ose endorses Kevin Kiley in California Gubernatorial Recall Election
'Kevin Kiley has what it takes to bring this state back to a sense of normalcy'
By Katy Grimes, August 24, 2021 2:56 pm
Former Congressman Doug Ose just announced Tuesday that he will "whole heartedly" endorse Kevin Kiley in California's Recall Election, after ending his own campaign last week following a heart attack.
Ose looked healthy and vibrant on the steps of the State Capitol as he made the announcement, despite saying he was a bit winded from the walk over.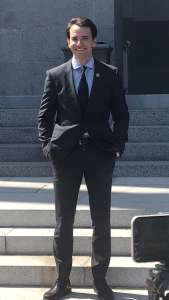 "I can tell you for a fact that if you're able to be my business partner, you're certainly somebody I'm going to support for governor," Ose said, noting that in his family the test is having someone as a business partner. Ose and Kiley owned cattle together for a few years.
"Kevin Kiley represents to me the best opportunity we have for addressing the problems we have in this state. He's intelligent, he's curious and he delivers."
Assemblyman Kiley, who has been elected to the State Assembly since 2016, said how much he admires Ose "as someone in politics for all the right reasons."
Kiley told a story of how when he first consulted Doug Ose as he was considering entering politics, Ose gave him a list of 10 things to think of as he contemplated entering public service. Kiley noted that too many holding elected office, including in the State Capitol, are not committed to serving the public, as Ose was and is.
"We the people can choose any future we like," Kiley said.
Someone asked Ose why he didn't endorse Larry Elder. "So, I know about Kevin Kiley," Ose said. "I don't know a lot about Larry Elder."
"I know Kevin Kiley very well," Ose said. "He has a track record I support. And I speak for myself. I am invested in this state."
"He's intelligent, curious and he delivers," Ose said.
A reporter asked Ose why he didn't support candidate Kevin Faulconer. "I know Kevin Kiley very well," Ose said.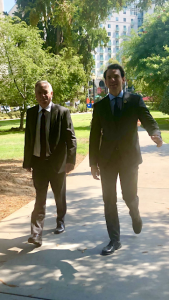 A reporter asked Kiley if he would call for Larry Elder to drop out of the race as candidate Kevin Faulconer Caitlyn Jenner have over alleged disparaging comments about women and recent allegations from his ex-fiancee.
"That's for voters to decide," Kiley said, noting he is not campaigning against Elder or other Republican candidates. "That's where I'm drawing all of my contrast, is with Gavin Newsom, showing how he embodies everything that is wrong with our state government," Kiley said. "…how he has led our state in exactly the wrong direction, and how I'd lead our state in a new direction."
"The movement from the beginning has not been about Party," Kiley said. He said he's met with supportive Independent voters, "Berniecrats" and Democrats, who have told him they not only are voting to recall Gov. Newsom, but some said it was the first time they'd ever contributed to a political candidate.
Kiley explained that this crossover voting is because kids were kept at home from school for no good reason for 17 to 18 months. "We know Gavin Newsom didn't think it was for a good reason since he sent his kids back to school," Kiley said.
"People have been looking on the State Capitol with new eyes the last 17 or 18 months," Kiley said. He said Gavin Newsom has been a failure and corrupt as a governor.
"Kevin Kiley has what it takes to bring this state back to a sense of normalcy," Ose added.
You can watch the press conference on Kiley's Facebook page HERE.
Latest posts by Katy Grimes
(see all)