Leaving California: Interviews With Californians Who Moved To Greener Pastures, Part IV
Former taxpayer association head leaves Walnut Creek for North Carolina
By Katy Grimes, July 26, 2019 8:02 am
Everyone is piling on California these days, and for many valid reasons. California is always ranked as one of the worst states in the country in which to run a business, while many other states are ranked at the top of the chart. California is always ranked as one of the worst states in the country in which to run a business, while Texas always ranks as one of the best. Chief Executive rankings show Texas in first place and California in an embarrassing last place at 50th.
North Carolina again ranks No. 3 in the nation among the top-performing states in Chief Executive magazine's 2018 Best & Worst States for Business survey.
Kris Hunt, formerly the Executive Director of the Contra Costa Taxpayers Association, left Walnut Creek, CA in the East Bay Area, for beautiful Beaufort, North Carolina in 2011.  "Other than being hot and sticky this time of year, and recovering from Hurricane Florence, I love it," Hunt said jokingly.
Hunt brought up the recent hurricane because of how the recovery has been. "The people here are such good people," she said. "Everybody cares and helps each other."
Kris Hunt, who was a California girl through and through, grew up in Southern California and went to University of California, Los Angeles. She noted that today Los Angeles "is unlivable."
Hunt said she was talking with several older men recently in her town and asked them, "Have you guys ever heard about any carjackings here?" They laughed and said that could never happen in North Caroline because everyone is carrying. "Some crimes just don't happen here because if the car owner doesn't get you, the ten other guys nearby will," she said.  North Carolina is a traditional open carry state.
Additionally, Hunt said tort reform is not needed in North Carolina as it is in California. "There is a real lack of lawyers," Hunt said. "You never hear about liability here." She described living on a private street with 11 houses on it. "There are no fences around the pond at the end of the street because in North Carolina, they go out of their way to say if you are a dumbass and cause injury to yourself, it's all on you!"
Hunt said building and remodeling homes in North Carolina is easy "because we don't have all of the cost add-ons, development fees and permits." She noted that because North Carolina is one of the older states in the country, the only real "regulation" is an adherence to the historic architecture in certain designated historic areas. "People know when they buy in a certain area that it is historic, and they must build or remodel accordingly," Hunt said. She said even in her area which is not a designated historic area, neighbors have mostly adhered to the traditional architectural look. And when she remodeled, there were no permits required. "In California, it's done to get money out of you. And the money is fungible, moved from 'this account to that account' to cover pensions."
At her Beaufort DMV, Kris Hunt said "there is no wait. They are really nice people, and everyone speaks English." She noted that at her DMV in Walnut Creek, there were employees "who barely spoke English, which made it difficult to do business." And the license plates in North Carolina are outsourced to a private company.
Hunt said North Carolina is very proud of reducing tax rates. A recent constitutional amendment lowered the state's income tax rate cap from 10 percent to 7 percent. The state's current flat income tax rate is just under 5.5 percent. Georgia is the only other state that does so, with a 6 percent cap approved by voters in 2014, Governing reported.
As Chief Executive notes, the top states in the survey were Texas, followed by Florida, North Carolina and South Carolina, in Chief Executive's "Best and Worst States for Business."
"The worst place is No. 50 California, bested only slightly by No. 49 New York, No. 48 Illinois, No. 47 New Jersey, No. 46 Connecticut and No. 45 Massachusetts."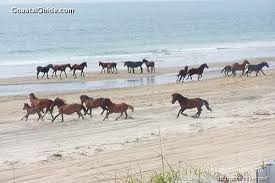 Hunt lives on a deep water channel at the ocean and watches the wild ponies every morning on her walk.  Wild horses have been on the small islands of the Outer Banks for over 400 years as a result of a shipwreck.
Whenever she talks to people from California or northeast states and tells them she lives in North Carolina, "they look at your feet to see if you are wearing shoes, or if there is hay in your teeth," she said. "But there is a lot of freedom here."
Hunt said she and her husband (who sadly has passed away) really wanted to live by the ocean and considered Monterey, CA. "But whoa! The water is warm here," Kris Hunt added. "Life is just so good here. It's green here. When I fly back to California, it's dry, and all of the buildings are so tacky." She said California's cities look like third world cities now.
Hunt also noted that in addition to really good gas prices, "We have parking lots here! They expect you to drive to the store and park in front," unlike California which is trying to force people out of their cars and onto public transportation.
In North Carolina, Hunt said a home on a golf course costs $300,000. Many homes are on water and have private docks, and are "half of the price of homes in landlocked Walnut Creek."
As the head of the taxpayers association on Contra Costa County, Kris Hunt said she used to keep her property tax bill with her at all times so she could educate people about all of the real costs and add-ons. "There were 17 line items on my tax bill in Walnut Creek," she said. Because so many people don't directly pay their property taxes and instead wrap them into their mortgage, "they had no idea what was on the tax bill."
"People here like Trump," Hunt said. "We don't get our cars destroyed for 'Trump' bumper stickers." She was recently in a parade with a friend, and they were wearing MAGA – Make America Great Again – hats. "My friend asked me if we were going to get things thrown at us. I said, 'Yes, kisses!'" noting that at a parade the previous year, she had people throwing kisses at her for her MAGA hat.
"I can't see California turning around at this point," Hunt said. "There are just too many productive middle class leaving. And the middle class drive everything." For Kris Hunt, "it's just not attractive to go back to California. However, I still think of California in its golden times."
Read all of the "Leaving California" series:
Leaving California, Part I – Texas
Leaving California, Part II – Arizona
Latest posts by Katy Grimes
(see all)