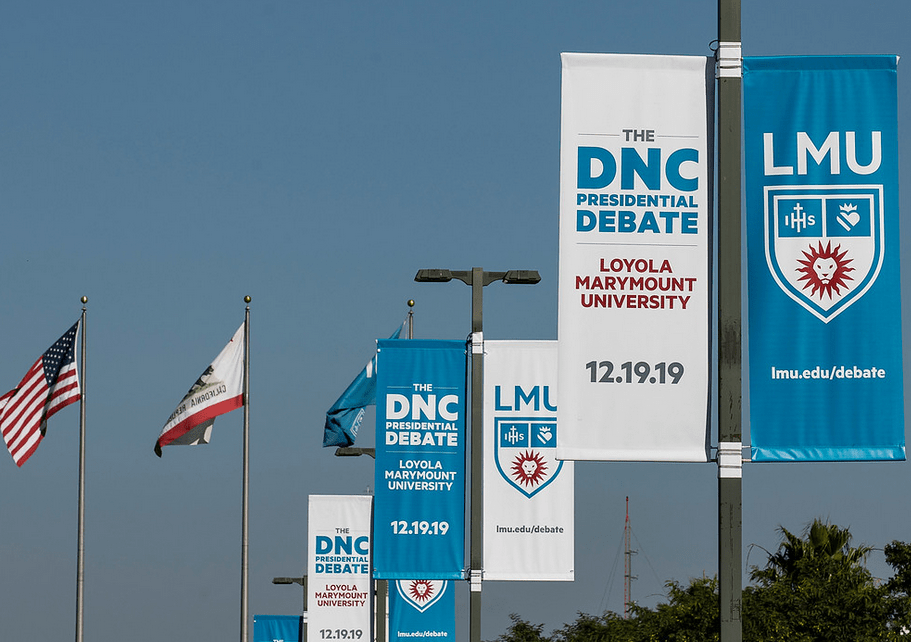 Los Angeles Democratic Debate is Now Back On Following Union Agreement
A strike at Loyola Marymount had threatened to cancel Thursday's debate
By Evan Symon, December 17, 2019 9:31 pm
The new agreement between Unite Here and Sodexo will include a 25% pay increase as well as possible benefit changes.
Thursday's Democratic candidate debate at Loyola Marymount University is back on schedule Tuesday following a tentative union agreement.
All seven candidates who qualified for the debate had made it clear during the weekend that they would not be crossing a picket line to enter the debate. The movement, started by Senators Elizabeth Warren and Bernie Sanders, had been quickly picked up by the rest of the candidates and supported by the Democratic Party.
"[DNC Chairman] Tom Perez would absolutely not cross a picket line and would never expect our candidates to either," announced DNC communications director Xochitl Hinojosa on Friday after candidates began pledging to not cross a picket line.
Unite Here Local 11, a food services union, had been in dispute with Loyola Marymount's sub-contractor Sodexo over cost of living increases and health care. Negotiations between the two had been going on for nearly a year before the planned strike this week.
The new agreement between Unite Here and Sodexo will include a 25% pay increase as well as possible benefit changes.
Between the Unite Here dispute and union problems at UCLA that forced the debate to be moved to Loyola Marymount earlier this year, the California debate has already played a powerful part in the Democratic primaries.
"It has showed voters, most notably union voters, on where the Democratic party stands," noted California pollster Ricardo Chavez. "It shows all the candidates stand by unions. And it's going to give unions at any other campus coming up for debates leverage to end it fast. If Biden and Sanders and everyone won't cross a picket line, a debate won't be held there, making the place hosting it lose prestige, money, and not to mention the Dems won't trust that place again to hold anything."
"So unions win here because they have an automatic victory card to play if a democratic event is coming to their place of business. The party and candidates win because they're squaring away union support. And colleges win because of the national spotlight coming to them."
"Los Angeles didn't want to have to dodge a second bullet there."
Withe the strike now seemingly over, the PBS and Politico sponsored debate will take place on Thursday, December 19th at 6 PM PST. Former Vice President Joe Biden, Minnesota Senator Amy Klobuchar, South Bend Mayor Pete Buttigieg, Vermont Senator Bernie Sanders, Massachusetts Senator Elizabeth Warren, Philanthropist Andrew Yang, and Activist Tom Steyer are the candidates set to debate.

Latest posts by Evan Symon
(see all)