Los Angeles Street Vendors Face Tougher Regulations, May Change Laws Statewide
Los Angeles draws upon health regulations, safety concerns for new laws
By Evan Symon, January 7, 2020 6:28 am
Los Angeles street vendors face more stringent laws in 2020 with new regulations and permits threatening many people's livelihoods.
A change in LA
In many areas of Los Angeles, street vendors are prevalent. In some areas, such as MacArthur Park, lines of vendors can go on for blocks, filling sidewalks with handfuls of tiny shops.
"It's been this way for a long time," said Ramon Lopez, a resident of the MacArthur Park neighborhood of L.A., motioning to the the sidewalk lined with booths and food vendors outside the MacArthur Park Metro station. "It's cultural for many of us, and it helps us make a few bucks.
Not everyone here has a [social security] number for a proper job either, so this is the only kind of work many can get."
However, the lines of carne taco vendors and booths selling everything from clothes to tools to used video games may soon be a thing of the past.
Last year the Los Angeles City Council passed the Sidewalk and Park Vending Program unanimously. Under the new law, vendors need proper business licenses, health permits, and perhaps most prohibitively, a $541 fee to operate starting July 1st.
A family selling fruit, who did not want to use their name, talked with the Globe, with a member of her family translating Spanish.
"Our business is gone," said the mother of the family. "This is all we had, and now we need to get [$541] from nowhere." One of their sons said "We probably need to sell our TV for this."
The daughter translating told the Globe "My family gave everything to come here, and now they're trying to take away what little we have made."
A high price for many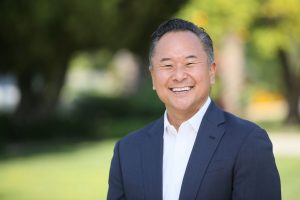 The average street vendor in Los Angeles makes only a little over $10,000 a year, and only about $200 a week. Many families don't rely on this for a primary means of income, but do count on it for side income.
"$541 is a huge part of the rent for people here," noted Ramon. "It's what they make in nearly a month. It buys groceries for a long time.
Health permits I get for food, but charging people to sell what they have like this, like they do back home, it breaks the heart."
Los Angeles Councilman John Lee, the lone Republican on the LA City Council, pushed for greater regulations last year after SB 946 was signed into law and allowed higher fines and permit prices for street vendors. However the concern is based on public health and safety issues, as it was with all Councilmembers who voted. Councilman Lee also helped pass the law to protect restaurants who now faced street vendors outside their door.
Health and safety concerns
"There are some serious public health and safety concerns I have in mind," said Councilman Lee. "And also, you know, the fairness to the brick and mortar restaurants."
Councilman Lee clarified this position last month when he called upon changes statewide with SB 946.
"Everyone deserves to earn an honest living, but not at the expense of public health and safety," wrote Councilman Lee on Facebook. "Yesterday, I introduced a motion asking the state legislature to amend the Safe Sidewalk Vending Act of 2018. We need to be able to protect and support our brick-and-mortar businesses AND the street vendors who abide by the new regulations."
Under Lee's proposed changes, SB 946 would give cities greater means to enforce permits, such as fining repeat offenders. Food vendors already face steep fines for violations, but under expanded SB 946 laws other vendors could be effected. California could be seeing a change in SB 946 as early as next year if approved.
For street vendors, many of whom have limited opportunities due to poor English, lack of skills, questionable legal status, and no Social Security Number, the threat of higher fines is worrying.
"Many people here are already thinking of leaving," said Ramon. "Right now it's a marketplace. When July hits, and they start enforcing this, it may be all gone."
Even bigger changes in LA and beyond
Some business owners, who have hated the vendors, citing dumping garbage and stealing customers, have praised the new laws. One business owner said that 'new people will come here and spend rather than sit around outside like street people." Others said the reduced traffic may hurt businesses and could possibly lead to deportations.
"They want to get rid of us," added Ramon. "We don't 'look' like the city they want. They're cleaning up for the Olympics, and despite being honest business people, we're treated like the homeless simply because we can't afford a storefront or we can't afford a degree.
I have no idea what this place will look like next year, but I guarantee you it won't be the same."
The program began last week in Los Angeles. Permits are currently at $291, but will go up in July to $541 and will be mandatory. Statewide changes due to changes in Los Angeles are also highly expected with cities such as San Francisco and San Diego already looking into the stricter changes LA has proposed.

Latest posts by Evan Symon
(see all)