Masks Mandated Again for Kids in Sacramento City Schools
Yolo and Solano County not requiring masks indoors
By Katy Grimes, June 7, 2022 3:28 pm
It was only March 8, 2022 when the Sacramento City Unified School District Board voted to remove its mask mandate on students effective in April 2022. That was 3 months ago.
Tuesday May 31, 2022 the Sacramento school district re-imposed the mask requirement until the end of the school year – June 11th. There are currently 128 SCUSD student "cases" of COVID in a district of 19,229 students. May saw 1,213 student "cases" of COVID, and April 238.
Here is the email the SCUSD sent to parents:
Dear Sac City Unified Families,
We have been closely monitoring the spread of Covid-19 within our schools and the Sacramento County community to ensure the health and safety of our students and staff.  The most recent Centers for Disease Control data released yesterday (5/26) shows the rate of spread in the County is now 8 times greater than it was when we lifted our masking requirement in schools last month, with nearly 300 cases per 100,000 people. As a result, Sacramento County moved from the "low" to "medium" Covid-19 Community Level, as defined by CDC.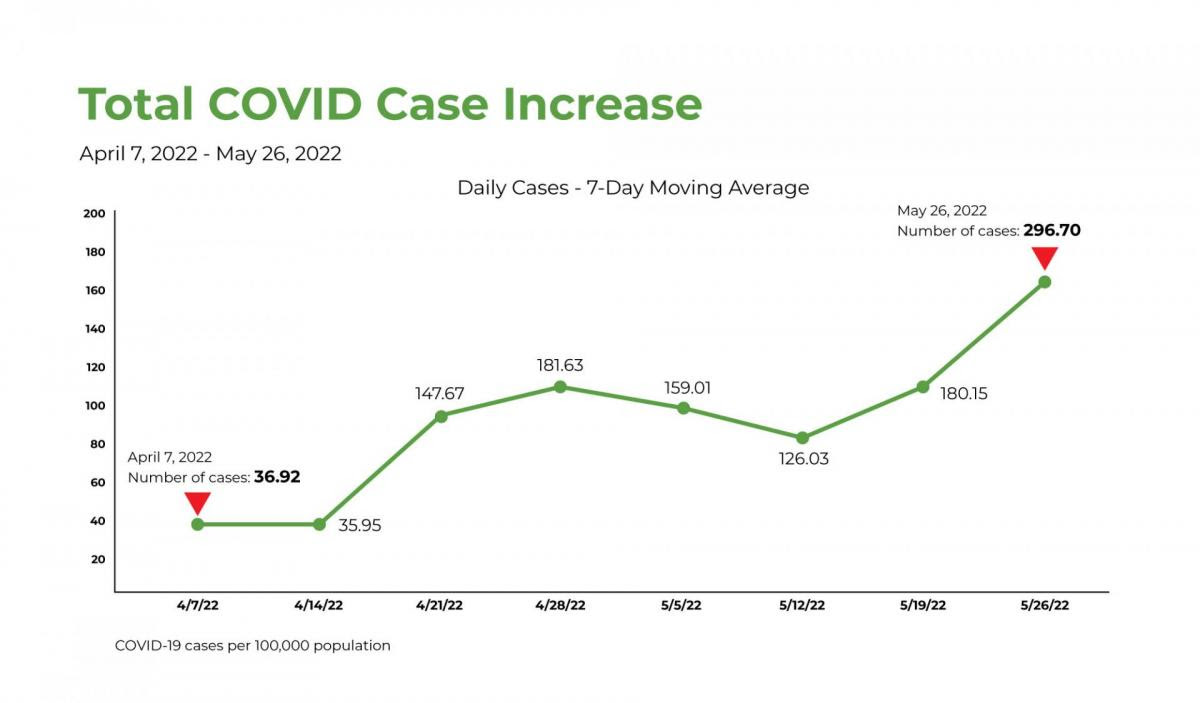 Based on the current trend of increased cases and hospitalizations, it appears likely that Sacramento County will reach the "high" community level when the CDC updates its data next Thursday, June 2.  Such a move would trigger an automatic return to universal masking for students and staff at all school sites.
Until then, we are adhering to our current policy of masking as a strong recommendation, although we anticipate that will soon change.
Nevertheless, as we return from the Memorial Day weekend, we are urging everyone to wear a face mask. We especially urge your student to wear a face mask if you have received an exposure notification from our contact tracing team.
Last week the CDC notified 13 California counties they had reached 'High' levels of COVID-19 and were recommended a return of indoor masking in those counties, the Globe reported.
Interestingly several counties marked by the CDC as "high" noted that instead of following CDC guidance they will instead follow the guidance of the California Department of Public Health (CDPH) on whether or not to reintroduce countywide indoor masking policies.
"In general, we're not feeling like the impact on the health care system, at this point in time, is at a point where mandatory masking should be re-instituted," noted. Yolo County Public Health Officer Dr. Aimee Sisson.
Solano County officials also released a similar release, stating "We will continue to defer to CDPH guidance and not require wearing masks indoors."
The Sacramento school district sent home COVID test kits with students and asked that each student test before returning to school after Memorial Day.
Sacramento County reported 307 "cases" of COVID as of 5/28/2022, 150 are "hospitalized," and 20 are in the ICU. The 7-day average is 562 new cases. (Why it's not current with June numbers is a mystery). With the population of Sacramento County at nearly 1.6 million residents, the latest metric feels as if the goal posts were moved. Why is the metric is 300 cases per 100,000 people? The County does not say.
Sacramento County has a 7-day average of 562 new cases in a county of 1.6 million residents.
And current Sacramento County deaths from (with?) COVID are maybe 1 a day in May.
The county also doesn't differentiate between those hospitalized "cases," and whether they are in the hospital, because of COVID, or for something else and tested positive with COVID. In the hospital with COVID is most likely the situation according to medical professionals the Globe spoke with. Every person in a California hospital is regularly tested for COVID.
Sacramento County health officials are back on the mask mandate regardless of the numbers, unlike Yolo County and Solano County.
The CDC has on its website a place where you can plug in your county and state and the CDC will tell you the risk in your county.
Without showing the numbers of "cases," the CDC declared Sacramento County "HIGH," and recommends:
But the CDC does not confirm the actual numbers.
The Sacramento City Unified School District dashboard shows 62.04% of students are fully/partially vaccinated. 33.52% are unreported or not vaccinated. 4.45% of students have exemptions.
The last day of school in the Sacramento City Unified School District is June 11 – four days from now.
Why mask students for the final 2 weeks of classes? Was this a power play? Is there really a new or ongoing health crisis? And why didn't the 13 other Sacramento County school districts feel compelled to mask the students?
Latest posts by Katy Grimes
(see all)