PG&E Initiated Planned Blackouts Return To California
Wildfire fears cause PG&E to cut power to nearly 200,000 people, parts of 22 counties
By Evan Symon, September 9, 2020 6:04 am
On Monday, mass blackouts returned to California in PG&E serviced areas in an attempt to stop more wildfires from starting.
As of Tuesday, parts of 22 counties in Northern and Central California have had their power cut temporarily by PG&E, affecting 172,000 Californians. More outages are expected in the next few days in Alpine, Amador, Butte, Calaveras, El Dorado, Humboldt, Lake, Lassen, Mariposa, Napa, Nevada, Placer, Plumas, Shasta, Sierra, Siskiyou, Sonoma, Tehama, Trinity, Tuolumne and Yuba Counties as wildfire fighters work around the clock to stop some of the largest wildfires in state history. This year alone, wildfires in California have burned nearly 2 million acres and have caused Governor Gavin Newsom to repeatedly issue new state of emergency proclamations.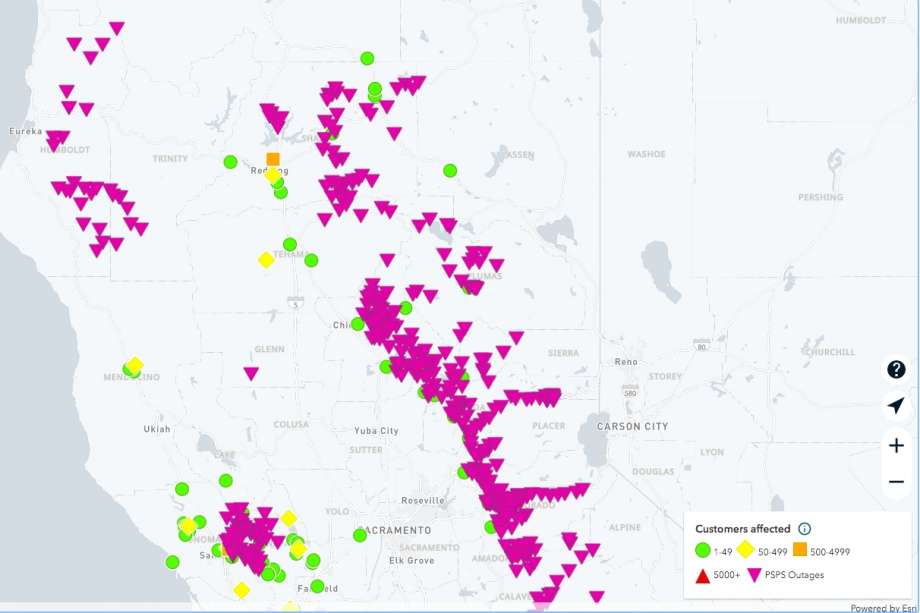 Last year, PG&E had been heavily criticized for instituting numerous planned power outages across California, which at it's peak caused millions to lose power and put many in danger due to power being off in some cases for days at a time. The utility company had been found at fault for causing numerous wildfires, including the infamous 2018 Paradise Fire which claimed the lives of over 80 people, and had gone bankrupt as a result of lawsuits associated with the fires.
Not wanting to risk further damage and insurance costs, PG&E started blacking out certain areas at risk for wildfires. Despite PG&E exiting bankruptcy earlier this year and launching many system improvements,  the company is still fearful of causing another destructive wildfire that could possibly pull them back into bankruptcy.
Despite pulling the plug on nearly 200,000 people on Monday, PG&E has defended their decision, even pointing out that system improvements are improving power restoration times.
"In 2020, we are aiming to cut restoration times in half over 2019 performance, so that we restore power to a majority of customers within 12 daylight hours after severe weather has passed," said PG&E in a statement.
However, many local officials and citizens groups have responded negatively to the new blackouts, calling on PG&E to find other solutions or increase repairs and improvements to stop the outages.
"Nothing has changed since Paradise," Emily Delahunt, a Butte County homeowner who has attempted to "degrid" her neighborhood since 2018 to a wind and solar setup, explained to the Globe. "A lot of us want out from PG&E because of this mess they made. They keep saying it will be better and keep saying they won't do it as much, but then they pull it the next year and repeat the process."
"Can you imagine this happening to San Francisco? Or Sacramento? Or Stockton? They'd be up in arms and the Governor would call down the wrath of God to stop it. But no, it just keeps going."
Napa County Supervisor Diane Dillon noted similar frustration.
"PG&E's had three years, and they've been working fairly diligently, to put in durable, resilient transmission and distribution lines, and they have not completed that task," said Dillon earlier this week.
PG&E is expected to continue planned blackouts until at least mid-week as high winds are expected to continue, elevating wildfire concerns.

Latest posts by Evan Symon
(see all)