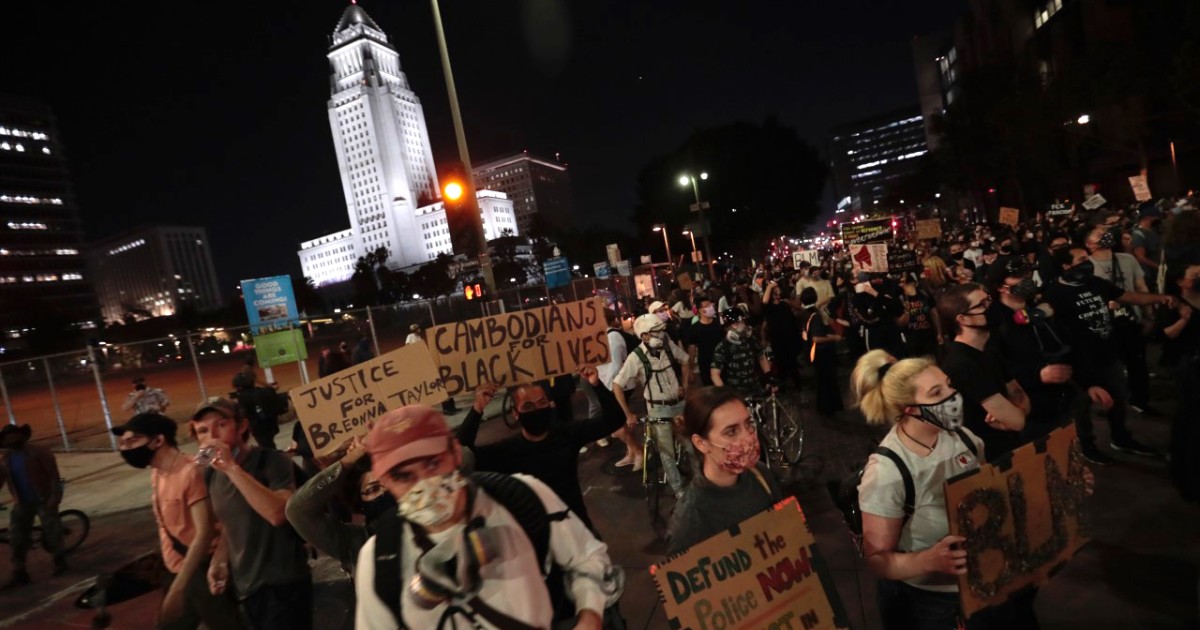 Protests Over The Breonna Taylor Decision Erupt Across California
Large protests spring up in the Bay Area, Los Angeles, San Diego
By Evan Symon, September 24, 2020 3:52 pm
On Wednesday, a grand jury decision in Louisville, Kentucky that only charged one of three police officers with wanton endangerment in the death of Breonna Taylor caused massive outcry nationwide, with many of the largest protests happening across California.
Taylor, an ER technician, was tragically shot to death inside her Louisville apartment in March during after a gunfight broke out between her boyfriend and the police. Police entered and knocked, even with the no-knock warrant they had obtained, and opened fire after her boyfriend starting firing his own weapon.
Many anticipated that the three police officers involved would be charged with her death, but instead, two of the Louisville police officers will face no charges, and the third will face charges for endangering her neighbors.
Violent protests erupted Wednesday night across the U.S., with some protestors targeted by vehicles in Buffalo and Denver. The most violent acts were committed in Louisville itself, where a protester shot two Louisville police officers, and more than 100 protesters were arrested. While the protests in California were not violent, thousands still turned out to protest the decision.
Northern California protests
Protests in San Francisco, Oakland, and San Jose, dotted the Bay Area on Wednesday night,  each bringing out hundreds of protesters. While San Francisco protests were mainly centered in the Mission District, protests in Oakland, San Jose, and Hayward were centered around their respective city halls. Many, including law enforcement, expressed surprise when the organizers of the protests managed to build multiple protests together within half an hour.
The Mission. Lake Merritt. #Oakland City Hall. #Hayward City Hall. #SanJose City Hall. The Airports and bridges tomorrow. And all this just got organized in the last 30 minutes. 😳😳😳 pic.twitter.com/DY37R3fXDk

— Oakland Photo Vault (@BlackKangoPhoto) September 23, 2020
In Oakland, hundreds of protesters wearing black walked to the city hall, pausing at an intersection in Lake Merrit and stopping traffic on Highway 24. Meanwhile, the San Francisco protesters were out in front of the SFPD Mission station, also stopping traffic in the area for hours.
"Every city has a statistic like this," San Francisco protester De'Lonte Gable told the Globe. "The city had Luis Gongora Pat a few years back. The town [Oakland] had Oscar Grant a few years before. We need to do this for every person who did not get justice. And we need to say their name. Breonna Taylor."
Southern California Protests
The largest protests in California on Wednesday night took place in Los Angeles, Long Beach, and San Diego.
Thousands marched through downtown Los Angeles. Starting at Union Station, the crowd went through the downtown area to LAPD headquarters. While a few acts of vandalism were reported, the march was largely peaceful, with traffic being held up for several blocks as the protest snaked through the city.
"When Rodney King happened in 1992, the city became an inferno," protester Harlene Jenkins, who participated in protests following Rodney King verdict 28 years ago, explained to the Globe. "You had store owners firing on people from rooftops. I specifically remember watching a car go by with one of its tires on fire."
"Today is a huge difference. White and black and brown are out here today in peace, expressing our right of free speech. The police aren't hassling us. One even said to my son "I know people here are in pain,". It's not like the anger in the King protests or even in the George Floyd protests in June where stores were smashed and looted. Everyone has had enough of that. Everyone wants justice."
Long Beach and San Diego also recorded large protests. San Diego's protest happened outside the Superior Court building and resulted in 10 arrests as the night went on, most of whom were charged with failing to disperse a little after 10 P.M.
Effects of the protests
Many political experts have noted that with such a fresh outcry over racial injustice, the Brianna Taylor case could have an impact on upcoming elections.
"This is getting a lot of people out there to vote," former West Coast political operative Francis Cook said in an interview with the Globe. "Seattle, Portland, the Bay, and LA all have had large protests over racial strife, and this has especially effected younger Generation X, Millennials, and Gen Z. They are looking on social media on what the candidates have said or done about these protests."
"In California specifically, there are a lot of House and more local races where polls are very close in areas with a diverse population, or skewing younger. This may tip the scales like what happened in 2018 over disillusion over certain policies."
"How candidates react or act on these protests could be the difference in getting elected and not getting elected."
The Breonna Taylor protests are expected to continue until the weekend in several cities, in California and across the country.

Latest posts by Evan Symon
(see all)