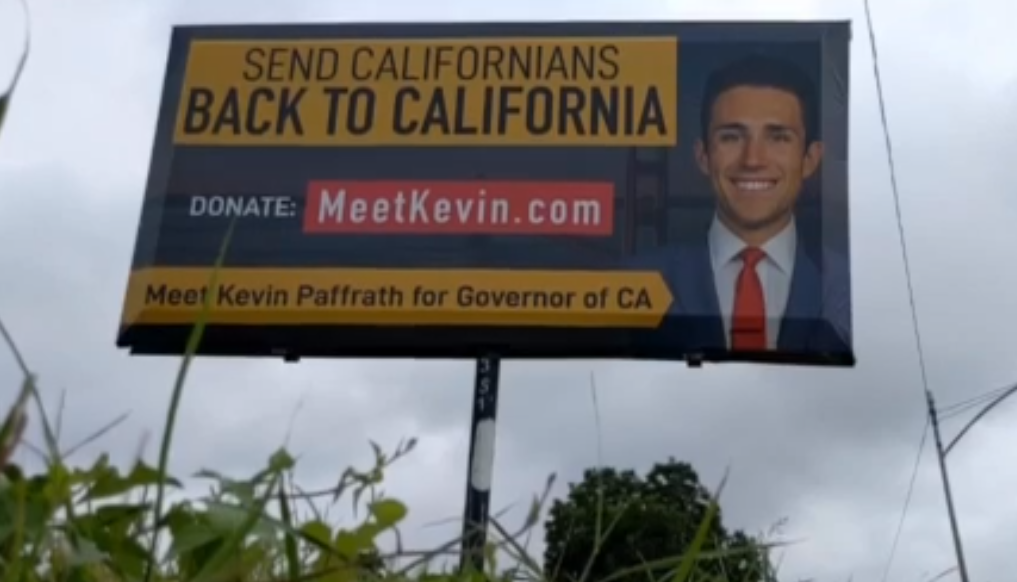 Recall Candidate Kevin Paffrath Expands Recall Billboard Advertising Campaign To Texas
Paffrath hopes to bring in support, donations from ex-pat Californians in Texas
By Evan Symon, August 20, 2021 2:26 am
YouTuber and Democratic recall candidate Kevin Paffrath expanded his advertising campaign to Texas this week, becoming the first campaign to target potential support directly outside of California.
Press play to hear a narrated version of this story, presented by AudioHopper.
Signs for Paffrath's Gubernatorial campaign have gone up across Central Texas, including in the city of Waco with signs saying "Send Californians back to California. Meet Kevin Paffrath for Governor of CA".
Paffrath's unusual campaign direction initially confused many Texans in the areas where they were put up. Paffrath, who is currently polling second in the recall campaign around 10 points behind talk show host Larry Elder, has said that he is trying more out-of-the-box approaches in reaching voters, including the largely untapped group of people who moved from Texas to California and vice versa.
"We're in this world now, where you've got to do some out-of-the-box things to get the word out," explained Paffrath on Wednesday. "Because a lot of people leave California to go to Texas, we figured people in Texas would know Californians, and they may be able to spread the word to other Californians who're still left behind, so to speak."
Campaign and advertising executives said that, despite the novelty, it can still be effective in getting Paffrath additional support, as well as donations from Texans desperate to stop left-leaning Californians from moving to Texas.
"First of all, it's getting attention," explained political advertising consultant Jane Lucas to the Globe on Thursday. "But there is actually a a method to his madness here. A lot of former Californians are in Texas now, as are a lot of Texans who moved to California. Hundreds of thousands each way in the last several years. In the last few years, 40,000 moved to California yearly, with around 80,000 going to Texas.
"So that's a lot of people sharing news, either from Texans who know someone who moved to California, or Californians now in Texas calling back home. And it's a strong message too. A lot of conservative Texans don't like liberal Californians coming to Texas, especially around Austin, and disrupting normally conservative bases. Those new more liberal voters were actually partially blamed for electing more Democrats in to the Assembly and walking out of the recent voter ID bill there. There might be a few right leaning people moving to Texas, but honestly, most have been left leaning, as you can tell from the political changes here. And they don't want Californians changing more of that."
"So when Paffrath put up these billboards, a lot of people are reading it as he will change things in California and stop more from coming to Texas. It may not be his intention, but that is the message they are getting, along with donating to his campaign to make it happen. A lot of Democrats from California, or those who left because of perceived problems with the state, might donate to him now too. Besides usual suspect larger donors, candidates haven't really reached out to voters in other states for fundraising. And since he still has just under a month to go, this can bring in enough for Paffrath to possibly turn the tide, or at the very least help out with walk around money  while campaigning."
As of Thursday, no other major candidate in the recall race has placed advertising or started outreach in Texas.

Latest posts by Evan Symon
(see all)