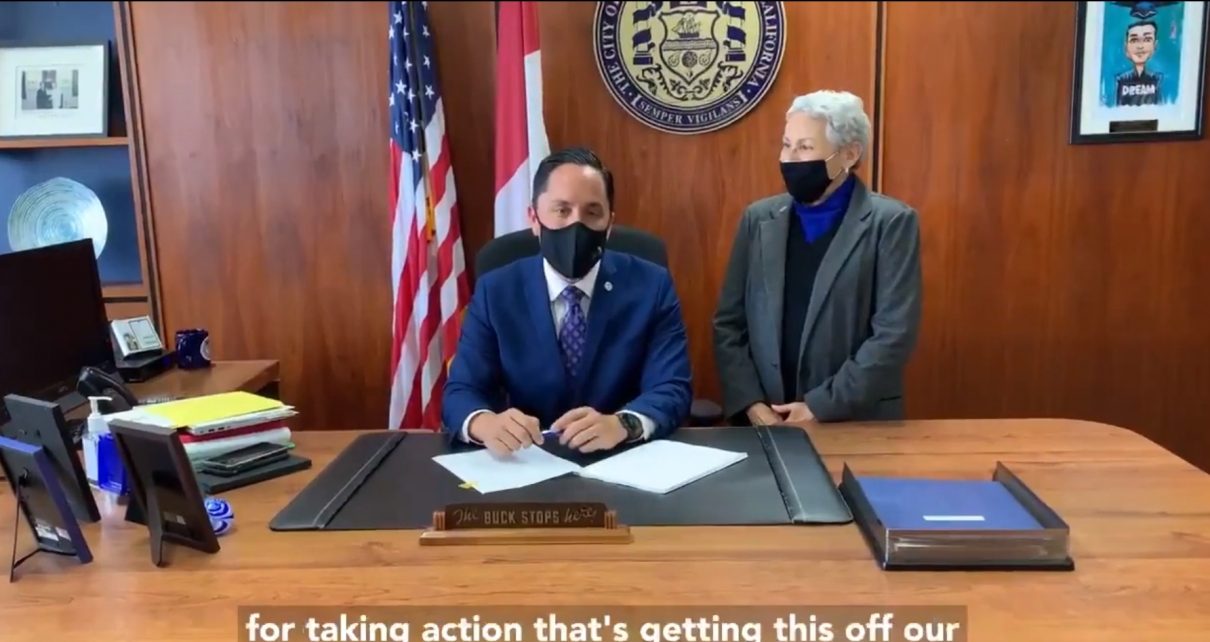 San Diego Ordinance that Drastically Reduces the Number of Short-Term Rentals Signed Into Law
'This is a completely unfair system, but as the vote showed, the city just doesn't seem to care'
By Evan Symon, April 15, 2021 2:47 pm
A San Diego Ordinance that will greatly reduce the number of short-term vacation rentals in San Diego was signed into law by Mayor Todd Gloria on Wednesday.
The Short-Term Residential Occupancy (STRO) ordinance will separate city short-term rentals into four different categories: part- time rentals rented 20 days a year, home-sharing rentals, whole-home rentals, and whole-home rentals in Mission Beach.
The number of whole-home, short-term rentals will be capped at 1% of the city's housing stock under the ordinance, drastically reducing the number of whole-home rentals from around 14, 700 to 5,400. Mission Beach, a more in-demand vacation area, will have a special 30% cap. Property owners will also now be required to get a vacation rental license if they wish to continue renting it out, limiting each person to only one rental property within the city. Rental platforms such as Airbnb will be required, in turn, to get the license number in order to list the property for rent on their site.
In addition, part-time short-term rental operators would be able to obtain a license at lower annual fees to accommodate high visitor events such as Comic-Con and sporting events. A local contact will also be needed by property owners to respond to emergencies in an hour or less.
The law is expected to fully go into effect by July 1, 2022, along with the vacation license requirement. While the licensing process itself is currently not in place, an amendment to the ordinance has said that  renters who have correctly followed San Diego's rental laws in the past will receive priority.
The question over short-term vacation rentals has been hotly contested for years. Many lawmakers want more regulations to rein in the rental market, and to increase housing to fight a growing homeless problem. Rental owners want to be able to continue a livelihood renting their property and providing hotel alternatives to vacation-goers.
It was such a contentious issue that Governor Gavin Newsom signed AB 1731, a bill that stops short-term rental companies such as Airbnb from renting 'vacation' rentals in San Diego County for more than 30 days a year unless the full-time resident was living there, into law last year.
The number of short-term rentals in the city to be cut by two-thirds
The issue still remains how the license lottery system will exactly work out, leaving many San Diego property owners and landlords up in arms. But supporters celebrated the signing on Wednesday. Mayor Gloria noted after his signing that he hopes to now enhance the quality of life in neighborhoods now that short-term vacation rentals will be cut  by two-thirds in the city.
"These regulations should have been put in place long ago," said Mayor Gloria on Wednesday. "Thanks to the leadership of Council President Jennifer Campbell, who worked closely with me to get the job done, San Diego finally has a clear set of rules governing short-term vacation rentals. Now, the work turns to thoughtful implementation, faithful enforcement and careful monitoring to enhance the quality of life in our neighborhoods."
City Council President Campbell agreed with Gloria, saying that homes will now be going back to the San Diego housing market as a result.
"I'm grateful to the mayor for signing this ordinance, which will end the uncontrolled growth of short-term rentals, return homes back to San Diego's housing market and bring peace and tranquility back to our neighborhoods," added Campbell.
The signing of the ordinance, which had been previously passed by the city council 8-1 earlier this month, has left many property owners and landlords frustrated. Some independent renters who had several rentals going at once to provide income are now at a crossroads in the city.
"I have three home rentals," said Sebastian, a multi-home owner in San Diego who has been renting homes out since 2004, to the Globe on Thursday. "A lot of families don't want hotels or an Airbnb mother-in-law suite. They want, or should I say, need a home in many cases just because of the size of their family, or because multiple families would be staying there. By reducing the number of short-term rentals in the city just like that, the city now pretty much forces renters to choose either a pricy hotel or an Airbnb. Not a house to utilize."
"And the rules for rentals are nuts. It's one rental per person, so if there is a family with multiple home rentals in the city, they can easily put a home under different family members names and keep it going, whereas home owners like me are stuck with only one. This is a completely unfair system, but as the vote showed, the city just doesn't seem to care."
The reduced number of rentals is also expected to reduce the taxes coming from rental use. According to the San Diego Office of the Independent Budget Analyst, the city's Transient Occupancy Tax is expected to fall from $7.3 million a year to $4.4 million year.
A more detailed rental lottery outline is expected to be released by the city sometime this year.

Latest posts by Evan Symon
(see all)