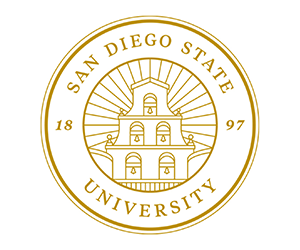 San Diego State University Journalism School Promoting Online Internship for Minorities Only
Students 'Must Identify as a BIPOC'
By Evan Gahr, December 29, 2022 7:19 am
Whites need not apply at San Diego State University.
The San Diego State University journalism school is promoting online an internship for minorities only in violation of the 1964 Civil Rights Act, a legal expert tells the California Globe.
SDSU"S School of journalism and Media Studies recently put on its Instagram page an advertisement  that invited students to apply to a "Multicultural Advertising Intern program" that was being offered by the 4As Foundation in New York.
"The 4A's Foundation's Multicultural Advertising Intern Program is a highly intensive fellowship that provides diverse students with the opportunity to work in the advertising, communications and marketing industries," the post said.
Well, not all "diverse students." Jews are just 2.4  percent of the United States population but don't count as a minority in government and academic "diversity" schemes. The advertisement says that to be considered students must be a U.S. citizen or permanent resident, have a preferred GPA of 3.0 and "Must Identify as a BIPOC," shorthand for black, indigenous and person of color.
The 4A's Foundation page for the internship says that applicants  "must identify as: Asian/Asian American, Native Hawaiian or Pacific Islander, Hispanic/Latinx, Black/African American, American Indian or Alaska Native, Multiracial or Multiethnic (e.g. Hispanic and Black). "
The criteria is illegal discrimination against whites, according to retired University of Michigan economics professor Mark Perry, who files complaints with the United States Department of Education about campus programs that are for minorities or women only.
"It's generally illegal for a university that accepts Federal financial assistance (Pell grants, Federally insured student loans, etc.) to advertise and promote external, third-party programs (scholarships, fellowships, internships, etc.) that discrimination on the bases of sex (in violation of Title IX) or on the basis of race, color and national origin (in violation of Title VI [of the 1964 Civil Rights Act.]," Perry told the California Globe. "The promotion of external third party discriminatory programs is usually via a schools website, or sometimes by emails to students."
Perry said these kind of racially exclusionary programs have proliferated on campus recently. "Yes, there's been a significant increase in Black-only/BIPOC-only programs(scholarships, fellowships, awards, internships, etc." since the May 2020 killing of George Floyd.
But the George Floyd killing only accelerated the trend of self-segregation on college campuses. For example, for some two decades Chapman University in Orange, California has held separate graduation for students based on such criteria as skin color and sexual orientation.
In a 2019 report, the National Association of Scholars, which promotes academic freedom on college campuses, cited nearly 200 colleges and universities that offer segregated events and activities supposedly to make a more welcoming environment for minorities.
And earlier this year,  an off-campus house run by University of California at Berkeley students for "persons of color" attracted lots of attention for banning white people from common areas in the house.  And last month the University of California at Santa Barbara black students union held a screening of the the new black panther movie but asked whites not to attend.
The San Diego State University press office did not reply to a request for comment about the internship program, which was earlier reported by CampusReform.com.
Latest posts by Evan Gahr
(see all)