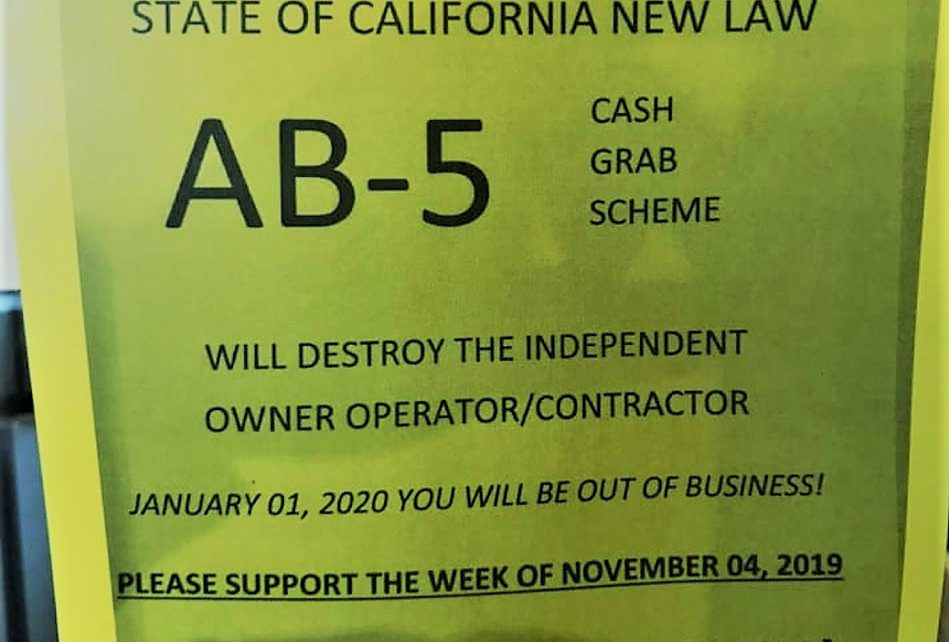 Second Lawsuit Filed Against Independent Contractor Reclassification Law AB 5
Journalists and photographers join truckers in opposition to the law
By Evan Symon, December 18, 2019 8:11 pm
AB 5
, the bill passed earlier this year that makes it harder for companies to retain independent contractors, has now had a second lawsuit filed against it.
A second lawsuit against AG Becerra
The Pacific Legal Foundation, on behalf of the American Society of Journalists and Authors and the National Press Photographers Association, filed a lawsuit Tuesday against California and California Attorney General Xavier Becerra due to the scope of the law either reducing work or outright firing thousands of independent contractors across California.
AB 5, authored by Assemblywoman Lorena Gonzalez (D-San Diego), was originally designed to reclassify what independent contractors are in California. A new test on whether an employee or a contractor will be set up with the goal of making more workers classified as employees so that they can more easily unionize as well as be eligible for minimum wage and benefits.
200 out at Vox
However the bill came with numerous downsides with many businesses now on the cusp of firing many employees. The California Trucking Association, which has already filed a lawsuit, with the trucking industry already finding loopholes in the system to survive. For the freelance journalists and photographers the main sticking point is the maximum of 35 articles a year for independent contractors. Whereas before many could survive on writing a few hundred articles a year for a few different publications, the limit of 35 effectively puts many writers out of a job.
Over 200 independent contractor bloggers of Vox Media found out the hard way on Monday when they were informed that they would now be under the '35' rule and were effectively given severely reduced workloads. Other media company contractors have faced similar fates.
Jobless in Merced
"Until December 31st I'll be making an average of about $100 a day writing up articles for a few sites I'm with," said Lauren Davies, a freelance journalist based in Merced. "On January 1st, if I don't find other publications or a full time job, I'll have enough work with that 35 a year to go until about mid-March before I hit my limit."
"You know, I actually thought AB 5 would be a good thing, initially, because it would give people struggling a good living. But to do that, it needs to take away other people's livelihoods. For every person given a full-time slot, three or four others are shown the door."
"I'm a Democrat, but this went too far too fast before all the kinks could be worked out. It's destroying lives. Two other writers I know who have babies on the way don't know what they're going to do because the plan was that they could write from home with a baby."
"We're all screwed."
"Irrational and arbitrary"
The lawsuit by the Journalist and Photographer unions call the '35' rule "irrational and arbitrary" and severely questions why such a number was chosen and why it is targeting the press in particular.
"The government faces a heavy burden of justification when its regulations single out the press," notes the lawsuit.
Currently a major effort by Uber, Lyft, and Doordash is underway in California to reverse AB 5. They are spending $90 million to add a ballot measure in November of 2020 to remove the law. With the law in place, all three of those companies face large reductions in staff, large reductions in hours for employees, and other decimating measures that could put them out of business in California.
AB 5 will come into effect January 1st. In addition to freelance journalists, truckers, and rideshare drivers, other places of business that will be severely affected include restaurants, small businesses, gig economy positions, and most contractor-based service-oriented jobs.

Latest posts by Evan Symon
(see all)