Southern California to Las Vegas High-Speed Rail Line Postponed
Brightline West project failed to find any buyers for $2.4 billion in bonds
By Evan Symon, November 2, 2020 2:46 pm
On Sunday, the proposed Victorville-Las Vegas high speed rail line was halted indefinitely after the project failed to sell $2.4 billion in bonds.
Fortress Investment Group, who is backing the Brightline West project, had received $600 million in bond allocations from the state of California in April, with the hope of reselling them later at a federally leveraged rate this year for up to $2.4 billion. However, due to the COVID-19 economic recession, very few, if any, buyers of the bonds had come forward. Now, with less than a month to go until the December 1st deadline, California state Treasurer Fiona Ma said that the state will take back the bond allocations.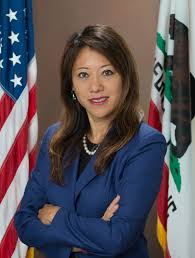 The Brightline West high speed rail project had angered many affordable housing advocates in April, as they had expected that state bond allocations would have gone primarily to affordable housing programs. However, the Brightline West project swooped in at the last minute and took the majority of allocations after winning over the Treasurer's debt committee. On Sunday, Treasurer Ma said that the bond allocations would now be given to affordable housing projects, as well as other qualifying programs.
"Unfortunately there is not a lot of liquidity in the market and a lot of economic uncertainty at this moment," said Ma on the bond allocations during the weekend. "The project is postponed until market liquidity improves."
The Brightline West line, previously called Xpress West until last week, plans to link Las Vegas with a high-speed rail line to Southern California. Supporters had said that the rail line would reduce traffic on Interstate 15, would reduce pollution, would ease travel times with trains reaching up to 200 mph, and would add tens of thousands of construction jobs, as well as 1,000 permanent jobs when completed. However, there has been much opposition to the railway, with primary points of contention being the addition of even more traffic congestion between Los Angeles and Victorville due to cars getting to the station, car travel times to the station cancelling out the time saved by using the train, and the high additional costs it would bring to California and Nevada.
LA to LV issues, investor worries
"They have been planning this line since 2006," explained transportation consultant and former train conductor Daniel Soto in a California Globe interview. "And there's just so much working against it. What has been working is local and multi-county regional lines. In Los Angeles, the Metro and Metrolink are rapidly expanding and had been seeing huge amounts of new ridership until COVID-19. Same with the BART in San Francisco and Oakland. A lot of other cities, like San Diego and Sacramento, also have popular local lines.
"But longer distance rail not primarily for commuters still hasn't won over the public. Unlike the Metro, there isn't a major event like the Olympics or a growing population spurring growth. And look at Amtrak. They've lost money for decades. Brightline itself has been underperforming and they've been limited to just Florida. They haven't been out west.
"Add in COVID-19 and investors being even more cautious than usual, and you the Vegas project failing. And you know, they were expecting it to go forward. They just changed their name and they had just introduced a viable construction timeline. But they failed to realize just how unpopular this is at the moment."
Many financial investors also pointed out the unattractiveness of the Brightline West project.
"So the yield on these bonds were around 7.5%, and we would have to wait 30 years for them to mature," investor and investing consultant Terrance Donnelly told the Globe. "Without getting too much in the details of it, I can say that's extremely high. That rate should not be that high unless it is a huge risk for the investor . I'm not surprised that no one bit at this. It's like putting money on a horse with very high odds. They win and you made a fortune. But it's way more likely that they lose. And that's what happened.  Maybe if we weren't in a financial ditch right now, maybe someone would invest. But not right now."
However, despite the bond allocations being taken away and a halt to the project despite construction previously being announced to have begun this year, Brightline has said that the project will continue on.
 "We will continue to move the project forward," said Brightline spokesman Ben Porritt during the weekend.

Latest posts by Evan Symon
(see all)