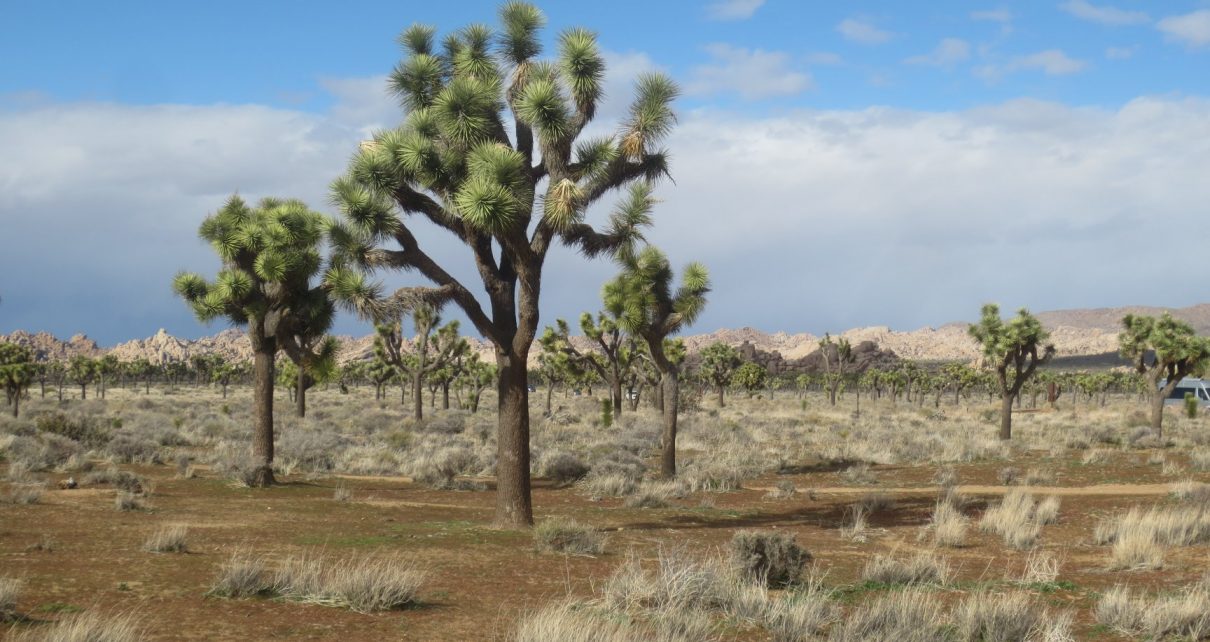 State Grants Temporary Endangered Species Protections For Joshua Trees
Protections to last one year pending study
By Evan Symon, September 23, 2020 3:02 pm
On Tuesday, the California Fish and Game Commission decided in a unanimous vote to legally protect the Joshua tree for one year, with permanent protection under the California Endangered Species Act to be ruled on in one year after a study.
Widespread protections for the Joshua tree
The Fish and Game Commission had been reluctant to formally give total protection to the tree, delaying it's decision for months. Property owners in Southeastern California had fought against such a broad law that would virtually halt all development on land with Joshua trees over night all Summer. However, with state wildfires putting a large focus on  issues surrounding forest management, with some wildfires even threatening to greatly reduce the number of Joshua trees, Fish and Game Officials voted 4-0 to give total state protection for a year.
Supporters for protection of the tree celebrated the ruling, noting that the trees are extremely fragile to climate change due to their roots being so close to the surface.
"This is a huge victory for these beautiful trees and their fragile desert ecosystem," Center for Biological Diversity conservation director Brendan Cummings in a press release. "If Joshua trees are to survive the inhospitable climate we're giving them, the first and most important thing we can do is protect their habitat. This decision will do that across most of their range. Joshua trees face extinction in the wild and there's not much time left to save them. Human-caused climate change is making matters worse. It's critical that the state stood up for these spectacular trees, because the federal government, local officials and for-profit corporations are facilitating their destruction.
"Developers are bulldozing Joshua trees every day to build roads, powerlines, strip malls and vacation rentals. If these beautiful plants are to have any hope of surviving in a warming world, we have to stop killing them. The California Endangered Species Act may be the only hope for saving these iconic symbols of the Mojave Desert."
Nearly all developments on land with Joshua trees halted by new protection
The ruling will halt all construction projects or similar projects where Joshua trees would need to be removed or threatened. In Yucca Valley, where 147 permits where approved this year alone to override city law and allow the destruction of trees for development purposes, it means all projects are officially halted and that the trees will remain standing for an entire year. Removal on private land is also covered under the law, but how land owners choose to use the land around the tree is not.
"We're screwed," exclaimed Paul Lin, a developer with planned developments on properties with the now protected tree, to the Globe on Wednesday. "We aren't grandfathered in. They only did that with a few select properties for green energy purposes. No, it means that all housing projects, all commercial projects, all everything on land where we needed to take down these trees is stopped.
"I have one plot where we can maybe work around them and make a reduced parking lot, but that's it.
"People are moving out East to find cheaper places to live or to find a place to help with medical conditions or to just get away from it all. This is going to push them back since we are now severely limited in building in many places.
"Once the tree is on that list, it becomes nigh-impossible to get off it. We were told that. A bunch of Oregon developers once told me how an owl destroyed the logging industry and immediately halted some projects in Oregon years ago. We didn't think the effects would be so widespread and so immediate, but here we are. Stopped despite getting special city approval before. It doesn't matter with state protection now. The Endangered Species Act protects immediately."
Emergency exemption given by Commission
The Commission did allow an emergency exemption for 15 solar energy projects in Kern and San Bernardino counties due to the need for clean energy and to combat climate change. However, the projects were only granted an exception by the commission to remove now-state protected Joshua trees due to developers paying approximately $10,000 per acre of development into a mitigation fund to preserve protected Joshua tree habitat.
However, the new protections leave many questions open, especially for private land owners.
"The new protections does cover private landowners, but look at what they can still do," said Joshua tree advocate Kate Hill to the Globe. "They can still use ATVs around them, allow buildings close by, allow people and animals to trample by close to the trees. You can still accidently kill them by doing all of this, and only federal protection can really stop it at that extent because federal law is a lot more extensive than state law.
"It's a start though. We're at least stopping most developments now by blocking city exemptions."
The U.S. Fish and Wildlife Service had previously denied federal protection last year.
Affected cities and developers are expected to appeal the Commission's  decision soon, possibly through legal means. If not, the California Endangered Species Act protections for the Joshua tree as a candidate for protected status will last until at least September 2021.

Latest posts by Evan Symon
(see all)