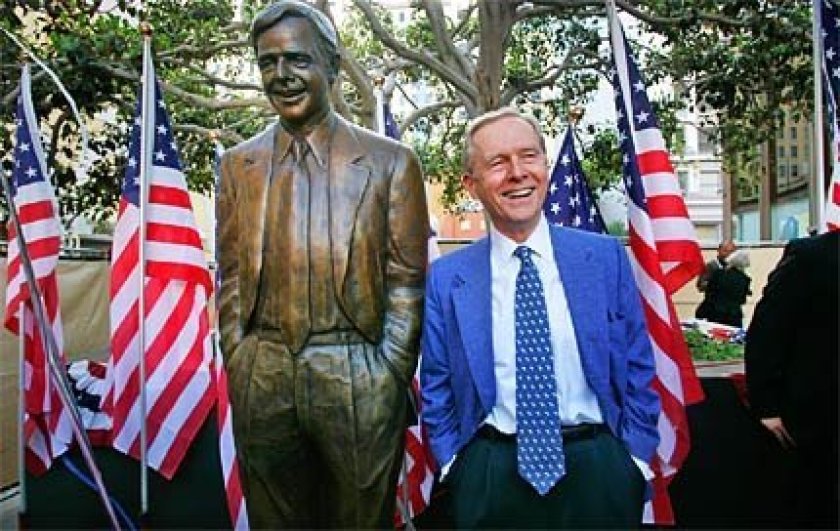 Statue of Former Gov. Pete Wilson Placed Back in San Diego Park
Wilson's statue was taken down in October after vandalism threats
By Evan Symon, December 3, 2020 6:01 pm
On Wednesday, a statue of former Governor Pete Wilson in San Diego, that was removed in October after calls by activists, was placed back in Horton Plaza.
The statue had been originally removed less than two months ago due to activists, influenced by the removal and destruction of statues of controversial figures such as Christopher Columbus and Junipero Serra earlier this year in the wake of the George Floyd protests across California, raising concerns about former Governor Wilson's past actions.
Wilson, who also served as a Senator and the Mayor of San Diego, had been mainly targeted by Hispanic and LGBT activists due to his support for Proposition 187, a 1994 initiative passed by voters, that would have made immigrants residing in the country illegally ineligible for public social services, public health care services, and all levels of public education. While passed by California voters in 1994 by nearly 60%, Prop 187 was later ruled unconstitutional by a federal judge, and has since been used as a main reason why recent Hispanic immigrants in California have not supported the Republican party.
In October, Horton Walk officials, concerned that the activists would destroy the statue similar to other then-recent incidents, removed the statue to protect it.
"We have decided to secure and protect this statue in a place of safe keeping," explained Horton Walk president Stephen Williams in a statement in October. He further stated that they were not giving in to the activists demands and that it was simply to protect the statue.
With protests and activists cooling in recent weeks, and some statue vandals now facing fines and jail time for their actions, the statue was returned. In a statement, Horton Walk praised former Governor Wilson's record as Mayor, Governor, and Senator and said that the statue was in honor of his service and his commitment to the state and San Diego, especially Wilson's efforts in revitalizing the city's downtown area.
"The statue of Pete Wilson is a symbol of all that is great about San Diego and its unlimited future," noted Williams on Wednesday.
Many business owners nearby said that the statue helps in other ways as well.
"You do get those people that didn't like him, but I'd say more like him than not," San Diego bar owner Ben Heard told the Globe. "People like me remember him giving city money to low-income areas. His policies helped save my parents house. I got health insurance under him. I mean, no one is perfect, but the good things he did vastly outnumbers the decisions that were not so good. For a politician that's rare. And that's why people want the statue. I mean, you always saw people taking pictures with it, even during COVID. That tells you something."
However, activists still in favor of the statue removal reacted negatively to the statue being replaced and urged Horton Walk to take it down permanently.
"Hate is not welcome here," said Enrique Morones, founder of Gente Unida, the main group that protested the statue in October, in a statement.
Horton Walk has not given any indication since the statue's placement on Wednesday that it would be removed again anytime in the future.

Latest posts by Evan Symon
(see all)