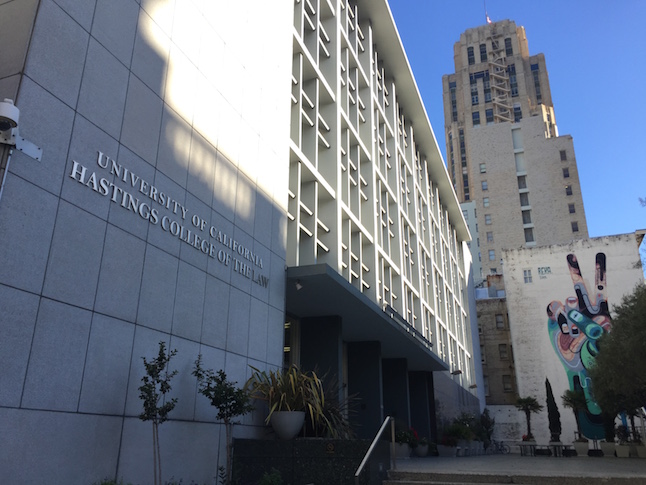 UC Hastings College of Law Confirms Name Change Due To Founders Genocidal Past
School to work with legislators, Governor to get across legislation to legally change the school's name
By Evan Symon, November 8, 2021 3:44 pm
The University of California, Hastings, a law college in San Francisco that has had famous alumni such as Vice President Kamala Harris, confirmed on Monday that the school will be changing its name due to the founder perpetrating acts of genocide against Native Americans in the 1850's.
Between 1856 and 1859, a string of genocidal acts were committed in what is now Mendocino County, with the incidents now known as the Round Valley Settler Massacres. According to multiple contemporary reports, a ranch owner and former California Supreme Court Justice named Serranus Clinton Hastings contributed to the massacres by holding town-hall meetings where settlers could air grievances against the Yuki tribe, even if they were made up. These meetings were used in building up opposition against the tribes to drive them out of the Round Valley, by any means necessary. In 1859, Hastings and ranch workers were more directly involved by murdering hundreds of natives as revenge for murdering his horse, as well as running a forced labor camp.
Two decades later, in 1878, Hastings gave $100,000 to help build a new college in San Francisco, with college officials naming it after Hastings in gratitude. Hastings was also offered and accepted the role as the inaugural Dean of the college.
While Hastings' role in the massacres was never hidden, it was not used to institute a name change until the late 2010's. Professors began reporting on Hastings past again in papers, and in 2020, a UC Hastings study gave a full story on their founder's past. Later that year, the George Floyd incident sparked numerous institution renamings across the country. Earlier this year, Bard Hall at Columbia University was changed due to its namesake being a slave owner, and a college named after former President Woodrow Wilson at Princeton University dropped his name due to his racist past and policies. In California, UC Berkeley removed names from buildings recently, due to their namesakes' negative treatment of Native Americans.
By late October, numerous former Hastings alumni and politicians, such as former San Francisco Mayor Willie Brown, began advocating for a name change. At UC Hastings, this all culminated in a vote earlier this month, with the University Board of Directors electing to change the school's name.
"UC Hastings has collaborated with the Yuki People and members of other affected tribes for the last four years in pursuit of restorative justice. The goal of our collaborations with the tribes is to bring the educational resources of the College to help address the generational trauma inflicted by Serranus Hastings," said Board Chairman Carl W. Robertson in a statement. "That work has raised our awareness of the wrongs committed by the College's namesake and the ongoing pain they cause, and our decision is that we can no longer associate our great institution with his name. With this vote, we authorize UC Hastings leadership to work in good faith with legislators and other stakeholders to change our school's name. We know that some members of our community are attached to the school's name because of the College's wonderful 143-year history, unrelated to Serranus Hastings. But this change is a critical step in addressing our founder's role in Native Californian genocide."
The UC Hastings Board of Directors voted to authorize Chancellor & Dean David Faigman to pursue changing the college's name.
Read the press release: https://t.co/7HMiN2Gv91

— UC Hastings Law (@UCHastingsLaw) November 3, 2021
A tentative name change for UC Hastings
On Monday, UC Hastings confirmed that they will now be working with state legislators and Governor Gavin Newsom to change the school name. As any name change is codified in state law, legislation will be needed to approve the change.
"There is no effort from me or the college to oppose a name change. Such a change would require action from the California State Legislature and Governor's office. If changing the name is something the College needs to do to bring restorative action and there is legislative action to facilitate that change, I will engage with that process," said UC Hastings Chancellor and Dean David Faigman this week. "We never shied away from that history, or I never did, and I wanted to confront it. And then the question was, 'What to do about it?' And that went to the recommendations to identify initiatives to reconcile and restore justice with the descendants who feel the historical trauma and pain of what their ancestors suffered."
"It's something that I think our community can benefit from. And I hope that we can provide some benefit to their community."
However, in addition to state approval being needed, there are many hurdles in the path to complete name change. A lawsuit by Hastings' descendants is possible, although one of Hastings descendants is on the college Board and voted in favor of the name change, hinting at that scenario as being unlikely. But a more general lawsuit is possible, especially if the college picks a name too close to an existing college name, or as a suit against name change itself.
"A lot of people graduated from there," said a former alumnus who wished to remain anonymous, and is currently considering a lawsuit against the College should it appear that the name change is imminent. "It's not a question if Hastings was a bad person or anything like that. It's a matter to many of what it means for degrees, for alumnus, and for people who have a big stake in it. If they change the name, a UC Hastings degree from the past will sound like the school never existed. A lot of name changes screw people over, since where they were no longer exists. A lot of cities that changed their names have had mail troubles for decades, among many other things. Even successful crossovers, like Bombay becoming Mumbai in India, cost a lot financially speaking because of so much being tied up with the name."
And that's not mentioning the suits that have prevented name changes in the past. And that's just one way you can bring a decent lawsuit against them. There are many. And if UC Hastings, which wouldn't exist without the guy to begin with, gets state approval, there's going to be a lot of legal action."
UC Hastings currently has no planned alternative name for the school, although, according to Faigman, they are currently considering a "geographic or California-specific designation."

Latest posts by Evan Symon
(see all)