Ventura County Judge Censured for 8 Years of 'sexist' and 'profane' language
Judge Jeffrey Bennett will not be removed from bench following severe judicial reprimand
By Evan Symon, March 26, 2020 4:40 pm
Ventura County Superior Court Judge Jeffrey Bennett was censured on Wednesday by the state Commission on Judicial Performance after years of 'sexist', 'profane', and 'demeaning' language used in the court.
Judge Bennett, who has been on the Superior Court since 2009, acknowledged 28 times that he had acted inappropriately in the last 8 years in both the criminal and civil divisions of the court and ultimately accepted the censure.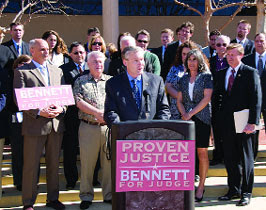 "Judge Bennett has accepted this censure, taken full responsibility for his conduct, and is committed to improving as a judicial officer," said Bennett's attorneys in a statement. "He has always acted in the best interest of the Ventura County Superior Court and is looking forward to continuing to serve the public and the administration of justice."
Recounted incidents of Judge Bennett's adverse behavior included telling a black defendant to stop "shucking and jiving," using profane words during court such as "fucking" and "shit," referencing his "balls" and "ass" during court, making sexist remarks such as telling a man to [stop] spending so much time with his telescope if he had a '20-year-old smoking hot wife, and making a remark about his "smoking hot 10" dental hygienist that "could do whatever she wanted" to him.
The commission itself said of these incidents that they "[degrade] the decorum of the court and [reflect] negatively on the judiciary."
"Judge Bennett can be off the cuff like that. He has that kind of reputation on the bench," noted law clerk Robin Sawyer, who works for a firm in Ventura County. "Every judge is different, but most have cool heads in my experience. Bennett could say things like that. I never heard anything too, too bad from him, but I know I heard him say the f word in court. And some of his comments I definitely heard second-hand."
"The censure just validates all of this. Nothing what he said was legally wrong, but he did need to be reprimanded somehow. And that's what a censure essentially is. It's a public reprimand. It's not removing them from office, but it's like everyone else saying 'What you're doing is wrong, and we're going to let the public know about this'. It's a serious punishment, but he gets to keep his job."
Judge Bennett, who had been under investigation since the beginning of the month, will continue to be a judge on the Ventura County Superior Court. With his current term expiring in 2021, the censure is expected to have an impact on his re-election if he chooses to run.

Latest posts by Evan Symon
(see all)