Maxine Waters Dismisses Threats, Dem Leaders' Criticism
As Trump goads her on
By Evan Gahr, July 3, 2018 6:59 pm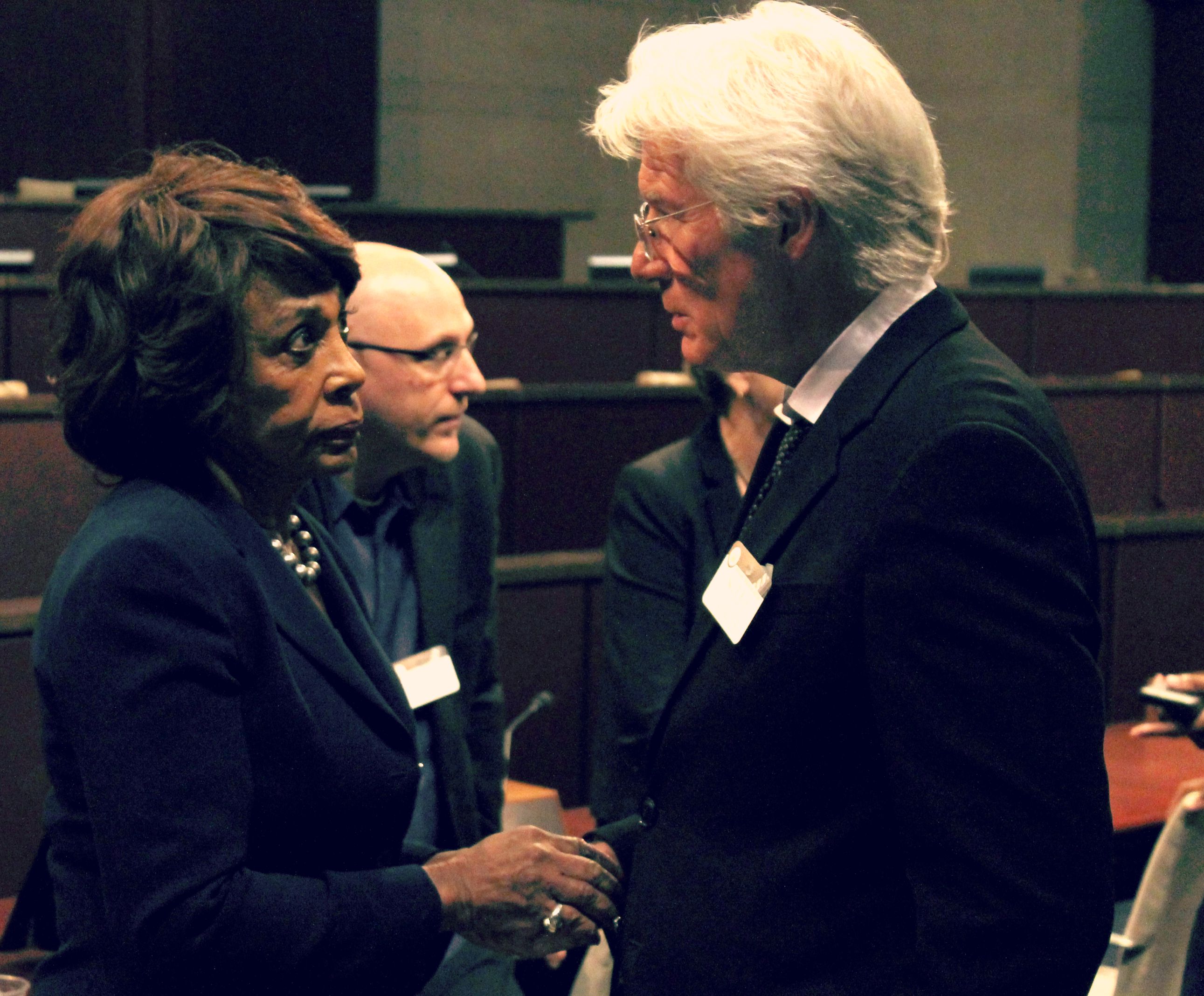 Los Angeles Representative Maxine Waters (D-43) is shrugging off rebukes from the Democratic congressional leadership and the death threats that followed her incendiary remarks urging the harassment of Trump Administration officials.
And today, President Donald Trump poured his own unique brand of kerosene onto the fire.
In a tweet he called Waters "crazy" and "corrupt," contending the veteran congresswoman "is rapidly becoming, together with Nancy Pelosi, the FACE of the Democrat Party [correct as written]. Her ranting and raving, even referring to herself as a wounded animal, will make people flee the Democrats!"
Crazy Maxine Waters, said by some to be one of the most corrupt people in politics, is rapidly becoming, together with Nancy Pelosi, the FACE of the Democrat Party. Her ranting and raving, even referring to herself as a wounded animal, will make people flee the Democrats!

— Donald J. Trump (@realDonaldTrump) July 3, 2018
Trump was alluding to Waters saying over the weekend, in response to threats, including one considered so serious she cancelled speaking engagements, that if somebody wants to kill her they "better shoot straight" because "there is nothing like a wounded animal."
The fracas started last month after White House press secretary Sarah Huckabee Sanders was hounded out of a Virginia restaurant. Some establishment Democrats deplored the treatment of Sanders but Waters quickly made clear there should be plenty more where that came from.
At a June 23 Los Angeles rally Waters exhorted the crowd, "Let's make sure we show up wherever we have to show up. And if you see anybody from that Cabinet in a restaurant, in a department store, at a gasoline station, you get out and you create a crowd. And you push back on them. And you tell them they're not welcome anymore, anywhere. We've got to get the children connected to their parents."
Referring to the separation of migrant parents from their kids when stopped at the U.S. border, she said, "We don't know what damage has been done to these children. All that we know is they're in cages. They're in prisons. They're in jails. I don't care what they call it, that's where they are and Mr. President, we will see you every day, every hour of the day, everywhere that we are to let you know you cannot get away with this."
The following day on MSNBC  Waters made clear which way she wanted the protests to go. "The people are going to turn on [members of the Trump Administration]. They're going to protest. They're going to absolutely harass them until they decide that they're going to tell the President, 'No, I can't hang with you.'"
Democratic pooh-bahs, apparently fearing a backlash from voters, chided Waters for her remarks.
Without mentioning the iconic congresswoman by name, House Minority Leader Nancy Pelosi (D-12) wrote on Twitter June 25 that Trump's daily lack of civility has provoked responses that are predictable but unacceptable. "As we go forward, we must conduct elections in a way that achieves unity from sea to shining sea."
Also on June 25, Senate Minority Leader Chuck Schumer (D-NY) cast Waters' remarks as un-American.
"We all have to remember to treat our fellow Americans, all of our fellow Americans, with the kind of civility and respect we expect will be afforded to us," Schumer said on the Senate floor. "No one should call for the harassment of political opponents. That's not right. That's not American."
This is not the first time Waters has taken an attitude toward violent rhetoric that some might consider extreme. The long-serving Congresswoman first rose to national attention by delivering supplies to Watts after the Rodney King verdict and became famous for saying for the unrest that followed should be characterized as a "rebellion" instead of "riots." She called the turmoil, in which 58 people were killed, "a spontaneous reaction to a lot of injustice" and remarked, "If you call it a riot it sounds like it was just a bunch of crazy people who went out and did bad things for no reason. I maintain it was somewhat understandable, if not acceptable."
On MSNBC this Sunday, Waters dismissed the blowback from Congressional leaders as the kind of self-serving remarks one would expect from entrenched leaders.
"You know, I was surprised at Chuck Schumer, you know, reached into the other house to do that," Waters told host Joy-Ann Reid. "I've not quite seen that done before. But one of the things I recognize, being an elected official, is in the final analysis, you know, leadership, like Chuck Schumer's, will do anything that they think is necessary to protect their leadership."
Latest posts by Evan Gahr
(see all)