Four Recall Candidates Meet At First Recall Debate In Yorba Linda
Candidates slam Newsom, debate topics ranging from mask mandates to the homeless crisis
By Evan Symon, August 5, 2021 11:35 am
On Wednesday, four major candidates running to replace Governor Gavin Newsom in the 2021 Gubernatorial recall election debated for 90 minutes at the Richard Nixon Presidential Library in Yorba Linda, marking the first recall candidate debate.
2018 GOP gubernatorial candidate John Cox, former San Diego Mayor Kevin Faulconer, Assemblyman Kevin Kiley (R-Rocklin), and former California Congressman Doug Ose largely avoided attacking each other during the debate and instead turned most of their focus either towards singular issues such as critical race theory education, homelessness, state drought, and the minimum wage law, or against Governor Newsom.
Issues stemming from COVID-19 played a large part of the night due to COVID-19 lockdowns, mask mandates, and vaccinations being some of the most prominent issues in the state since March of last year.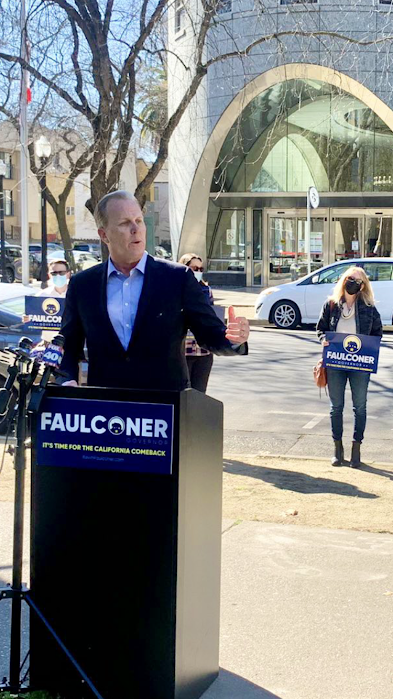 Faulconer, who dealt with COVID restrictions while Mayor as San Diego last year, said that he wants to look into if the Governor can directly stop mask mandates at the local level in places such as schools and that he specifically opposes mask mandates in schools.
"I do not favor mandates; I favor educate. You're not going to mandate your way out of the coronavirus," noted Faulconer.
However, the former Mayor also distinguished himself as the only candidate on stage to encourage Californians to get the vaccine if they are able to, with the other three either opposing it or not supporting more vaccinations outright.
Kiley fought back against masks in schools, praised personal choice in getting vaccinated, and blasted Newsom for placing so many restrictions on Californians during the pandemic. Above all, Kiley said rather than have more government restrictions placed on people, that Californians should have been trusted. "Parents know what is best for their kids and they should be making decisions themselves," explained Kiley. "To make the case that California got it right, you also have to make the case that all 49 other states got it wrong, and that's a case that simply cannot be made on the basis of the data. States that took a different approach, that followed the science that took a balanced approach, and that trusted their citizens, did a lot better."
Cox was more blunt, calling Newsom's handling of the COVID-19 pandemic nothing short of a disaster and went against CDC recommendations to say that vaccines should not be going to those already vaccinated. "Newsom's COVID management an absolute disaster that resulted in far more danger and far more problems," stressed Cox on Wednesday in the debate.
Ose called out the government for overreaching their legal boundaries during the pandemic and instead said that options should be given rather than more mandates, such as the option for parents to choose which school their child goes to based on mask regulations, rather than a straight placement to one under mandates. "The government is engaged in a significant overreach of its authority," added Ose. "I happen to have great faith in the ability of people to make decisions of their own. The government overreach has to stop. Instead of giving people mandates, we need to give them options."
Questions over homelessness in California
Homelessness and the decline of California also took a prominent role in the debate, with many questions being peppered in throughout the evening asking candidates on issues ranging from the homeless crisis in general, to more specific homeless issues such as the Appellate Court's recent decision on the Skid Row housing case.
Kiley lamented the current state California was in, saying that "This used to be the state where anyone could get ahead. Now it's the state that many can't wait to leave behind, and our soaring housing costs are central to that."
Faulconer largely agreed, adding that it is also taking an economic toll on Californians with many being priced out. "California is too expensive," said Faulconer. "People are leaving California, they are voting with their feet. And the reality is that we have a governor who doesn't seem to think that it's a problem."
However, when Faulconer's homelessness record as Mayor of San Diego came up, with Faulconer elevating his proactive approach of the issue as one of the highlights of his Mayoral career there, Ose disagreed. He called out Faulconer for miscalculating the success of his programs. The former Mayor defended his record.
Ose emphasized the need for proper homeless fund divestment, pointing out the large amount of state and local funds, as well as showing frustration on not much being done to solve the crisis. "I am just done waiting for someones solution on homelessness," added Ose. "75-80% of these people are either drug addicted or mentally ill. There's not shortage of funds at the state or local level."
Meanwhile, Cox also agreed, outlining the faults of the current system and going after Los Angeles' homeless issue. Specifically, he also pointed out a lack of fund divestment and gave a unique real estate perspective on what needs to be done about housing for the homeless.
 "Los Angeles passed a huge tax increase and the money wasn't spent," explained Cox. "They were getting quotes for $500,000, $600,000 a door. I've built in Indiana for $100,000 a door. And it's not the land cost. It's the regulations, it's the cost of building. And that means that we need to solve the problem again. We've got to attack the cost of building in the state. Approvals faster, we've got to reduce the mandates, we've got to reduce the litigation, speed up approvals and then have people demand that officials use the money wisely."
Other issues covered Wednesday night, 3 missing debaters
Throughout the night, the candidates also touched on a wide variety of issues. Assemblyman Kiley pointed out the need for civics classes in schools over things such as critical race theory, with the latter filling in a "vacuum" left open in the public school system.
"I think the important thing of Critical Race Theory is that exposed a hole in our public school system. We don't really teach civics like we used. Civics wasn't always some add on to the curriculum, Not only do we need to not allow the CRT bill, but we need to return [civics] back into our schools," said Kiley.
Ose said he wanted to get rid of Newsom appointees in government if elected, with Cox agreeing with fellow candidate Larry Elder on wanting a $0 minimum wage. "The real, true minimum wage should be zero. It should be set between the employer and the employee," stated Cox.
Faulconer also went after Newsom on the issue defunding the police and lessening sentences of criminals by pushing for legislation that turned many felonies into misdemeanors. "I've seen the disasters of these policies on the streets throughout this great state of ours, it's time to have a governor who is going to put victims first," said Faulconer. "Every California family deserves to be safe, to feel safe and to have a safe neighborhood. That is not the reality under Gavin Newsom's California."
While many topics were discussed and the debate remained civil throughout the night, only a little over half of the invited candidates showed up. Elder, who has taken a commanding lead among recall candidates in recent weeks, could not attend due to a prior commitment at a fundraiser in Bakersfield. Reality TV show star Caitlyn Jenner could also not make it due to a prior commitment, but with hers being non-political as she is currently in Australia shooting a reality TV show. Governor Newsom, who was also invited, never responded to the invite.
A second debate, also to be held at the Nixon Library later this month, is currently being planned. Due to it taking place in late August, Elder and Jenner would be more likely to attend.
The California Gubernatorial recall election is to be held on September 14th.

Latest posts by Evan Symon
(see all)