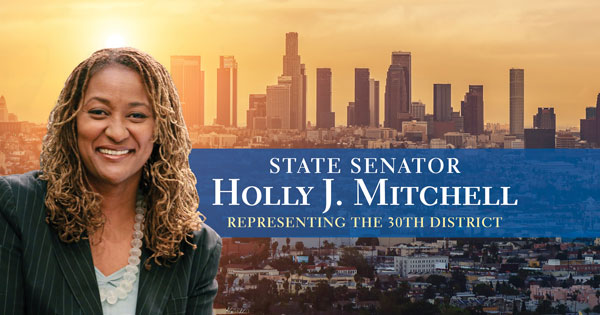 Bill to End 'Hair Discrimination' In the Workplace Moves Ahead
'An image of professionalism was created with European features'
By Katy Grimes, June 4, 2019 11:23 am
While existing state and federal laws prohibit racial discrimination in schools and workplaces, one area has not legally evolved — hairstyles, or rather "natural hairstyles" traditionally worn by African American men and women.
Sen. Holly Mitchell (D-Los Angeles) authored SB 188 to create the CROWN Act, "Create a Respectful and Open Workplace for Natural Hair," by clarifying that traits historically associated with race, such as hair texture and hairstyle, be protected from discrimination in the work place and in K-12 public and charter schools.
Mitchell says the courts have not recognized that "Eurocentric standards" of proper grooming and professionalism have a disparate and adverse impact on African Americans, especially when it comes to hairstyles.
"While anti-discrimination laws presently protect the choice to wear an afro, afros are not the only natural presentation of Black hair," a SB 188 fact sheet says. "This bill will ensure protection against discrimination based on hairstyles by specifying in Gov Code 12926 that the protected class of race also includes traits historically associated with race identification, such as hair texture and hairstyles."
Mitchell's bill has already passed the Senate, and was heard in the Assembly Judiciary Committee Tuesday, where she explained that black people are disproportionately affected by bias when it comes to their hair. "Natural hair discrimination constitutes race discrimination," Mitchell said. "Any law that sanctions a job description because of how I choose to wear my hair is long overdue for reform."
Mitchell said as a professional woman, she has always worn her hair natural. But many African American women, men and children have been passed over for promotions, denied jobs, bullied or been terminated because of natural hair styles.
"Therefore, SB 188 will clarify that the California Legislature recognizes that discriminating against a person because of that person's race includes discriminating against that person because they choose to wear a hairstyle historically associated with race, whether that hairstyle is 'natural' or 'immutable' or not," SB 188 analysis states.
When SB 188 was first introduced, business owners were concerned because of worker safety issues. Women or men with long hair working around equipment are especially at risk. Mitchell said her bill does not prevent an employer from establishing grooming standards, including hairstyles, to the extent that those standards reasonably relate to a bona fide job qualification. 
"There is a great need to educate the general public of black hair texture," Mitchell said, explaining that it is time to challenge what determines appropriate, professional hair.
The Judiciary Committee voted unanimously to pass SB 188.
Latest posts by Katy Grimes
(see all)