BREAKING: Uber, Lyft Granted Emergency Stay Against Reclassifying Drivers As Employees
Appellate Court decision comes only hours after companies announced suspension of all California operations
By Evan Symon, August 20, 2020 2:25 pm
On Thursday, a California Appellate Court judge granted rideshare companies Uber and Lyft an emergency stay against having to reclassify their drivers as workers, only hours before both companies were to suspend service in the state.
A victory for rideshare companies, a setback for AB 5 supporters
Both companies will now have until August 25th to file statements agreeing to the expedited procedures in the order. Uber and Lyft will also have until early next month to give plans on what will happen if the companies lose the appeal or if Proposition 22, which would exempt both companies from the AB 5 employee law, fails to pass in November.
Earlier on Thursday, Lyft had announced that they would be suspending service statewide due to severe restrictions they would face if they had to classify their drivers as employees.
"This is not something we wanted to do, as we know millions of Californians depend on Lyft for daily, essential trips," said Lyft in their post. "For multiple years, we've been advocating for a path to offer benefits to drivers who use the Lyft platform — including a minimum earnings guarantee and a healthcare subsidy — while maintaining the flexibility and control that independent contractors enjoy. This is something drivers have told us over and over again that they want.
"Instead, what Sacramento politicians are pushing is an employment model that 4 out of 5 drivers don't support. This change would also necessitate an overhaul of the entire business model — it's not a switch that can be flipped overnight."
The Uber response
Uber had also heavily hinted about suspending service on Friday, and would have announced later on Thursday if the Appellate court had issued a stay.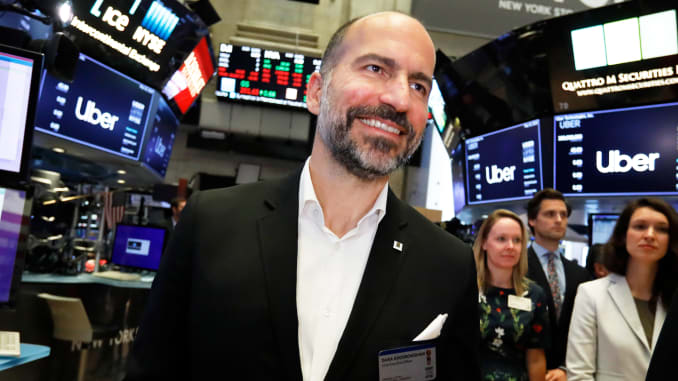 "All of our model, everything that we have built is based on this platform that brings earners and brings people who want transportation or delivery together," said Uber CEO Dara Khosrowshahi on Wednesday on suspending operations. "You can't flip that stuff overnight. It'll take time, and we will figure out a way to be in California. We want to be in California. But if the court case comes in, then we'll have to shut down, and we've got the best engineers in the world figuring out how we can rebuild this thing.
"If we do have to go to employment model, what's going to happen is that we will then have to underwrite driver productivity. There will be far fewer drivers employed, so my guess is 70-80% of users who use Uber for flexibility, they drove 5 to 10 hours, etc., they will not be able to earn. The prices are going to go up. They're going to go up less in city centers. So I think SF prices will go up by 20%. Smaller cities prices will go way up."
Uber also released a a small statement after the stay was issued on Thursday, saying "We are glad that the Court of Appeals recognized the important questions raised in this case, and that access to these critical services won't be cut off while we continue to advocate for drivers' ability to work with the freedom they want."
Rideshare companies, California to be back in court by October over fate of independent contracting
Last Monday, both rideshare companies had been ordered by a California Superior Court judge to reclassify their drivers from independent contractors to employees. Driver advocates and AB 5 supporters had celebrated the decision, which would give drivers expanded rights and more benefits such as health care.
"The court has weighed in and agreed: Uber and Lyft need to put a stop to unlawful misclassification of their drivers while our litigation continues," stated California Attorney General Xavier Becerra last Monday. "Our state and workers shouldn't have to foot the bill when big businesses try to skip out on their responsibilities. We're going to keep working to make sure Uber and Lyft play by the rules."
Facing greatly reduced service and the slashing of tens of thousands of drivers across California, Uber and Lyft had appealed, threatening to pull out before the ruling went into effect on August 21st.
"Uber and Lyft had essentially pulled the hammer back and asked the state if they wanted to see if it was loaded," explained Los Angeles Lawyer Lydia Pastore in a California Globe interview. "When Lyft pulled out this morning, everyone saw that they weren't bluffing.
"California really does not need tens of thousands more people unemployed, nor do they need to have a shut down of an essential way for people to travel.
"Many of my clients are rideshare drivers, mainly for Lyft, and they had felt almost 'liberated' by Lyft's threat today. Not scared or angry, but liberated. They wanted them to fight back for them, and they delivered. Rideshare companies just can't do or afford mass hirings of, what, I think Uber said 50,000 people. And drivers don't want set or reduced hours. They want to be flexible."
"Now we have to wait on the courts. The big date will come in October when the trial starts. The stay had shuffled the reclassification date from tomorrow until then. But between the 25th, when the companies have to file an agreeance, to that October date, things will be hectic and we may see service still shut down."
"The power is back on their side and the state knows it."
With a stay now in place, Appellate Court arguments in the rideshare employee case are expected to begin sometime in October.

Latest posts by Evan Symon
(see all)