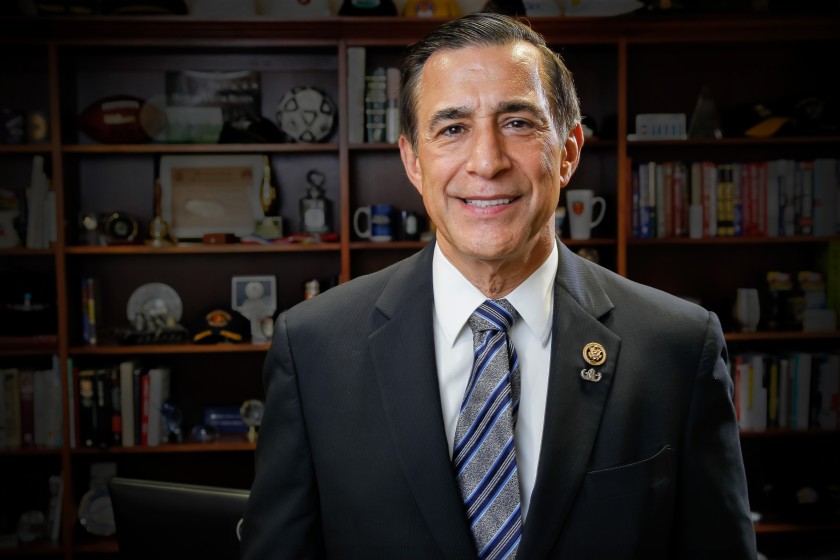 California Globe Interviews Former Rep. Darrell Issa
Issa garnered endorsements from nine current members of Congress and former CA Gov. Pete Wilson
By Katy Grimes, February 17, 2020 12:47 pm
Many Californians remember Republican Congressman Darrell Issa for financing the successful recall petition drive of Democratic Gov. Gray Davis in 2003. In 2003, Issa was already a member of the House of Representatives from California. While Issa ran to replace Davis, history was made in California when Arnold Schwarzenegger announced he would run for governor of California as part of the recall, and Issa dropped out of the race. Gray Davis was rightly recalled and Schwarzenegger won election as Governor however, many felt California lost again electing a movie star rather than someone who knew how to govern.
History has shown that to be true.
California Globe recently had a lengthy interview with Darrell Issa about his current campaign for the 50th Congressional District, his vast work experience, and we traveled down memory lane.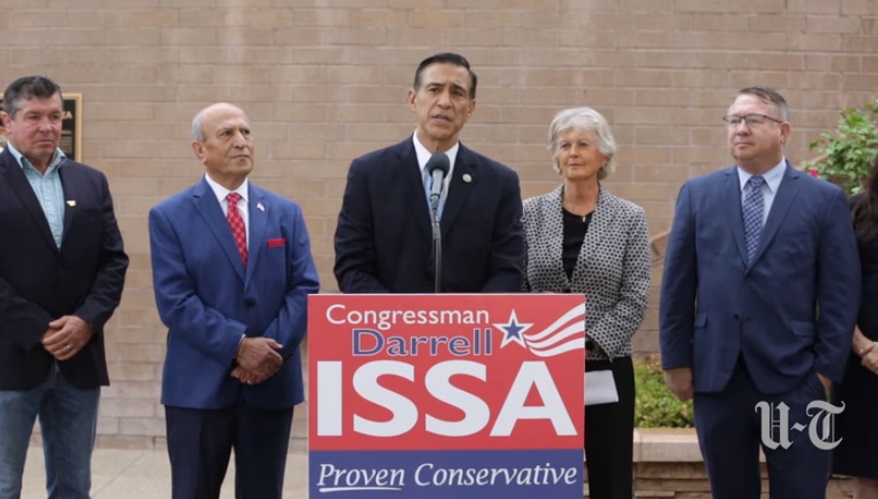 Issa served coastal San Diego and Orange counties for almost two decades in the U.S. House of Representatives, first in California's 48th Congressional District, then in the 49th after redistricting. Issa, a Republican, did not seek reelection in 2018, and his former district flipped to Democrat Mike Levin that year. With Rep. Duncan Hunter's conviction of a federal corruption charge and his resignation from the House of Representatives, Issa is running in Hunter's former 50th Congressional District. Issa chose not to run for reelection in 2018 following the gerrymandering of his district, his website reports.
Contenders for the 50th are radio talk show host and Republicans Carl DeMaio, State Sen. Brian Jones, and Democrat Ammar Campa-Najjar, who narrowly lost to Hunter in 2018. Issa is often criticized for living outside the 50th district however, he has represented portions of the district for 12 years before the redistricting redraw after the 2010 census.
While Issa used to represent the 49th Congressional District, parts of it are now in the 50th in San Diego County, which includes suburban and outlying areas of the county, including Fallbrook, San Marcos, Valley Center, Ramona, Escondido, Santee, Lakeside, parts of El Cajon and mountain and desert areas stretching east to the Imperial County line. It extends slightly into southwestern Riverside County in the Temecula area.
Issa's Early Life
Issa said in 1970 at age 17 he enlisted in the U.S. Army, following in the footsteps of his father who served during World War ll. While he was stationed all over the United States, he came to California with the Army and was stationed at Fort Ord.
In the Army he specialized in Explosive Ordinance Disposal (EOD), where he learned how to arm and disarm bombs. While in the Army, he went to college on an ROTC scholarship, earning a bachelor's degree in business administration. Issa was also a tank platoon commander, a computer R&D specialist, and attained the rank of Captain, and served in the Army and Army Reserves until 1989.
Issa started his electronic car alarm business in California in 1985. "By 1990, Issa's Directed Electronics Inc. was the nation's largest manufacturer of after-market auto alarms," the San Diego Union tribune reported.
In 2000, he ran for and was elected to represent the 48th Congressional District.
Media Obsessed with Issa's Wealth
The Atlantic notes Issa has significantly increased his wealth in just four years — in 2008, his fortune was worth roughly $160 million. He made his fortune as the head of the company that makes the Viper car alarm. At least they acknowledge he earned his wealth outside of Congress.
The 50th Congressional District
Issa described the 50th Congressional District as a very rural district which runs along the 51st Congressional District and deals with issues along the U.S./Mexico border.
Issa addressed the decades of border issues and the need to work with Rep. Juan Vargas (D-San Diego, CA) who represents the 51st Congressional district areas on or near the border. "The pollution has grown appreciably," Issa said. "They do not have a separate sewer system from stormwater in Tijuana… but this water needs treatment." Issa said the water system in Tijuana seems to only fail at night. "We've got to hold a foreign government accountable to not put their sewage in the water."
Issa said he and Vargas have worked together int he past and looked at the entire region together.
Issa also addressed the crime issues along the border with gangs committing crimes in the U.S., then running back across the border. Tijuana had 2,600 murders in 2018, and was declared the most violent city in the world. The majority of murders are due to the drug trade.
As for California's sanctuary state status, Issa said the President is working legislatively as well as using the appropriations process. California cities and now the entire state provide sanctuary for criminal illegal aliens.  Issa noted that one thing that can be done is picking up criminal illegal aliens on federal charges whenever possible. "The President has said to arrest sheriffs and mayors" who do not comply with federal immigration officers, "or when a federal judge issues an order and a state ignores it, they can be held in contempt," Issa said.
The Campaign
"My opponents are trying to paint me as part of the swamp," Issa said. But he noted that when he was still in Congress, he worked on H-1B Visa reform. However, when he left Congress, H-1B reform died. There are exemptions in the H-1B Visa program that allow companies to hire more foreign workers "when qualified U.S. candidates are not available," the standard line used by the U.S. Chamber of Commerce and globalists. The H-1B program is widely used by the technology industry and many large U.S. companies to annually bring in tens of thousands of foreigners, many from South Asia, KPCC public radio reported.
The H-1B Visa program was a big part of President Donald Trump's 2016 "America-First" campaign promise. As part of his "buy-American, hire-American" initiative, Trump ended up signing an Executive Order to get the reform ball rolling, reigning in the program, and giving a boost to American workers and the middle class.
"He said the current system that doles out thousands of H-1B visas in an annual lottery is unfair to U.S. workers, and he vowed to restrict visas to only the most skilled and most-valued applicants, such as foreigners with masters degrees or doctorates," the Washington Times reported.
"People miss the fact that I am a fierce partisan," Issa said. "When Obama was President, I was his 'Annoyer in Chief.'"
Issa is looking forward to a second term by President Trump.
In the 50th Congressional District, Issa said his constituents have three hot issues he is focused on:
The Border Wall gets built;
They want the support of President Trump;
They are strongly pro-life and religious.
Issa said at a recent townhall meeting, a woman asked, "How do I know I'm getting my fair share of the Trump economy?"
"California isn't competing very well," Issa said. "Silicon Valley is strong, and the tourist trade is great, but tourism is not a great wealth creator," he added.
"California is at war on the entrepreneur," Issa said identifying the damage inflicted by Assembly Bill 5 on the independent contractors and freelancers in California. "The Uber and Lyft drivers aren't the only ones hurt," Issa said. "Those who sell all kinds of things on eBay – what is eBay going to do… put them on the payroll? No!" Issa said. He said janitorial services and home cleaners are an excellent example of those hurt by AB 5. "They often work as a family," Issa said.
Issa the Veteran
While in Congress, Issa made 40 different trips to combat zones in Afghanistan, Iraq, Kuwait, Pakistan, Lebanon, and even Israel when it was attached in 2006. Issa was on the Foreign Affairs Committee for 18 years, and said as such, it was his responsibility to go to the countries where American soldiers and sailors were stationed and fighting.
Issa noted the importance of electing a military veteran to the 50th Congressional District. With 40 military bases in California, a large chunk of them are in  San Diego County. "This is a highly military area – we need a veteran."
Endorsements
Issa has received many endorsements including from former California Governor Pete Wilson, San Diego Mayor Kevin Faulconer, mayors, county supervisors, and council members from cities San Diego County, and from former Congressional colleagues GOP leader Kevin McCarthy, GOP Whip Steve Scalise, Reps. Jim Jordan, Mark Meadows, Devin Nunes, Tom McClintock, Ken Calvert, Doug LaMalfa, and Paul Cook, and notably from former Rep. Duncan Hunter Sr.
Latest posts by Katy Grimes
(see all)