California, Nevada, Arizona Reach Colorado River Agreement With Federal Government
Will the water police come back to LA?
By Evan Symon, May 22, 2023 12:44 pm
Governor Gavin Newsom, along with Arizona Governor Katie Hobbs and Nevada Governor Joe Lombardo, announced a new agreement with the federal government on Monday designed to reduce the amount of water taken from the Colorado River By all three states by 13%.
In recent years, water levels in the Colorado river have gone down to new lows, largely due to hotter temperatures, a lower amount of meltwater, and the states of California, Arizona, Nevada, Utah, and Colorado continuing to tap it for urban and agricultural uses.
Last year, the situation grew so dire that Lake Mead hit a record new low, and electricity generated from both Hoover and Glen Canyon Dams was nearly cut off.
While the heavy rainfall in California in January and March brought back needed rain and snowpack to much of the state this year, with reservoirs even topping out, the recovery along the Colorado River has been slower with fewer storms in the Rocky Mountains.
Water usage is still a huge concern. Future estimates show that water levels are expected to dip again, and many are worried that a reduced amount of water can end electricity generation at dams on the Colorado River, leading to the federal government California, Arizona, and Nevada agreeing on Monday to limit usage.
According to the agreement, the three states, as well as water districts, Native American tribes, and farm owners will all reduce water usage by 13%. In total, this will amount to roughly 3 million acre-feet of water over the next three years. A single acre foot of water converts to about 326,000 gallons. This agreement is expected to help preserve water stocks in the river, as well as maintain electricity generation further up the river with less demand coming from lower basin states.
Overall, the federal government is to reimburse the states, tribes, and water districts for 2,300,000 acre feet of lost water, amounting to about $1.2 billion in total. The rest of the 700,000 acre feet will not be compensated, with each state expected to absorb a small loss as a result.
A 13% water reduction agreement
"Today's announcement is a testament to the Biden-Harris administration's commitment to working with states, tribes and communities throughout the west to find consensus solutions in the face of climate change and sustained drought," said U.S. Interior Secretary Deb Haaland on Monday.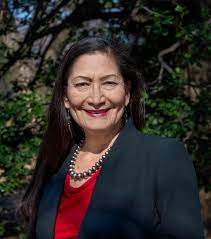 In a statement, Governor Newsom said, "The entire Western United States is on the frontlines of climate change — we must work together to address this crisis and the weather extremes between drought and flood. California has stepped up to make significant cuts to water usage and now, this historic partnership between California and other Lower Basin states will help maintain critical water supply for millions of Americans as we work together to ensure the long-term sustainability of the Colorado River System for decades to come."
Water experts told the Globe on Monday that the cuts were expected, especially due to the ongoing drought in the West, and that new restrictions would likely be coming to many parts of Southern California as a result soon.
"California really saw improvement this year in water resources," Jack Wesley, a water systems consultant for farms and multi-family homes, told the Globe Monday. "The snowpack in April was at two and a half times where it needed to be to provide enough water for most of the state this year, and our reservoirs are brimming with water again. The only real trouble spot has been along the Colorado River, because it just hasn't been recovering and there aren't too many large scale reservoirs out there."
"So, a lot of areas that didn't get water saved up during the first part of this year are going to have to cut back now by 13%, which means restrictions will be coming back. We don't know the degree yet, or where exactly they will be, but they'll happen. I'm not sure if it means the water police will be coming back to LA, but it will mean, at the very least, messages about being careful about usage will return. Tickets for washing your own car with a running hose? Remains to be seen. But they did just announce this to say, so when summer gets closer, you can expect some restrictions and city announcements to come. And if you're a farmer in the area, you'll probably get a letter soon about what it means for you."
It is currently unknown what statewide restrictions, if any, will be enacted in California as a result.

Latest posts by Evan Symon
(see all)