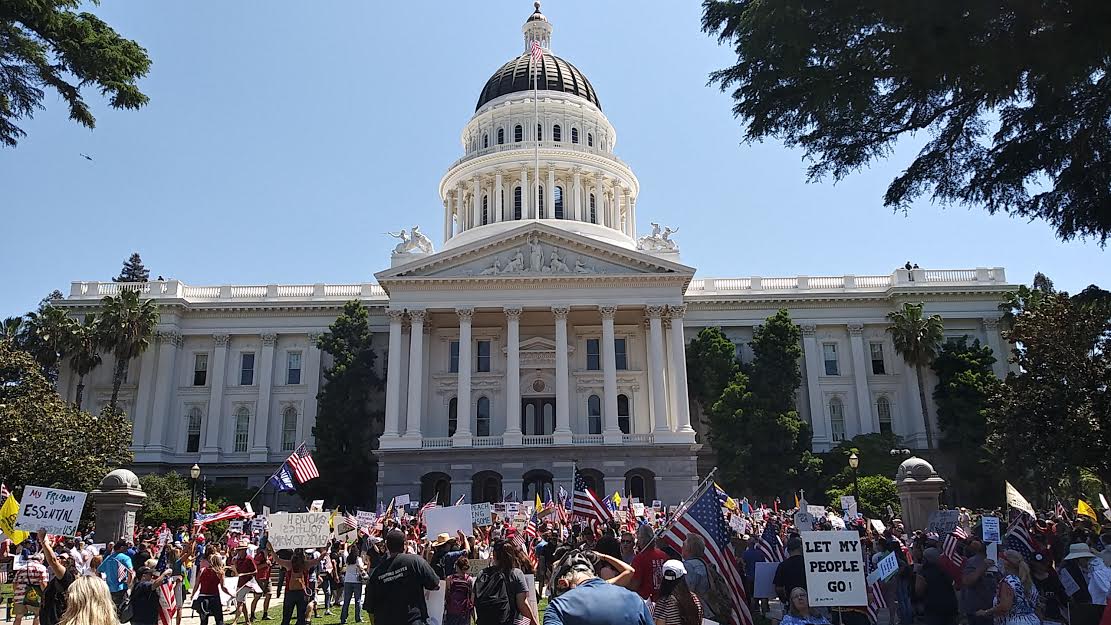 Gov. Newsom Predicts 'Tens of Billions of Dollars' of Debt From COVID-19 Lockdown
'Most destructive act of government' hurting small businesses
By Katy Grimes, May 7, 2020 1:29 pm
The State of California is facing even more dire financial times ahead than we are currently experiencing under lockdown, with job and business losses.
Gov. Gavin Newsom, in his daily briefing Thursday, said he is anticipating "tens of billions of dollars of debt" coming in his revised state budget. Yet it is Gov. Newsom who ordered the complete lockdown of the state, while other governors remained open for business, with common sense social distancing and self-quarantining for those who were vulnerable.
"The sudden recession brought by the new coronavirus is expected to drive California into a $54.3 billion deficit over the next year and send the state's unemployment rate well above its peak in the Great Recession, according to a memo released by Gov. Gavin Newsom's office Thursday," the Sacramento Bee reported.
However, that is inaccurate.
It's not the coronavirus which caused the recession; decisions by politicians and unelected officials caused business closures which led to the recession.
What has happened in California during the governor's statewide stay-at-home lockdown is that the governor and his administration determined what jobs and industries were "essential" and "non-essential," and businesses were ordered to shut down while everyone was told to shelter-at-home.
"Non-essential" state employees were sent home to work, while many "essential" employees were redirected from their state jobs to focus only on COVID-19 priorities. So other state business is not getting any attention.
It's California's small businesses and employees which are most impacted under the shutdown. Government employees continue to receive their taxpayer-funded salaries, while private sector business owners and their employees do not.
This has also resulted in great financial harm to small businesses with state contracts.
Jake Thoene with WOVET Construction reports that not only has he not been paid on work his company completed for the state, he was notified by his contacts at the state that 6-months of future work his company was awarded has been cancelled.
"We've got a certified woman-owned, disabled-veteran owned small business," Jake said in a California Globe interview. "We've been building momentum and growing, and then the state stopped paying. And certified small business contracts require a 30-day payment."
As for the work awarded, Jake explained they were ramping up ahead of the lockdown, which meant their bonds were tied up in preparation for the state work. "Now there's nothing in the pipeline, on top of not being paid, and having the bonds tied up," Jake said.
WOVET Construction is a general contractor and solar engineering firm. Jake's partner is a female disabled veteran.
Jake said what most people don't realize is that his expenses and bills still have to be paid: insurance, taxes, rent, and ongoing labor costs.
Jake said that even when the lockdown is lifted, getting back to work will not fix everything. "Our contracts have been cancelled," Jake said. "So even as we are authorized to go back to work, without our contracts, how long is it going to take to be in business again?"
"This has been the most destructive act of government in my lifetime," Jake added. He also asked "why is it safer to go to Walmart but not the gym? None of this makes sense."
Ironically, as the state and county health officials have repeatedly told California residents to socially distance, with their business lockdown orders, they also forced more residents into fewer stores making social distancing an impossibility in many of the big box and grocery stores. It's a forced crowding.
"Today's announcement of a projected $54 billion budget shortfall reflects a grim new economic reality," said Senate Republican Leader Shannon Grove. "As a result of the governor's stay-at-home order, more than 4 million Californians are out of work, and we are faced with a catastrophic budget deficit. The governor must prioritize the budget to meet the immediate needs of our citizens and eliminate funding for pet projects. This devastating budget forecast is an unfortunate consequence of his decision to create a one-size-fits-all 'new normal' that strangled businesses throughout California."
Latest posts by Katy Grimes
(see all)