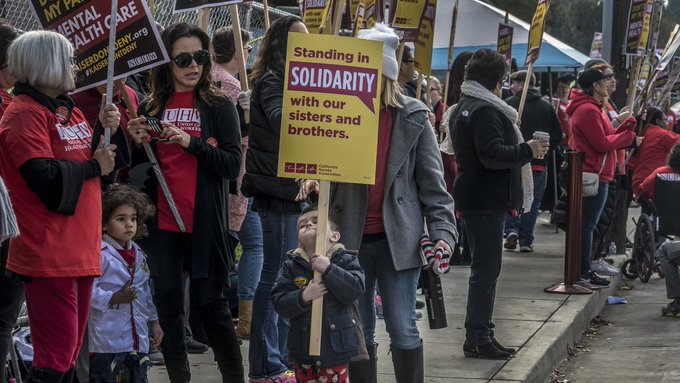 Kaiser Permanente Mental Health Workers Delay Strike After Death Of Company CEO
The statewide strike of over 4,000 people will restart sometime in the next several weeks.
By Evan Symon, November 11, 2019 2:16 pm
The largest statewide mental health strike in California history was delayed Monday following the death of Kaiser Permanente CEO Bernard Tyson.
Over 4,000 National Union of Healthcare Workers (NUHW) psychologists, therapists, social workers, and other mental health related employees had voted in October to strike at over 100 Kaiser Permanente offices across California to strike over the week of November 10th.
While a strike in October affecting over 80,000 Kaiser Permanente employees in California had been averted after a new four-year deal with three health care unions in late September, NUHW was not part of the deal.
After learning of Tyson's death on Sunday, 170 leaders of the NUHW voted to postpone the strike for at least a week.
After learning of Bernard Tyson's passing, Kaiser mental health clinicians postponed their five-day statewide strike set to begin Monday. For more details: https://t.co/Jo755YqEBH pic.twitter.com/snmBip3YrH

— National Union of Healthcare Workers (@NUHW) November 11, 2019
"Our members dedicate their lives to helping people through tragedy and trauma," stated NUHW President Sal Rosselli. "And they understood that a strike would not be appropriate during this period of mourning and reflection."
The NUHW has demanded that Kaiser Permanente "demonstrate good faith and fix its broken mental health system that leaves patients waiting up to three months for therapy appointments and therapists overwhelmed with crushing caseloads."
"We're slammed every day," said Kaiser Permanente therapist Madison 'Davis'. "Every therapist at Kaiser has a mountain of patients. Even with charts and detailed records it's often difficult to treat patients with the kind of attention they deserve. Many of the people I see have trauma stemming from mental problems. Many have PTSD, depression, and anxiety. All of those patients need therapists who know them and can keep track of their lives and history. But with so many, we can start to get details wrong about them, which can cause even more stress or exacerbate existing problems even more."
Meanwhile, Kaiser Permanente has said of the NUHW that their "bargaining tactics are delaying mental healthcare improvements."
"Kaiser has been on something of a hiring spree," said social worker Danny Kilgore to the Globe. "They've also been building new places everywhere in California. And what we aren't hearing about is money. The real issue is the number of patients they get, and the wait time for patients. Kaiser has been addressing it, but they haven't been hiring fast enough or opening enough new medical centers to reduce workloads."
"The number of mental patients isn't going to go down any time soon either. It's just coming down to 'We need these people now' and 'We know we need people now and we're doing what we can.'"
The strike, when it is started, is also expected to cause some political fallout. With several mental health bills either being delayed to the next session or being written, a mental health strike from a major health care company could have an effect on the language in them or if they will pass. Previously, a week long nursing strike in 2018 in California had an effect on nursing related bills, causing many to be delayed until 2019 because of fear of possible sympathy/hostile votes for or against the legislation.
NUHW hasn't said when the strike will start following the delay, but it is expected to come sometime later in November.

Latest posts by Evan Symon
(see all)