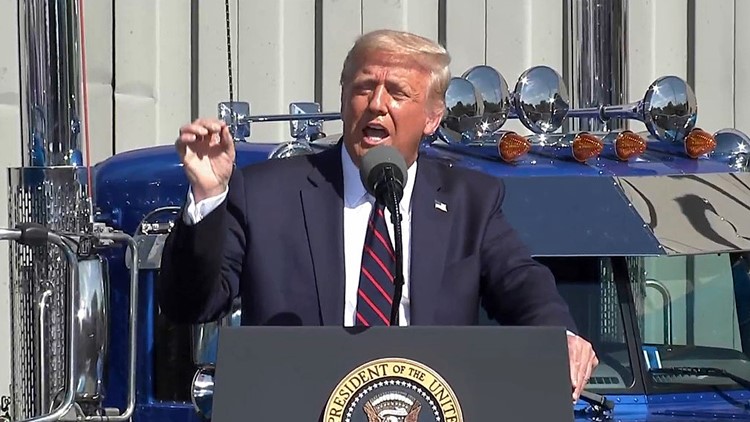 President Trump Criticizes California Officials Response To Wildfires
President hints at cutting federal wildfire funding
By Evan Symon, August 21, 2020 2:27 am
On Thursday, President Donald Trump criticized California officials over the high number of destructive forest fires across the state, while also threatening to withhold federal assistance against the fires.
President Trump targets California officials in speech
During a speech in Old Forge, Pennsylvania, President Trump blamed failed state policies and a statewide focus on the environment over forest upkeep. His remarks came less than 48 hours after Governor Gavin Newsom declared a state of emergency in California over the wildfire spread.
"I see again the forest fires are starting," said Trump on Thursday. "They're starting again in California. I said, you gotta clean your floors, you gotta clean your forests. There are many, many years of leaves and broken trees and they're like, like, so flammable, you touch them and it goes up."
"I've been telling them this now for three years, but they don't want to listen. 'The environment, the environment,' but they have massive fires again."
"Maybe we're just going to have to make them pay for it because they don't listen to us."
Critics have responded that "forest cleaning" is actually more strategic and complicated than simple brush cutting and that many of the fires have actually been occurring on federal land as opposed to California administered areas.
"You just can't say 'clean you forests'," explained Luis Reyes, a volunteer firefighter in Los Angeles County who has helped areas prepare for potential wildfires, to the Globe. "We need to identify problem areas, like dry tinder near power lines or large swaths of dry grass. We need to monitor which areas are going through droughts, what temperatures are, and many other factors. A broad sweep doesn't do much good."
"And you can't really blame California. It's our climate that causes this, along with many other places out West, and the recent heat wave has only made more fires pop up. Plus look at where all the fires are at. It's largely on federal land. The biggest one outside of LA is in the Angeles National Forest. Federal agencies tend to fight them the most too."
"I'm not saying California is great at fighting wildfires, as there is much room for improvement, but this is like getting mad at Florida over doing their best during hurricane season or Oklahoma after huge tornadoes. These are disasters and we need help, not making it into a political issue."
A federal and state need in California – "Wildfires don't stop at jurisdictional boundaries"
State agencies have routinely praised the federal response to fighting wildfires, with Governor Newsom even announcing a new partnership with the U.S. Forest Service last week over wildfire mitigation.
"Wildfires don't stop at jurisdictional boundaries. As we respond to wildfires in real-time this summer, improving coordination between the major stewards of California's forested land will help us protect communities and restore forest health across California," said Newsom last week.
However, Trump supporters and some fire experts have defended the president's speech on Thursday, noting that he is helping look for alternate methods of fighting wildfires.
"I know how many people feel about the President, but it doesn't mean that his ideas on wildfire prevention are bad," added wildfire fighter Nathan Lacoma in a Globe interview. "Before we take away some funding, we should look into whether or not his forest floor clearing plan could work in problem spots, or see how similar systems have worked elsewhere, or see if it helps stop spread or power outages."
"I've seen how bad up close these fires can get. If there are other ways of prevention we should at least give them a shot."
"California's misguided forest management practices included several decades of successful fire suppression, combined with a failure to remove all the undergrowth that results when natural fires aren't allowed to burn, the Globe reported last fall in "Long-Term Solutions for California Wildfire Prevention."
More remarks on the wildfires in California by the President are expected in the coming days as the wildfires become a more prominent national issue.

Latest posts by Evan Symon
(see all)