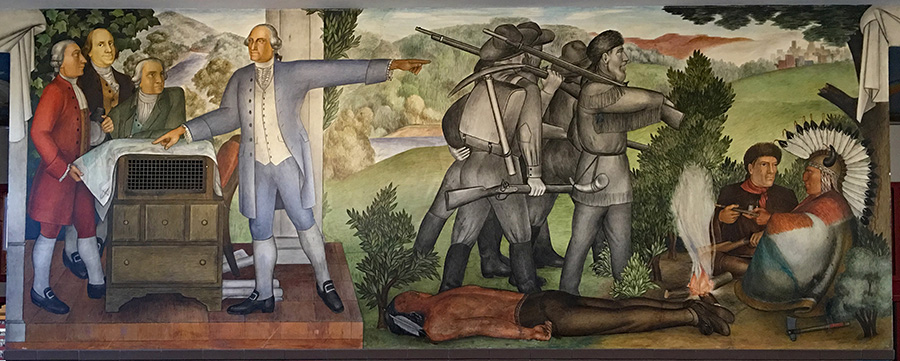 San Francisco to Paint Over Historical Mural Depicting life of George Washington
'When the destroyers of art are liberals'
By Katy Grimes, July 5, 2019 2:10 pm
Modern day book burning:

San Francisco school board intends to destroy an iconic mural 
The Associated Press is reporting that the city of San Francisco will spend $600,000 to paint over an historical mural at a public school depicting the life of George Washington, "a mural once seen as educational and innovative but now criticized as racist and degrading for its depiction of black and Native American people."
The 83-year-old mural at George Washington High School has been called "degrading," and "racist" because of its depiction of black and Native American people. Will they change the name of the school next?
San Francisco School Board member Mark Sanchez initiated the vote to paint over the mural, saying it's unfair for students to see such harmful images. Sanchez, a politician, teacher and school board member in San Francisco, founded Teachers for Change and Teachers for Social Justice prior to running for school board.
Because the work "traumatizes students and community members,"  Washington High School's Reflection and Action Group concluded that "the impact of this mural is greater than its intent ever was." The ad-hoc committee made up of Native Americans from the community, students, school employees, local artists and historians is campaigning for its removal.
"Many of those in favor of scrapping the murals seem to believe that merely depicting past atrocities justifies them," GOOD reported. "In fact, the Action and Reflection Group concluded that the mural contravened the San Francisco Unified School District's commitment to 'social justice.'"
So, the San Francisco Board of Education voted unanimously to paint over all 13 panels of Victor Arnautoff's "Life of Washington" mural.
Victor Arnautoff, a Communist, was a Russian-American painter and professor of art. He worked in San Francisco and the Bay Area from 1925 to 1963, including two decades as a teacher at Stanford University.
However, in the mural, George Washington was not "glorified father of the country, but as complicit in the country's foundation upon the enslavement and genocide of black and brown people," the Frisc reported.
"There's been this whole discussion about whitewashing history as if a mural is the only way to talk about history, or as if that history is an accurate depiction of the full experiences of people of that time," Stevon Cook, the president of the school board, told the New York Times. "I think that argument really limits the nuances in how dynamic that time was and all the contributions African slaves made to the country, that indigenous Americans gave to settlers. To think that those two depictions are it is baffling," ArtNetnews reported.
The school's alumni association disagrees. "This is a radical and critical work of art," the association argued.
ArtNetNews reported:
This particular case has attracted the attention of New York Times columnist Bari Weiss, who deemed it emblematic of the sensitivities that characterize our cultural moment. "The implications of this logic are chilling. What happens when a student suggests that looking at photographs of the My Lai massacre in history class is too traumatic?" she wrote. "Should newspapers avoid printing upsetting images that illuminate the crisis at the border, like the unforgettable one of Óscar Alberto Martínez Ramírez and his 23-month-old daughter, Valeria, facedown, drowned in the Rio Grande?"
Indeed.
If you Google "racist art," hundreds of articles and think tank papers appear about how many works of art throughout time are racist, or depict or glorify racism.
Historic military Confederate statues are being torn down in city squares and on college campuses.
The Confederate flag, also known as the Southern Cross, has been banned by several states. The United States House of Representatives voted to ban the display of Confederate flags on flagpoles at Veterans Administration cemeteries. "Confederate Statues Were Built To Further A 'White Supremacist Future,'" NPR claims. NPR also claims that Dr. Seuss books are racist.
Another group claims that Nancy Drew books were racist. UC Berkeley even published an article titled, "How to Stop the Racist in You."
Many works of literature have been reclassified as racist, and subsequently banned. Berkeley Library News reported, "To Kill a Mockingbird was recently banned in Biloxi, Mississippi, because the book made people 'uncomfortable,'" said Jennifer Osgood, technical processing lead for Morrison Library. "But it is 'just those qualities that make the book worthwhile,' she said. 'Good books should make us a little uncomfortable.'"
Rocco Landesman, former chairman of the National Endowment for the Arts, sent a letter to the New York Times challenging the San Francisco School Board's decision. "A significant segment of the liberal community is turning anti-art. The San Francisco school board intends to destroy an iconic mural by the W.P.A. artist Victor Arnautoff at the city's George Washington High School that depicts slaves picking cotton at Mount Vernon and colonizers walking past a Native American corpse."
Landesman added, "When important artworks of our cultural heritage are not just hidden away but destroyed, how do these desecrations differ from those of the Taliban, who blew up the Bamiyan Buddhas in Afghanistan, or the ISIS commanders who destroyed ancient monuments near Palmyra, Syria?"
Latest posts by Katy Grimes
(see all)