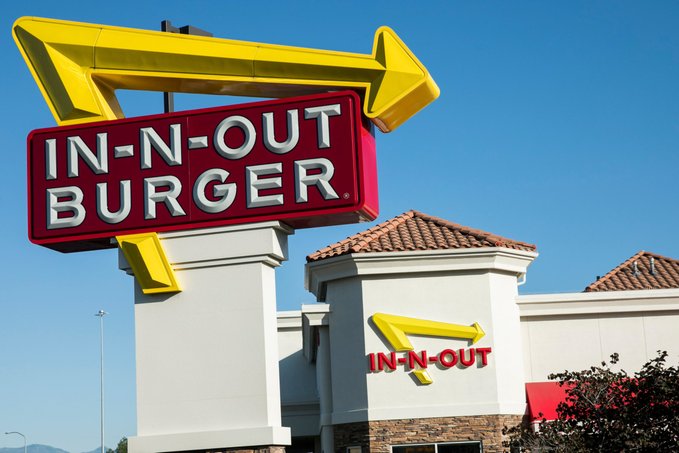 Another In-N-Out Shut Down For Refusing to Become the Vaccination Police
Is In-N-Out being singled out?
By Katy Grimes, October 27, 2021 2:27 pm
Another Bay Area county has closed down an In-N-Out restaurant because the burger chain "refuses to become the vaccination police."
Last week the San Francisco city health department closed an In-N-Out fast food burger restaurant over the company's refusal to force customers to prove they are vaccinated against the coronavirus, the Globe reported.
This week, Contra Costa County public health officials shut down the Pleasant Hill burger joint after claiming the company ignored several warnings to enforce proof of vaccines for customers who wanted to dine indoors, or proof they had tested negative for the virus in the past 72 hours.
There is no apparent indoor-dining option for people who had the coronavirus and have proof of antibodies via an antibody test.
It's curious why San Francisco and Contra Costa Counties are going after In-N-Out so doggedly when so many restaurants throughout the state do and believe the same — that it is not a restaurant's responsibility for the enforcement of state and county vaccine mandates.
In-N-Out's chief legal and business officer Arnie Wensinger, stuck with the company statement issued after the San Francisco shut down: "We refuse to become the vaccination police for any government. It is unreasonable, invasive, and unsafe to force our restaurant associates to segregate customers into those who may be served and those who may not."
However, Wensinger added, "Our store properly and clearly posted signage to communicate local vaccination requirements."
Wensinger acknowledged that employees at the Pleasant Hill restaurant "were not actively demanding vaccine documentation and photo identification" from each indoor patron but said the company is committed to "the highest form of customer service" and disagrees with any government order that forces a private company to "discriminate" against customers, the Los Angeles Times reported.
"It is unreasonable, invasive and unsafe to force our restaurant associates to segregate customers into those who may be served and those who may not, whether based on the documentation they carry or any other reason," he said. "This is clear governmental overreach and is intrusive, improper and offensive."
It's also clear governmental overreach to ask minimum wage workers at fast food restaurants to verify patrons' vaccine passports and examine them for authenticity. As several restaurant employees told the Globe this week, "We don't know what we are looking for. We are trained to prepare and serve food."
The county has issued several warnings and fines for local In-N-Out restaurants, including two in Pinole and San Ramon, the AP reported. "Public health authorities see vaccination enforcement requirements as vital tools in slowing COVID-19 at a time when 1,500 or more Americans are dying each day from the virus."
Again, why In-N-Out? Are Burger King and McDonalds verifying customers' vaccine passports?
Is In-N-Out being singled out?
Contra Costa County is the very same county which Dr. Chris Farnitano, Contra Costa's Public Health Doctor, got one doctor terminated, and two others reprimanded for questioning his handling of the COVID-19 virus, and data manipulation to keep Californians in lockdown. The Globe reported in October 2020, in a letter to Dr. Farnitano the doctors asked him to explain how the county was accounting for the high number of false positive COVID tests with the county tiering system. They asked what data supported the closure of gyms and outdoor dining. And they wanted to know why his public health agency was ignoring medical experts who recommend opening schools, as children are not significant vectors of the disease.
As the Globe pointed out last week, "San Francisco requires a vaccine ID to purchase a burger and fries, but no ID to vote. San Francisco allows open meth and heroin purchases and use on city streets, homeless vagrants to poop on the sidewalks, and thieves to rip off Walgreens daily, but if you want a Double-Double and a chocolate shake, you need to prove you've been vaccinated."
Now Contra Costa is doing the same, and trying "to force In-N-Out associates to segregate customers into those who may be served and those who may not, whether based on the documentation they carry."
Latest posts by Katy Grimes
(see all)