Another Newsom Rumor Catches Fire: First Partner Cancelled UN Trip Over Female Staffer
Capitol media silent for months amid loudening whispers of relationship with Deputy Chief of Staff
By Katy Grimes, November 9, 2021 6:20 pm
Rumors of California Gov. Gavin Newsom's involvement with one of his cabinet staff members have persisted since March 2021. We bring this up because this same rumor plays into Gov. Newsom's recent disappearance from the public and his cancellation of the UN Climate Change conference.
The Globe was set to publish a story about Newsom's rumored involvement with a staff member in March 2021 when news and gossip began to percolate about the identity of the alleged mistress. The Globe got a tip that she was Deputy Chief of Staff Lindsey Cobia. We immediately noticed something interesting. Ms. Cobia's name had begun to trend on Google, along with related queries such as "gavin newsom," "newsom affair" and "gavin newsom affair." While that is certainly not proof of an affair, from the point of view of describing the buzz among California's political reporters, it was evidence that the Globe was not alone in checking out Ms. Cobia, whom the governor promoted just five days prior, as the push to recall him reached fever pitch in March.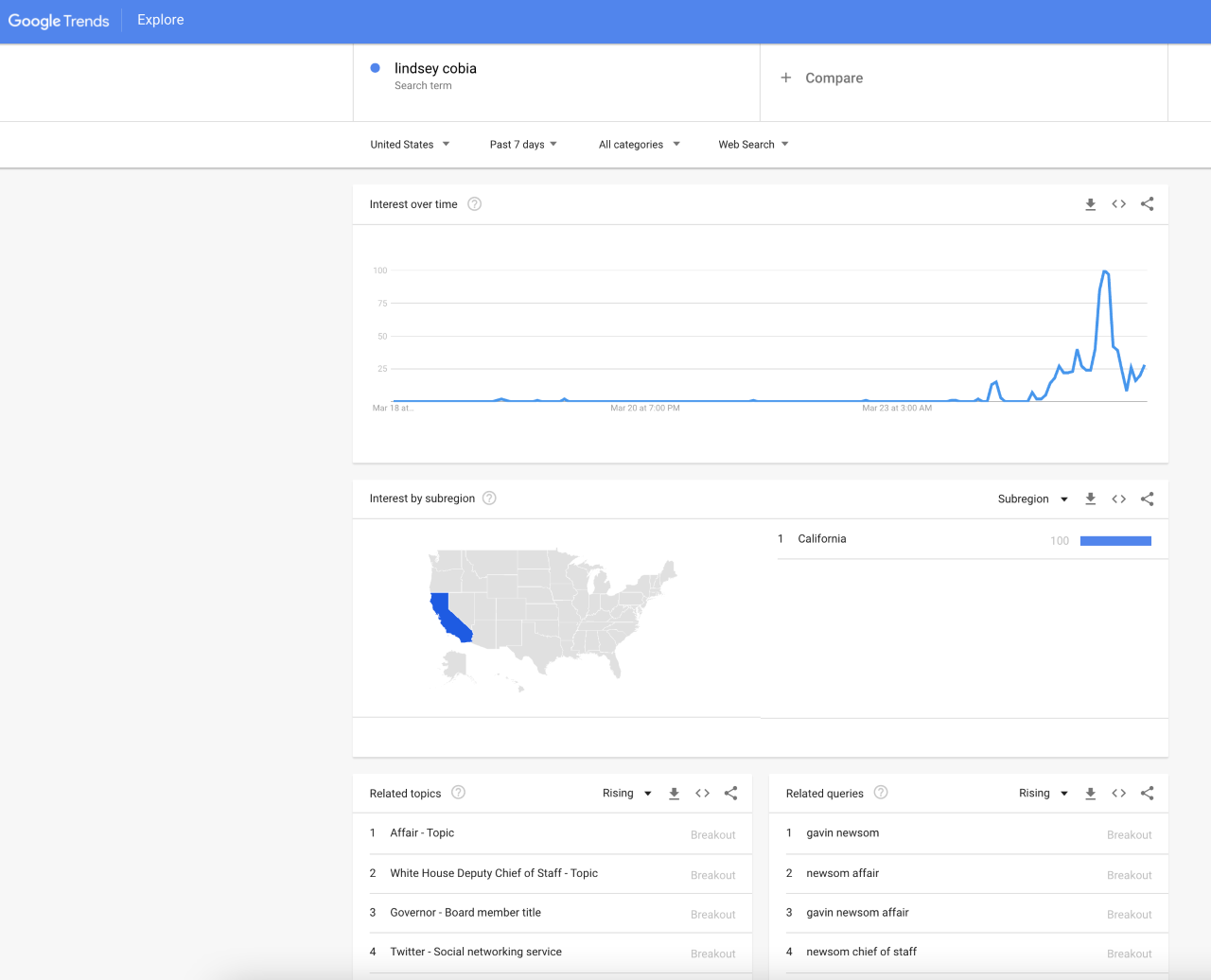 Ultimately, the Globe decided not to publish a story at that time on the grounds that any relationship that may exist did not appear to be interfering with the governor's official duties. With a suddenly canceled trip that the governor's own team described as critically important, that calculus looks to be changing.
Recently, Gov. Newsom appeared to have been missing in action for at least 10 days following his last public appearance on October 27th, when he received a coronavirus booster shot. Then, only two days later on October 29th, citing "family obligations," Gov. Gavin Newsom abruptly cancelled his much anticipated trip to Scotland to attend the 2021 United Nations Climate Change Conference, the Globe reported.
We reported on Saturday that rumors flying around State Capitol circles about his absence from the public included:
Could this disappearance be a 10-day quarantine? Does he have COVID?
Some speculate that Newsom may have had an adverse reaction to the booster shot.
Others say there are problems of a more personal and marital nature – the rumor mill is active in Sacramento.
Still others say the Scotland climate change conference cancellation was because Newsom did not want to share the international stage with President Joe Biden.
Whatever the reason, Newsom's disappearance is/was highly unusual.
Then he was spotted in attendance at the Vogue wedding of the year in San Francisco, as he and Mrs. Newsom attended the huge Getty family wedding over the weekend. RedState's Jennifer Van Laar found two photos out of 100 on the Vogue story, in which Newsom and his wife were identifiable.
Today, the Globe received a credible tip from an even more credible source that it was Mrs. Newsom, the First Partner, who cancelled the big international trip to Glasgow because she discovered that the governor's Deputy Chief of Staff Lindsey Cobia was on the list of the governor's staff traveling to the Scotland UN conference.
Sunday evening, Sacramento Bee reporter Sophia Bollag posted on Twitter: "Gavin Newsom's office has refused to say what 'family obligations' caused him to cancel his trip to the big UN climate change conference in Scotland. Seems like that's what his wife, First Partner Jennifer Siebel Newsom, is referencing here."
The First Partner almost immediately deleted her Tweet, but not before Bollag took a screen shot.
The Globe has filed a California Public Records Request with the Governor's office as well as his press office, requesting a complete and official listing of everyone scheduled and approved for travel with the governor to Glasgow: Gov. Newsom's cabinet level staff, his support staff, all Legislators, legislative staff, all agency directors and their support staff, as well as First Partner Jennifer Newsom and her staff.
Just before noon today, Gov. Newsom did his first live/video press conference attempting to put to rest the rumors about his health, and vaccine reactions, and instead played up how he made the decision to give up the UN Conference on Climate Change because it would take place during Halloween, and his kids were upset he and the First Partner would be gone. "Mom and dad missing Halloween, for them (it was) worse than missing Christmas," he said.
"I've been on this damn treadmill, we've gone from crisis to crisis," Newsom said during his "fireside chat" while at an economic summit in Monterey. "The kids, literally, they kind of had an intervention. They said they couldn't believe that I was going to miss Halloween."
Why didn't the governor just say this on October 29th? It could have been a simple, sincere statement, rather than citing "family obligations."
Elex Michaelson of FoxLA also asked why this wasn't the original statement: "Would the narrative/speculation been different if Gov. said at the time: 'I'm cancelling our trip so I can spend time trick or treating with my kids. It's been a long year and it's most important I spend time with them right now. I'm grateful the Lt. Gov will go in my place.'"
At today's fireside chat, Newsom also said he had a "productive week" working on issues like port problems and vaccines away from cameras. "It's been probably the most productive week I've had since I've been governor," Newsom said.
Many are saying they don't buy it. Newsom's explanation at the fireside chat is the nearly identical scripted statement the Globe received last evening from his press secretary Daniel Lopez:
"Last week Governor Newsom worked in the Capitol with staff on urgent issues including COVID-19 vaccines for kids, boosters, ports, the forthcoming state budget and California's continued economic recovery. He will have public events this week related to the economy and vaccines."
"Also, the Governor had no adverse reaction to his booster shot."
Perhaps as ironic and relevant was his attendance at the Getty wedding. "Newsom's father, Bill, was a lifelong friend of Gordon Getty, the son of oil magnate J. Paul Getty — they attended high school together," the LA Times reported in 2018. "Bill Newsom later managed the Getty family trust on behalf of Gordon." With the closest of family relations with the Getty family, it's not a stretch to believe that this event was always on the Newsom's calendar.
"I'm so sorry I can't make the climate change summit and will instead be attending the wedding of the year where 90% of attendees fly in on private jets," one skeptical Twitter commenter ironically said. 
This is from the Globe's California Public Records Act request to the Governor:
Please provide a complete listing of the entire official California delegation scheduled and approved for travel to the United Nations Climate Change Conference in Glasgow, Scotland October 31,2021 through November 12, 2021, including Gov. Gavin Newsom, Governor's cabinet and staff, all support staff, Legislators (Assembly and Senate members), all legislative staff, all agency directors, all agency directors' support staff, First Partner Jennifer Siebel Newsom, First Partner's support staff, senior Administration officials, including but not limited to:
Governor Newsom's Chief of Staff, Jim DiBoo, Deputy Chief of Staff Lindsey Cobia, Cabinet Secretary Ana Matosantos, Special Advisor to the Governor Angie Wei, Communications Director Nathan Click, etc. and other cabinet level staff
First Partner Jennifer Siebel Newsom
Senator Josh Becker (D-Menlo Park)
Senator Lena Gonzalez (D-Long Beach)
Senator Robert Hertzberg (D-Van Nuys)
Senator John Laird (D-Santa Cruz)
Senator Bob Wieckowski (D-Fremont)
Assembly Speaker Anthony Rendon (D-Lakewood)
Assemblymember Isaac Bryan (D-Los Angeles)
Assemblymember Lisa Calderon (D-Whittier)
Assemblymember Laura Friedman (D-Glendale)
Assemblymember Eduardo Garcia (D-Coachella)
Assemblymember Tasha Boerner Horvath (D-Encinitas)
Assemblymember Al Muratsuchi (D-Torrance)
Assemblymember Luz Rivas (D-Arleta)
Assemblymember Mark Stone (D-Scotts Valley)
Assemblymember Christopher Ward (D-San Diego).
Senior Climate Advisor for the Governor Lauren Sanchez
California Environmental Protection Agency Secretary Jared Blumenfeld
California Natural Resources Agency Secretary Wade Crowfoot
California Department of Food and Agriculture Secretary Karen Ross
California Air Resources Board Chair Liane Randolph
California Energy Commission Chair David Hochschild
This list was issued by Gov. Newsom's office October 25th.
Latest posts by Katy Grimes
(see all)