Assemblyman Chad Mayes Leaving the GOP Over Party Issues
Mayes cites skewed focus of Republican leadership, lack of bipartisanship among other reasons for leaving.
By Evan Symon, December 6, 2019 2:32 pm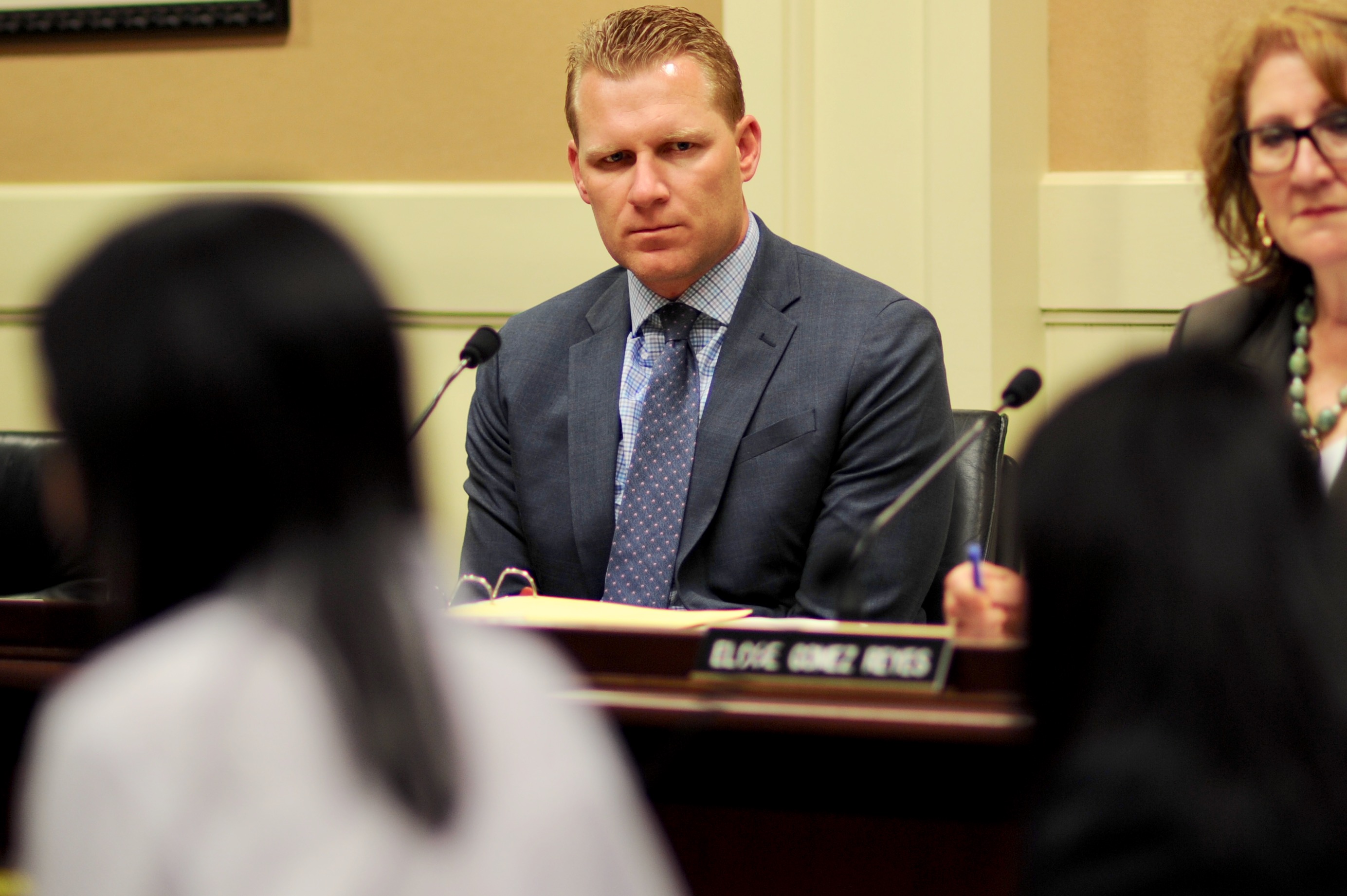 Assemblyman Chad Mayes (R-Yucca Valley) surprised the Republican Party on Thursday by registering to run as an Independent in the 42nd Assembly District next year.
Leaving the GOP
While Assemblyman Mayes had previously given hints about leaving permanently, such as his decision Monday to drop his part affiliation, many of those actions had been seen as 'scare tactics' to gain support within the GOP. But on Thursday he made it clear what his intention are.
"I fear the disintegration of our political system," Assemblyman Mayes stated. "We've been focusing so much of our effort and time about winning, and winning at all costs, instead of focusing on making peoples' lives better. We have completely lost sight of that in this country. We've lost sight of that in this state."
Assemblyman Mayes has long been a moderate Republican. Before the Assembly, Mayes had been an intern for then U.S. Attorney General John Ashcroft and served as both a city councilman and Mayor of Yucca Valley. In 2014 he was elected to the Assembly, representing the 42nd district in Riverside and San Bernardino counties. As the district is almost evenly split between Republicans and Democrats, Mayes' stance as a moderate helped secure some Democratic support. He has always scored at least 10% above any Democratic challenger, including the 2018 race when he won 55% to 45% over Democrat DeniAntoinette Mazingo.
Why Mayes Left
Mayes has largely left the party over his view of seeing the Republican Party's skewed priorities, but it's also largely due to the GOP being far away from his current beliefs. He had been the Minority Leader in the Assembly for almost two years, but left in 2017 after fellow Republicans chastised him for working with Democrats in passing a greenhouse gas emissions bill.
While the Republican Party of California said that he had "let down the voters of California," and that they were sure a Republican would win in the district in 2020, Mayes has refused to join the Democratic Party, as he said they have their own failures.
"Mayes wants to run as his own man," said Kelly Schmidt, a San Bernardino County pollster. "For a long time he has had held beliefs that never fit with each party. He has been a 'cafeteria' candidate and chose where he stood on issues based on his beliefs and not because of a party platform. They aligned more with Republicans, but he hasn't liked what has happened to the party in recent years. And his overall beliefs are too Conservative to become a DINO. A Democrat In Name Only."
"And honestly, for that district, becoming an Independent is a smart move. You have Republicans in the more rural areas mixed in with Democrats out of LA who live there as well as those living in cities. Not too many districts have this kind of split right now."
Others leaving the party and what's next for Mayer
Mayes is the second Republican to leave the party this year. In January, fellow moderate Republican Assemblyman Brian Maienschein (D-San Diego) left the GOP after disagreeing with the party over the leadership of President Trump.
Mayes is expected to face both Republican and Democrat challengers in the primary election this coming March.

Latest posts by Evan Symon
(see all)