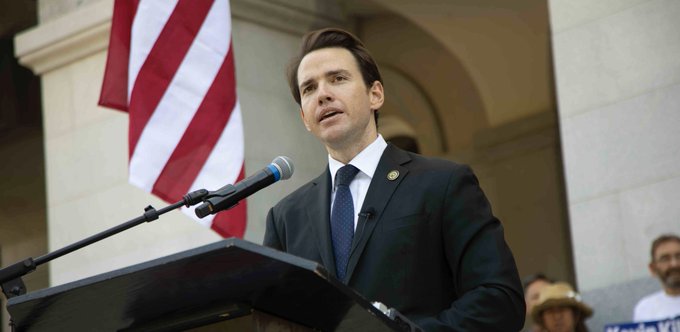 Assemblyman Kevin Kiley Introduces Bill to End California's Sanctuary State Status
Californians have always strongly opposed 'sanctuary city' policies
By Katy Grimes, March 21, 2022 3:02 pm
Assemblyman Kevin Kiley (R-Rocklin) announced Monday Assembly Bill 1708, a new bill to repeal the Sanctuary State law in California.
Sanctuary State status under the 2017 Senate Bill 54, by then-Senator Kevin De Leon (D-Los Angeles), prohibits local police departments and sheriffs' deputies from assisting Immigration and Customs Enforcement officers and enforcing federal immigration laws.
"A few weeks ago our community experienced an unspeakable tragedy that could have been avoided if not for harmful policies passed by the California Legislature," Assemblyman Kiley told the Globe. "My prayers are with the family of the victims, this should never have been allowed to happen. We must repeal the Sanctuary State law immediately to prevent avoidable tragedies like this in the future."
Three weeks ago, Kiley called on the Legislature to end the Sanctuary State status, following the horrific murders committed by an undocumented immigrant, who killed his 3 daughters, another man who was a chaperone to the children, and then himself in a Sacramento church.
This unspeakable tragedy was avoidable. The Legislature must end the Sanctuary State immediately. pic.twitter.com/V2sBg1sxxa

— Kevin Kiley (@KevinKileyCA) March 5, 2022
"Not only that, a few days before the murders the gunman had been arrested on charges of resisting arrest, assaulting a police officer, and driving under the influence," Kiley said. "The federal Immigration and Customs Enforcement Agency (ICE) asked to be notified about his release from jail, but this never occurred due to prohibitions under California's Sanctuary State law."
"This unspeakable tragedy was avoidable."
"Fighting against the Sanctuary State was my first major battle in the Legislature. The bill's author, Kevin de Leon (now running for LA Mayor), famously lost it when I grilled him in the Judiciary Committee."
In 2017, we also covered De León's SB 54:
"Despite amendments, de León's bill is parsing words—especially those words which apply to criminal illegal aliens. SB 54 still does not address all criminal illegal aliens, whether they are "violent" or "serious" criminals. Apparently, de León is resisting including human traffickers, child abusers, kidnappers, and hostage takers in his bill. De León instead continues to falsely claim it is 'maids, laborers, baby sitters and landscapers' who are being targeted in ICE sweeps… Except that ICE does not do sweeps—ICE agents work in jails targeting only criminal illegal aliens. De León's bill would force immigration officials to reinstitute sweeps since they would no longer be allowed in jails and prisons, where the criminals are located."
Prior to passage of SB 54, California already had 35 sanctuary cities, which had sanctuary policies prohibiting police from cooperating with immigration authorities. SB 54 made the entire state a sanctuary state, harboring criminal illegal aliens.
Yet Californians strongly oppose "sanctuary city" policies under which local authorities ignore federal requests to detain undocumented immigrants who have been arrested but are about to be released, according to a UC Berkeley poll by the Institute of Governmental Studies (IGS), released ahead of SB 54's passage.
Assemblyman Kiley included the California State Sheriff's Association opposition to SB 54 in his press release about AB 1708:
"Our overarching concern remains that limiting local law enforcement's ability to communicate and cooperate with federal law enforcement officers endangers public safety…SB 54 would preclude staff in our jails from notifying ICE, at their request, of the pending release of certain wanted, undocumented criminals – including, but not limited to, repeat drunk drivers, misdemeanor hit and run drivers, those who assault peace officers, serial thieves, animal abusers, chronic abusers of dangerous drugs such as methamphetamine and heroin, and known criminal gang members arrested for most misdemeanor crimes."
Latest posts by Katy Grimes
(see all)