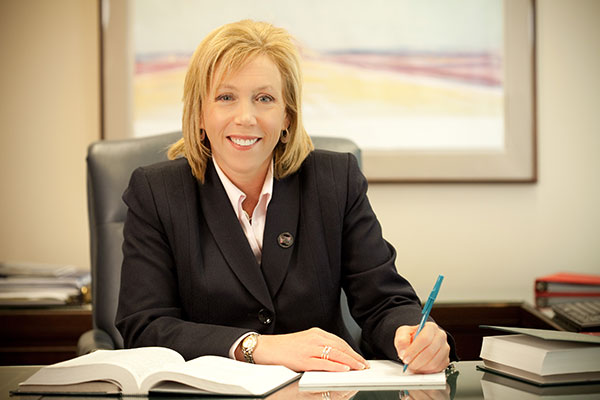 Calif. DAs Win Temporary Restraining Order Preventing Corrections Dept. From Awarding 66% 'Good Conduct Credits' to Second-Strikers
CDCR gifting violent inmates 2/3 time off sentence
By Katy Grimes, January 26, 2022 2:28 am
The California Department of Corrections & Rehabilitation recently enacted so-called "emergency" regulations to allow for additional "good conduct credits" to be awarded to serious and violent felons, and not based upon these felons completing any rehabilitation programs, or in essence, proving their good conduct.
Sacramento District Attorney Anne Marie Schubert spoke with the Globe Tuesday about two lawsuits nearly 30 California district attorneys have filed against the CDCR for these dubious actions.
Schubert announced in December that she and 27 other elected District Attorneys across California were granted a Temporary Restraining Order (TRO) preventing the California Department of Corrections & Rehabilitation (CDCR) from enacting an increase of 50% credits to 66% credits for second-strikers with serious and violent criminal histories.
This "emergency regulation" comes after CDCR's recently enacted so-called "emergency" regulations that allows for additional credits to be awarded to serious and violent felons, including credits that are not based upon completing any rehabilitation programs, the DA said.
The CDCR has been issuing "good conduct credits" to supposedly "non-violent" inmates. But DA Schubert says many of these have been convicted of violent crimes such as felony domestic violence, rape of an unconscious victim, and human trafficking.
Is the CDCR claiming they can do whatever they want with these sentences?
Many of the offenders who are granted early prison release have violent and lengthy criminal histories, the DA says. DA Schubert has said repeatedly that it is important for the public to be aware of the so-called nonviolent offenders being released early from prison into our neighborhoods.
The CDCR appears to have taken advantage of Proposition 57 , passed by hoodwinked voters in 2016 who thought they were voting for "the Public Safety and Rehabilitation Act," the shameless title of Prop. 57.
Proposition 57 promised that "nonviolent" inmates who "turn their lives around" in prison could also earn early parole under a new "nonviolent parole review" (NVPR). But the CDCR appears to have hijacked the process to instead rewrite sentencing laws.
The CDCR most recently claimed they issues a "re-adoption" of previous conduct credit regulations. But since May 2021, they upped the credits from 33% to 50% and again to 66% time off.
While CDCR's newest "emergency regulations" grant additional good conduct credits to inmates working in fire camp related activities, they also added additional credits to so-called "nonviolent" second strikers, according to the DA. "Unrelated to fire camp credits, CDCR sought to increase credits to 66% conduct credits, which is two-thirds time off sentences, to second strike inmates housed at a minimum-security level A or B facility. CDCR did so amid litigation challenging additional credits for serious and violent offenders. This new class of credits will include convictions for domestic violence, human trafficking, animal cruelty and possession of weapons by individuals who have previous convictions for serious and violent felonies."
So a man sentenced to 10 years in prison for felony domestic violence, with a criminal history, granted 66% "conduct credits," takes him down to just 3 years in prison.
And what about his victim(s)?
"This is a critical public policy and public safety issue," DA Schubert said. "The CDCR is rewriting and dismantling sentencing laws on the books for years."
"CDCR believes they can increase conduct credits by 100% without ever giving victims and the public the right to meaningful participation in this process," DA Schubert said. "Most people would be surprised to learn that under California law, crimes like felony domestic violence and human trafficking are not 'violent' felonies. An individual with a prior violent felony record who is convicted of felony domestic violence should not be serving 1/3 or less of his or her sentence. I am pleased that the Court reinstated the TRO against CDCR today as this is a critical public safety issue for crime victims and all Californians.  Proposition 57 and the California Constitution guarantees the public and crime victims the right to be heard in a public forum.  This lawsuit is simply asking that CDCR honor the Constitution and the will of the voters."
Crimes now considered "nonviolent" under Proposition 57 in California include:
human trafficking of a child
rape of an unconscious person or by intoxication
drive by shooting at inhabited dwelling or vehicle
assault with a firearm or deadly weapon
assault on a police officer
serial arson
exploding a bomb to injure people
solicitation to commit murder
assault from a caregiver to a child under eight years old that could result in a coma or death
felony domestic violence.
In their December press statement, the DA listed several inmates who would be potentially eligible to be released after serving only one-third of their sentence as a result of the CDCR's new regulation. They include:
Kenneth Hawkins (Case #20FE004144) – Human Trafficking
Hawkins was convicted by a jury of human trafficking using force, pimping and pandering. Hawkins has a prior strike conviction for robbery with a gun enhancement.  He went to prison for 13 years on that conviction and was out on parole at the time of the current offense.
On March 1, 2020, the Sacramento Police Department received a report from a witness that Hawkins was forcing the victim to perform oral sex on another man in a parking lot on Franklin Boulevard. When officers located Hawkins and the victim, the victim disclosed that Hawkins had been forcing her to engage in prostitution. The victim also told officers that on that day, Hawkins was angry at her and humiliated her by forcing her to perform oral sex on another man in the parking lot as his friends stood by and taunted her. Friends of Hawkins filmed a portion of the crime and posted the video on social media. Officers located the video as well as other surveillance video that corroborated the reports of the witness and the victim.
In January 2021, Hawkins was sentenced to 28 years in state prison.
Jorden Leon Cooks (Case #21FE000570) – Human Trafficking
Cooks pled to human trafficking of a minor and admitted to a prior robbery strike conviction.
On January 8, 2021, Sacramento police officers were doing an investigation at the Quality Inn on Jibboom Street when they overheard Cooks shouting at someone inside one of the rooms. When officers contacted Cooks, they found him with the 16-year-old victim they identified as a missing person from Oregon. Based on a review of text messages and other digital evidence on Cooks' and the victim's cell phones, officers realized that Cooks was trafficking the victim. Officers arrested Cooks and ensured the victim was returned safely to her family in Oregon.
In June 2021, Cooks was sentenced to 10 years in state prison. Cooks was also sentenced to an additional 16 months after pleading to being a felon in possession of a firearm (Case #20FE019135).
Petra Santiago Gabriel (Case #20FE010778) – Animal Cruelty
Gabriel pled to felony animal cruelty with use of a weapon and admitted to a prior 2007 strike conviction for robbery.
On July 7, 2020, Gabriel's dog got into a fight with her sister's dog, Doody.  After the women were able to separate the two dogs, Gabriel sprayed Doody with a flammable substance.  Gabriel proceeded to burn Doody with a butane torch, engulfing Doody's face and body in flames.  Miraculously Doody survived thanks to the help of Sacramento County Animal Control and UC Davis veterinarians.  Doody remains in a specialized medical foster home, will require a lifetime of medications and must wear a T-shirt at all times due to his extensive body burns.
Gabriel has two prior convictions for using flammable substances, both in the course of a robbery and an assault.
In June 2021, Gabriel was sentenced to 7 years in state prison.
These credits would also apply to individuals currently charged with domestic violence with prior strikes including:
Jonathan McCart (Case # 21FE015487) – Domestic Violence
McCart has a prior 2001 strike for aggravated mayhem and torture.  In that case, McCart set his then girlfriend on fire.  He was sentenced to life in prison for that conviction, but was released early by CDCR in 2018.
McCart is currently charged with felony domestic violence and assault by means of force likely to produce great bodily injury.
…"Good conduct credits" to supposedly "non-violent" inmates.
Latest posts by Katy Grimes
(see all)