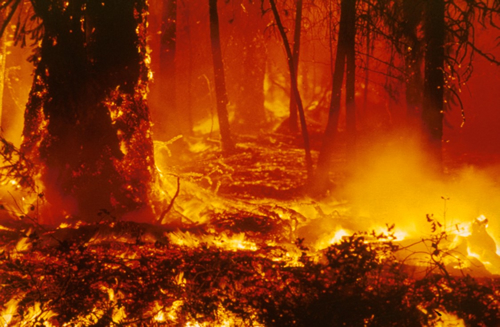 California is On Fire Again and it was Preventable
Environmentalists are causing actual global warming with wildfires
By Katy Grimes, September 8, 2020 2:45 am
For decades, traditional forest management was scientific and successful, until ideological, preservationist zealots wormed their way into government and began the 40-year overhaul of sound federal forest management through abuse of the Endangered Species Act and the no-use movement.
California Globe has talked with Rep. Tom McClintock (R-CA) numerous times about this very issue. McClintock has warned, "Our forests are now catastrophically overgrown, often carrying four times the number of trees the land can support.  In this stressed and weakened condition, our forests are easy prey for drought, disease, pestilence and fire."
Traditional forest management had simple guidelines: thin the forest when it becomes too difficult to walk through; too many trees in the woods will compete with one another, because the best trees will grow at a slower rate.
Today, only privately managed forests are maintained through the traditional forest management practices: thinning, cutting, clearing, prescribed burns, and the disposal of the resulting woody waste.
And private lands do not suffer the wildfires the rest of the state does.
Yet the same climate change impacts private lands as public lands, but private forests are not burning down because they are properly managed. Or if a fire does break out on privately managed forest land, it is often extinguished more quickly and easily because the trees aren't so close together, and the underbrush has been cleared away.
We are now living with the result of radical environmentalism ideology – that we should abandon our public lands to overpopulation, overgrowth, and in essence, benign neglect, McClintock said. "Forest fires, fueled by decades of pent up overgrowth are now increasing in their frequency and intensity and destruction."
He added, "excess timber WILL come out of the forest in one of only two ways.  It is either carried out or it burns out."
McClintock was able to pass legislation in 2018, which streamlined the environmental reviews for the Tahoe Basin. "The Forest Service regional manager told me it will take their review from 800 pages to 40 pages, and allow them to begin to get the forest there back to a sustainable level," McClintock said.
The U.S. Forest Service used to be a profitable federal agency, McClintock said. "Up until the mid-1970's, we managed our National Forests according to well-established and time-tested forest management practices."
"But 40 years ago, we replaced these sound management practices with what can only be described as a doctrine of benign neglect," McClintock said. "Ponderous, Byzantine laws and regulations administered by a growing cadre of ideological zealots in our land management agencies promised to "save the environment."  The advocates of this doctrine have dominated our law, our policies, our courts and our federal agencies ever since."
While California is on fire again, it isn't difficult to look back on recent state policies under eight years of Gov. Jerry Brown, and now California's current Governor Gavin Newsom, who served as Jerry Brown's Lieutenant Governor.
Governor Brown claimed that devastating fires were the "new normal," and openly supported Obama-era regulations which resulted in the new normal: an endless and devastating fire season every year.
Michael Shellenberger, best-selling author of "Apocalypse Never," recently Tweeted: "California's bet on renewables, & its shunning of natural gas & nuclear, is directly responsible for the state's blackouts and high electricity prices."
Notably, as California Globe recently reported, "With wildfires burning 1.3 million acres throughout the state, and rolling power blackouts from the weak electrical grid, the California State Senate Appropriations Committee voted to pass Assembly Bill 326 to make driving an Electric Vehicle 'more accessible for all Californians' through month-to-month memberships without long-term loans or leases."
There is a total disconnect between California Democrats and the people of the state devastated by wildfires.
For anyone still unsure about the motives of environmentalists, the list of AB 326 supporters explains a lot:
Coalition for Clean Air, California League of Conservation Voters, CalPIRG, Sierra Club, Consumers for Auto Reliability and Safety (CARS), Natural Resources Defense Council (NRDC), Plug In America, Voices for Progress, Union of Concerned Scientists, Los Angeles County Economic Development Corporation, California Reinvestment Coalition, Consumer Action, Center for Biological Diversity, Rivian, Consumer Attorneys of California, CalSTART, Housing and Economic Rights Advocates (HERA), Canoo, and the City of Thousand Oaks.
Would these groups have California residents under constant wildfire threat for a few more electric cars?
Latest posts by Katy Grimes
(see all)