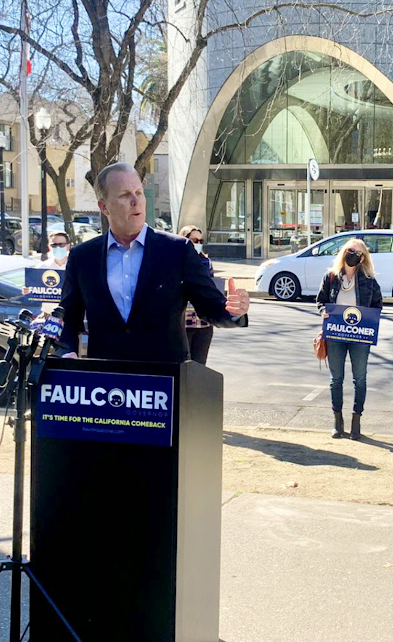 Former San Diego Mayor, Recall Candidate Kevin Faulconer Proposes 0% Marginal Income Tax Rate
Californians making $50,000 and less would pay no state income tax under Faulconer's plan
By Evan Symon, May 13, 2021 11:30 am
Former San Diego Mayor and recall candidate for Governor Kevin Faulconer announced a proposal on Wednesday to drastically cut the state income tax in California.
Speaking at a campaign event in the LA suburb of Downey, Faulconer proposed an end to the income tax for individuals making under $50,000 a year and for households making under $100,000 a year. Specifically he proposed a 0% marginal income tax rate, meaning that those making between $50,000 and $1 million would also see a lower tax rate. Statewide, Faulconer expects this to save the average individual taxpayer in California around $2,000 a year, with families saving around $4,000 a year.
The state income tax for military retirement pay, an income source for veterans, would also be completely cut under his proposal.
While state revenues would fall by around $15 billion a year, Faulconer noted that the state's $75 billion surplus this year would be able to offset it. Wealthy Californians making over $1 million a year would not be affected by his income tax plan.
Faulconer proposed his plan on Wednesday as both a direct challenge and a financially sound response to Governor Newsom's $100 billion California Comeback Plan proposal. Prominently highlighted was how his cuts would focus more on helping out younger people and those in lower-income brackets.
"Too often when we hear about tax relief, they're cuts for investors, for the Wall Street crowd," said Faulconer on Wednesday. "This is for young people just starting out, this is for parents who are paying for diapers or college, this is for folks working long days to put food on the table."
"Sacramento has a spending problem. As mayor, having to balance many budgets, it's about priorities. It's about spending dollars on what's important, on services that Californians actually need and expect and deserve. Gavin Newsom has put the state on the wrong track, and now he's desperately changing his approach to my approach."
In a later statement Faulconer added that "It's just too expensive to live in California, period. I'm a big believer in going out and winning the argument publicly, and then we will win the vote."
I'm announcing my plan for the largest middle-class tax cut in California history.

As governor, I'll champion this plan on day one.

If California isn't affordable, it isn't livable. 

We're going to help you get a break, get ahead, and afford to stay in our great state. pic.twitter.com/a3cf7CdjSQ

— Kevin Faulconer (@Kevin_Faulconer) May 12, 2021
Newsom's short-term plan, Faulconer's long-term plan
While it was noted that, if elected, Faulconer would need the support of the Democratic majority California legislature to cut the income tax, his proposal was met with optimism from financial experts on Thursday. Many noted that his proposal was more favorable than Newsom's stimulus plan in regard to the total amount saved for each resident.
"It makes a lot more sense," said Peter Hanson, an accountant who helps advise on several towns budgets in Northern California, to the Globe Thursday. "Newsom wants to give a one-time stimulus check worth $600 for all Californians making between $30,000 and $75,000. Those with kids get another $500."
"Faulconer wants to eliminate the income tax for those making $50,000 or less. For an individual, that can be more than $2,000 a year depending on which bracket they fall under, with joint filers being around double that, since they have no income tax $100,000 or below in the proposal."
"And that isn't a one-time thing. That's every year. So what this essentially comes down to is Newsom offering a short term/immediate cash infusion, while Faulconer is playing the long game in which those savings won't really come into play in a lump sum like that but save a heck of a lot more over time. It's really about financial patience. And about how to best win back residents who are thinking about leaving because of the high tax costs."
Other GOP candidates, most notably John Cox, noted this week that they would be releasing their own tax plans soon.

Latest posts by Evan Symon
(see all)