Gov. Newsom Begins Second Term Following Inauguration In Sacramento
'Newsom barely even acknowledged the homeless issues, the cost-of-living issue, the housing issue, and so many others'
By Evan Symon, January 7, 2023 2:30 am
Governor Gavin Newsom began his second term of office on Friday following his inauguration in Sacramento, highlighting freedoms found within the state while also targeting Republicans in his address.
Newsom, who won reelection in November against Senator Brian Dahle (R-Bieber) 59% to 41%, or 6.4 million votes to 4.4 million, began his second inauguration by walking in a "March for Democracy" to the Capitol Building before being sworn in by California Supreme Court Chief Justice Patricia Guerrero and Giving his address. His address began with mentioning how the COVID-19 pandemic had taken over most of his first term in office.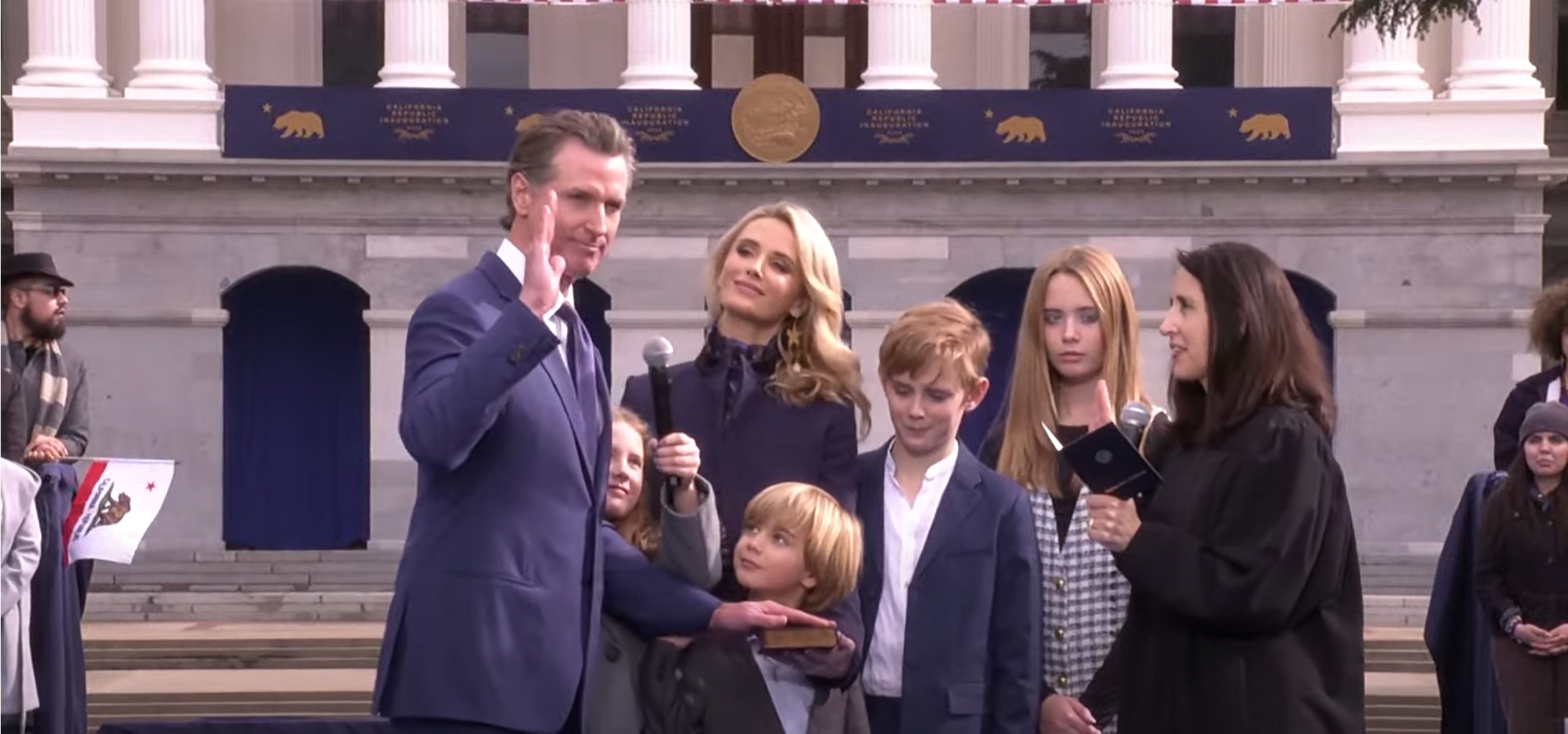 "Time has done its usual trick on me," began Newsom in his speech. "It says it has been four years since I stood in the shadow of this Capitol and delivered my first inaugural address. Four years, disaster and plague, they bend the clock in strange ways. It feels like both a flash, and an eternity. In the longest hours of my first term, trying to plot a course through pandemic, wildfire, mass shootings, and social unrest … I found myself looking backward, as much as I was looking forward."
However, after delving into his family's history and into California's past, Newsom proceeded to go after the GOP, as well as extremists, pointing out the significance of the date of his January 6th inauguration to what happened in Washington two years ago.
"Every day, California commits itself to the process of getting it right for the next generation," added Newsom. "In nearly 30 years in politics, I have had the opportunity to see this process firsthand, learning as we go, and etching these learnings on the consciousness of a country that perhaps hasn't yet caught up. When we started issuing same-sex marriage licenses in San Francisco in 2004, it felt as if history moved at light-speed, in the right direction, decades of advocacy culminating in that beautiful Winter of Love."
"But that victory, to expand rights and freedom to marry, was snatched away by a backlash that resulted in Proposition 8. Eventually, after many setbacks, and many steps forward, just a few weeks ago, President Biden signed legislation enshrining the freedom to marry.
"That has been the story of progress throughout our history. It is not always easy, and not always linear. But in the end, the verdict is clear – expanding rights is always the right thing to do. And yet, there are still forces in America that want to take the nation backward. We saw that two years ago, on this day, when the unthinkable happened at a place most Americans assumed was invincible. An insurrectionist mob ransacking a sacred pillar of our democracy, violently clashing with sworn officers upholding the rule of law. Just like the brave men and women whose heroism we inscribe, here on our own Peace Officers' Memorial."
Newsom goes after the right
"Since that terrible day, we've wrestled with what those events say about us as a country. The ugliness that overflowed on January 6th, 2021, was in fact decades in the making. Fomented by people who have a very different vision of America's future. Red state politicians, and the media empire behind them, selling regression as progress, oppression as freedom. And as we know too well, there is nothing original about their demagoguery. All across the nation, anxiety about social change has awakened long-dormant authoritarian impulses. Calling into question what America is to become, freer and fairer … or reverting to a darker past."
On Jan. 6th, two years ago, we saw dark forces in America that wanted to take the nation backward.

That day was decades in the making.

The @GOP and the media empire behind them have been selling regression as progress and oppression as freedom. We will not stand for it. pic.twitter.com/IYLmFzCVlU

— Gavin Newsom (@GavinNewsom) January 6, 2023
"Instead of finding solutions, these politicians void of any new ideas, pursuing power at any cost, prey upon our fears and paranoias. 'The struggle to be who we ought to be,' as a nation is difficult and demanding. And that's why we should be clear-eyed about their aims. They're promoting grievance and victimhood, in an attempt to erase so much of the progress you and I have witnessed in our lifetimes. They make it harder to vote and easier to buy illegal guns. They silence speech, fire teachers, kidnap migrants, subjugate women, attack the Special Olympics, and even demonize Mickey Mouse. All camouflaged under a hijacking of the word "freedom."
Long-dormant authoritarian impulses have been awakened. These politicians prey upon fear.

They silence speech, fire teachers, kidnap migrants, subjugate women, attack the Special Olympics & even demonize Mickey Mouse. They cry freedom while dictating the choices people can make. pic.twitter.com/4iJ3nBfAEp

— Gavin Newsom (@GavinNewsom) January 6, 2023
"But what they really want is more control – intrusive government, command over your most intimate decisions – when to have a family, how you raise your kids, how you love. While they cry freedom, they dictate the choices people are allowed to make. Fanning the flames of these exhausting culture wars. Banning abortion, banning books, banning free speech in the classroom, and in the boardroom. They sell fear and panic when it comes to crime and immigration. But they sell calm and indifference when the threat is greenhouse gases destroying our planet, or big oil raking in windfall profits at your expense. But California offers reason for hope."
Newsom proceeded to highlight many things currently happening in California, including touting the most venture capitalists and start-ups in the country, green energy, new universities, infrastructure advances and expanding freedom of choice. At the same time ho noted areas where California has fallen short, including on affordability, housing, and homelessness. At the end Newsom then went into a final piece on how California is always improving.
End remarks
"That's what we do best. Giving shape to the future – molding the character of the nation," concluded Newsom on Friday. "Just like those rivers that sculpted so many of California's deepest valleys. The places of my childhood memories. Those rafting and camping trips with my dad. Falling in love with California. Over and over again. My father died shortly after I was elected governor in 2018. He never got to see his son assume the office. Nor did my mother Tessa, who died just before I became Mayor of San Francisco. Their dreams, their spirit, their love of California, is with me every day."
"Just as they were last year, when I found myself with the leaders of California's most populous tribe, the Yurok. Floating down another great river, the Klamath, in a traditional dugout canoe. We stopped for dinner on the riverbank and prepared salmon smoked on redwood, over a traditional firepit. The bark infused flavor into the fish, imparting a taste familiar to the Yurok people stretching back to their earliest ancestors. Just a few weeks ago, I returned to the Klamath and met with Yurok, Karuk, and Klamath tribal leaders. This time, to celebrate the removal of four dams … America's largest dam removal project in history."
"Setting the river free once more, restoring natural salmon runs and in so doing, righting a historical wrong. Because this is what California does. And it's what I've dedicated my life to. Standing up for ideals, striking out against injustice. After all, history reminds us that each of us will be judged … and ultimately judge ourselves, to the extent we contribute, as Bobby Kennedy said, to the life of our cities, our state, our nation, and the world we are trying to build."
"That brings me back to time. Time is undefeated, it is relentless. So in our fleeting moment, we must fight against our worst impulses, and find our better angels. Because at the end of the day, our lives are just too short, our wisdom too limited, to win fleeting victories at other people's expense. We must all triumph together."
Newsom's speech polarizes Californians, political watchers
While Democrats lauded the speech on Friday, with some comparing it to speeches given by John F. Kennedy, Republicans decried it, pointing out that homelessness, cost-of-living, gas prices, water issues, businesses leaving the state, populations, and other things have worsened since Newsom was first inaugurated four years ago.
"Now that California is facing a massive budget shortfall, these crises will only get worse unless the governor changes course and focuses on the issues facing our state. Texas and Florida are doing just fine on their own, and welcoming more Californians escaping our problems each day," said Assembly Republican Leader James Gallagher (R-Yuba City), in a statement.
Additionally, other political experts pointed out that Newsom's address was largely along the lines of what good the Democrats did in the state against what Republicans have done elsewhere and trying to tie the party in with extremists.
"Newsom's second inaugural was highly problematic," explained Washington-based analyst and speechwriter Craig Haddock to the Globe on Friday. "I mean, let's begin with the whole tone of the speech. Usually what people go for, especially in reelection speeches, is to promote unity and working together. Governor Newsom just destroyed any hope of bipartisanship by going after the GOP. If he is looking at a presidential run in the future, these are just further nails in that coffin. Any good leader will at least throw out a few brownie points at the other party. I mean, even [Florida Governor] Ron DeSantis has. Newsom just didn't."
"Even worse, he kind of praised the division between the two parties over and over again, and made the whole situation black and white. He lumped pretty much everyone against him with extremists and those that broke into the Capitol on January 6th. I mean, it's no coincidence of the inauguration speech date. He wanted that and pretty much said "Democrats good, Republicans bad."
"There was a part in his speech where he said 'Instead of finding solutions, these politicians void of any new ideas, pursuing power at any cost, prey upon our fears and paranoias.' I mean, he just set himself up with that clip to be used in attack ads against him next time he signs any controversial new law. His speechwriter did a good job with the use of time and family in the speech but completely struck out on the rest. I mean, even worse, they hurt Newsom with a lot of their words.
"Also upsetting is that Newsom barely even acknowledged the homeless issues, the cost-of-living issue, the housing issue, and so many others, and instead devoted a huge part of the speech into the positives California has going for it. Any good leader giving a speech won't just do a quick acknowledgement, but will go into more about what they will do to help solve those problems and, critically, how they want to work with others to achieve it. Bush and Obama, as far as they were politically, routinely said this in speeches. You acknowledge your shortcomings to the people and where you want to bring the people. Instead, Newsom just kept saying how awesome he was  and going off past successes like 'The Winter of Love" from when he was Mayor."
"Overall, there were a few ok parts of the speech, but he let his personal feelings and ideology bleed in and, at times, felt more like a rant than a professional speech. He was trying to tout freedom and democracy, but in the end it just fell to Newsom, when accusing others of spreading fear, to instilling fear himself. If this was handed into a speech class at a college, most professors would not have given it a passing grade. I'll leave it at that."
Newsom is expected to serve out his term into early 2027, although many are still speculating on a possible 2024 presidential run or some sort of Biden cabinet selection should Biden run and win reelection next year.

Latest posts by Evan Symon
(see all)