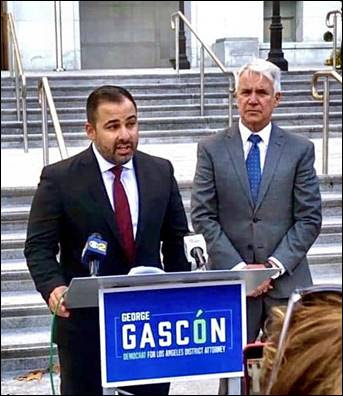 LA DA Chief of Staff Joseph Iniguez Arrested For Public Intoxication in Azusa
Investigation over incident started following Iniguez's internal affairs complaint against the Azusa PD
By Evan Symon, December 23, 2021 10:46 am
Reports from the Azusa Police Department released this week revealed that the Chief of Staff for Los Angeles County District Attorney George Gascon had been arrested for public intoxication in early December.
According to the Azusa Police, a car containing LA DA Chief of Staff Joseph Iniguez and his fiancée was pulled over during a simple traffic stop on December 11th. Police observed their Tesla making an illegal U-turn and proceeded to follow them until they turned off the road, where they subsequently pulled them over. Reports noted that Iniguez and his fiancée were coming back from a wedding and were at a fast food restaurant when officers confronted the fiancée, who was driving, and ordered her out of the car under suspicion of drunk driving. Seeing the situation unfolding, Iniguez began filming the incident with his phone,
The situation escalated between the officers and Iniguez, which eventually resulted in Iniguez telling an officer "you f— up" and threatened to put "put him in the Brady system." The Brady List is a list of police officers who have been involved in incidents involving untruthfulness, being convicted as a criminal, and other offenses that generally deem them unfit for police duty. Being added to the list can often derail an officers career due to those officers no longer being seemed as credible in subsequent court cases for which they are involved in.
While his fiancée was only held for a short time and released at the scene, Iniguez was arrested for public intoxication. After being booked that day, Iniguez was then released, and then quickly filed an internal affairs complaint against the arresting officer for arresting him in retaliation for filming the traffic stop.
The arrest was initially kept quiet, but was thrust into the public spotlight this week after more details were released.
The Azusa PD's union, the Azusa Police Officers Association (APOA) noted that they support the accused officer and that Iniguez's complaint is frivolous and retaliatory.
"The aide is making a spectacle of his arrest and is not relaying all the facts," said APOA president CJ Wilkins this week. "The facts of the case will eventually be released, and when this frivolous and retaliatory complaint is complete, I am most certain the officer will be found to have been in complete compliance with the state law, and department policy. The officer that arrested Mr. Iniguez did so with full legal authority and without malice."
Arrest, release of LA DA Chief of Staff
Azusa PD Chief Mike Bertelsen added on Wednesday that the union does not speak for the Department and that the matter is still under investigation.
"We are aware of a statement posted on social media from the police union's leadership about a public intoxication arrest made on December 11 in our city. The union does not speak for the City of Azusa or the Azusa Police Department," said Bertelden in a
statement
.
"The men and women of our police department do an outstanding job every day serving our community with honor and they have my full support. We are committed to accountability and transparency and we are fully cooperating with the Los Angeles County District Attorney's office and Attorney General's office in this matter.
"Unfortunately, police unions sometimes engage in bullying tactics and 'no confidence votes' when their departments initiate more accountability. Sadly, this is the latest example. The union's leaders have resisted implementation of body-worn cameras and internal-affairs investigations into alleged on-duty and off-duty misconduct. I am disappointed that the union's leadership is engaging in this type of behavior at a time when they should be working with us to prevent and solve crime, fill vacancies and ensure our policies meet the expectations of our community."
Meanwhile, Iniguez and the DA's office have remained quiet on the incident, only noting that it is a personal matter and that the DA's office will not get involved due to a conflict of interest, with the matter to be held by the California Attorney General's office instead.
"The district attorney has the utmost confidence in Joseph," explained LA DA special advisor Alex Bastian. "It's a personnel matter so we can't get into the specifics at this time."
Legal experts said on Thursday that both Iniguez and the Azusa PD will face some difficult questions in the investigation.
"For the police, they have to answer why he was arrested," Juan Romero, a Los Angeles lawyer specializing in cases involving those under the influence, told the Globe. "It's not often a passenger is arrested in a simple pull over like this. Was it real or was it more as a reaction against what Iniguez was doing? And for Iniguez, what exactly did he do or say before being arrested? Was it the simple was he described or was there something else there?"
"It's still being looked at so we don't really know what the full story is. And thankfully the LA DA won't be behind this one because of that conflict of interest. At this point, it's really a battle over who gets the blemish on their record."
More details about the incident are expected in the near future.

Latest posts by Evan Symon
(see all)