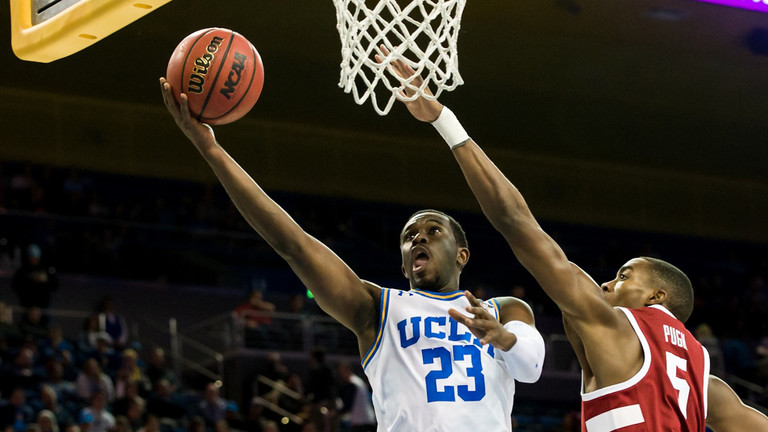 NCAA Student Athletes Can Get Paid Under New California Law
Governor Newsom signs controversial SB 206 into law
By Evan Symon, September 30, 2019 1:49 pm
Senate Bill 206, which allows NCAA student athletes to be paid when their image is used, has been signed into law.
Governor Gavin Newsom signed the bill into law early Monday morning in front of numerous past and present professional athletes. Starting in 2023, NCAA student athletes can receive compensation from the use of the name being used, can sign endorsement deals, and are allowed to hire a sports agent. 
SB 206, also known as The Fair Pay to Play Act, was first introduced by Senators Steven Bradford (D-Los Angeles) and Nancy Skinner (D-Berkeley) earlier this year. Both of them had expressed how NCAA athletes deserve to make money like any other college student. The Senators also had stated that students, especially the poorer students, could now have the means to support themselves through college, and could also help family at home.
The signing prompting both immediate praise and revulsion from all over the athletic community.
NBA star LeBron James, who personally witnessed Governor Newsom's signing of the bill while on his show, stated in a tweet "I'm so incredibly proud to share this moment with all of you. [Governor Newsom] came to The Shop to do something that will change the lives for countless athletes who deserve it!"
Ed O'Bannon, the former UCLA basketball player who helped spur this movement over a decade ago, said "College athletes can now CONTROL their own names, images and likenesses. What a beautiful yet simple thing."
The Globe personally talked with Rachel Carr, a former NCAA soccer player and now an athletic trainer who helps NCAA athletes.
"This is good news," exclaimed Carr. "I have to help athletes come back after injuries, and many tell me horrifying things. A few basketball players have parents who can't afford their water bill. A soccer player I talked with, who was recently on the cover of her college's magazine, had her car repossessed because she wasn't allowed a job on campus. And there's been all the athletes who left college because of money troubles, most of whom were on a full scholarship. It's room, board, and education, but they leave out a lot of stuff."
"The saddest was a football player client," Carr said. "He had to stop coming after an injury. He was taken off the team, and subsequently, he lost his scholarship and lost his access to medical facilities catering to athletes, like myself."
"A lot has been on the line, and this corrects it."
Many also opposed the signing.
The Pac-12 Athletic Conference released a statement almost immediately, saying "The Pac-12 is disappointed in the passage of SB 206 and believes it will have very significant negative consequences for our student-athletes and broader universities in California. This legislation will lead to the professionalization of college sports and many unintended consequences related to this professionalism, imposes a state law that conflicts with national rules, will blur the lines for how California universities recruit student-athletes and compete nationally, and will likely reduce resources and opportunities for student-athletes in Olympic sports and have a negative disparate impact on female student-athletes. "
Similar arguments have been made by some coaches and University athletic directors, as well as the NCAA, which has threatened to pull California Universities out of tournaments and give other sanctions due to the passage. 
"Another big question is how it will be paid out," noted Jasper Michaels, an accountant who specializes in professional athletes. "Will they get money immediately to pay for things now, or will it go into an escrow account where they couldn't touch it until they graduate? How much will they get paid? Will they get paid less because of their status as students? Will past likenesses now be up this sort of thing?
This is a lot to answer for in four years' time."
After the passage in California, other states have since been looking at similar laws for their own athletes, while the NCAA has given hints that it will try for a repeal of the new law.
In a press statement, the NCAA added: "As more states consider their own specific legislation related to this topic, it is clear that a patchwork of different laws from different states will make unattainable the goal of providing a fair and level playing field for 1,100 campuses and nearly half a million student-athletes nationwide."

Latest posts by Evan Symon
(see all)