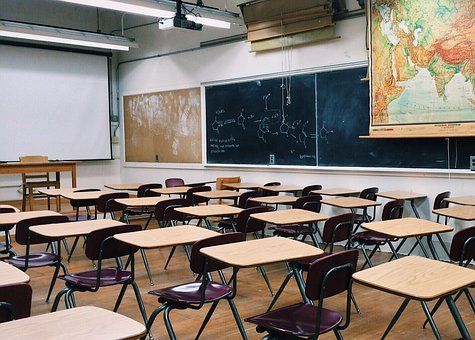 Parents Called 'White Supremacists' by Sacramento Teacher For Demanding Schools Reopen
Another received message from a teachers union rep telling her to 'get f**d'
By Katy Grimes, March 30, 2021 10:31 am
Parents calling for in-person learning and supportive of the online group Reopen California Schools got an earful over the weekend. A teacher who lives in West Sacramento but teaches at Kennedy High School in the Sacramento City Unified District went on a rant Sunday morning on Facebook, the Globe has learned.
"During a call-in board meeting he gave a four minute rant calling all parents that want their kids back in school 'white supremacists,'" a parent told the Globe. Reopen CA Schools posted it to their twitter feed. "And the guy, Damian Harmony, still has the comments proudly posted to his FB page."
A @officialSCUSD teacher in Sacramento publicly calling parents white supremacists and bullies that speak in favor of in-person learning. I thought we were done with this.@officialSCUSD, please make sure the parents in your district get an apology. cc: @ScusdP https://t.co/eSFUBWvz8o pic.twitter.com/wVL9sJ6Y6e

— Reopen California Schools (@ReopenCASchools) March 29, 2021
Here is what Harmony said:
"I'm as disappointed as I am unsurprised that last week, we all had to hear all the cynical, pearl-clutching, faux-urgency, ableist, structurally White-supremacist, hysteria, even as teachers were moving forward with an MOU that already put them in harm's way and was asking too much of a beleaguered group of professionals. This is not a country club. Our teachers are not the wait staff whom you callously and inhumanely disdain because they failed to anticipate that you wanted lime instead of lemon with your water when you walked in the door. This is a public service, aimed at educating your children so they grow up to be better than our generation. You set that back by quite a bit."
"It's starting to get really ugly here in our one horse town… our one horse town that had the Governor endorse the School Board President," the parent said ironically.
Newsweek reported on the incident: "He blasted local parents who have put teachers 'in harm's way' by demanding to reopen schools that have been shut down in adherence with coronavirus pandemic social distancing guidelines."
Parents are demanding an apology from the Sacramento school district administrators.
"Harmony, who is a parent himself, said he has been able to better gauge 'White supremacy' in his neighborhood, after hearing other parents demanding that the school district have its teachers return to the classroom," Fox News reported Monday.
A few weeks ago, the Globe was contacted by these same parents of school-aged kids who have been fighting hard to get the West Sacramento school board and teachers unions to reopen the schools in their Sacramento region district. The parents said at a Board meeting the trustees voted on a hybrid model, but did not provide an implementation date, leaving parents in limbo yet once more.
The parents said they spoke during the public comment period of the meeting. However, after the wife's comments to the school board, they received a message from a West Sacramento Teachers Union representative telling her to "get f**d."
"His facebook page public profile is an image of a knife wielding, mask wearing 'Jason' from the Halloween movies," the husband said. "We have talked to the High School Principal where he works. We are engaging with the trustees and Superintendents. At this point only one of the trustees have responded. We are hopefully talking to the Superintendent."
But nothing really happened beyond the report.
"I think what I realized was that our little town of West Sacramento seems to be a microcosm of what's happening nationally," the parent said.  "And when you consider this teacher at Kennedy High School is, or was, on the Sacramento bargaining team… and the teacher that threatened my wife is on the political action committee for the WSTA, it points to a horrible culture of intimidation and harassment that is unacceptable."
It has become quite clear that the school boards and teachers unions are no longer considering their clients – the students – as this has become just a massive shakedown of state and local funding .
Does anyone really believe that teachers are fearful of COVID in the classroom? During the past year, surely every teacher has shopped for groceries in busy, crowded stores, made several trips to Home Depot, met up with friends at a coffee spot, been to a dinner party in someone's home, and gotten a haircut. They haven't lived in a bubble.
The students appear to be the least of their concerns, as not once were the students ever mentioned in these screeds. This is all about control in a state without leadership, and parents are on to them.
Latest posts by Katy Grimes
(see all)