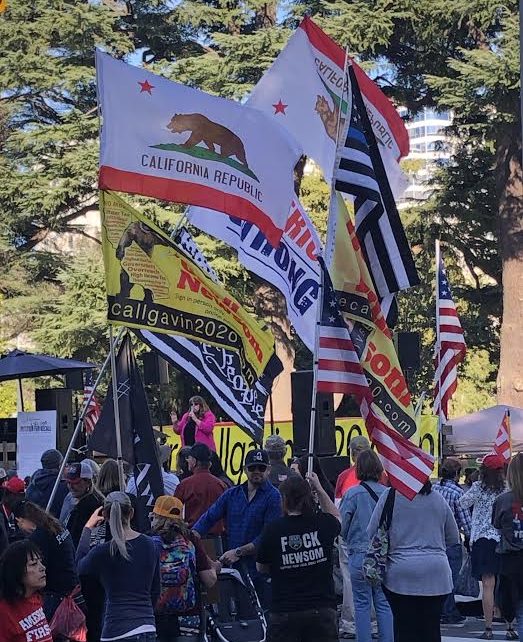 RecallGavin2020 Campaign Celebrates 1,950,000 Signatures With Rally
Capitol recall rally closes down 10th street, overflows with recall supporters
By Katy Grimes, March 8, 2021 2:18 am
The grassroots campaign to recall California Governor Gavin Newsom announced Sunday that they have successfully collected 1,950,000 million signatures, with 1.6 million of those signatures collected entirely by volunteers. "Every county in California without exception has participated in the process to exercise our Constitutional right to recall this governor," said Randy Economy Senior Advisor for RecallGavin2020.
The campaign needs 1.4 million valid signatures to qualify the recall campaign for the California ballot.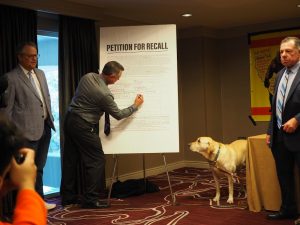 The Globe attended a Sunday RecallGavin2020 Campaign event to announce the successful collection of the needed signatures, as well as the additional signatures nearing 2 million.  "It feels like we are having a child today," said Randy Economy.
The grassroots campaign has more than 5,000 volunteers around the state on any given day, collecting signatures.
Following the press conference was a large rally at the California State Capitol attended by recall supporters from around the state, with speakers from several recent  congressional campaigns who announced they will run again – Joe Collins, Chris Bish and Buzz Patterson – and Angela Marsden who made the viral tearful video as she was forced to close down her restaurant, Pineapple Hill Saloon and Grille.
Assemblyman Kevin Kiley spoke, and did book signing of his new book, "Recall Gavin Newsom: The Case Against America's Most Corrupt Governor."
Hollywood actress Joy Villa wowed the crowd with her devoted common sense conservatism, Scott Pressler told the story of how he cleaned up Baltimore in a quest to act on his convictions.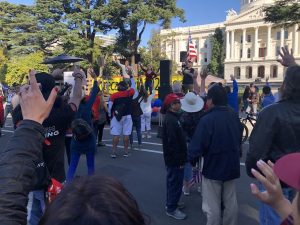 RecallGavin2020 organizers reiterated that the recall is not partisan as many recall signers identified as Democrats. At the rally, supporters proved this when discussing with the Globe their primary issues with Gov. Gavin Newsom: their kids are not in school, family members have lost their businesses and/or jobs, mask mandates and distancing issues. Most people the Globe spoke with said it was evident that science was not the motivating factor in Gov. Newsom's lockdowns.
The recall campaign did a study of the signatures to see what the political party breakdown was. Recall campaign organizer Orrin Heatlie said 31.5% of the signers were other than Republicans, showing that this is a bipartisan event.
"Every place you go in California and see a RecallGavin2020 table, it's all volunteers," Economy said.
"Pay attention to the articles about Gavin Newsom," Mike Netter, Coalition Founding Member, said, "and the undue influence from lobbyists to Newsom."
"Newsom just asked for another year of emergency powers," Netter said. "He's used executive powers to override state bidding processes, to grant no-bid contracts." He added, "there are more than 100 no-bid contracts Gov. Newsom has directed to his biggest donors."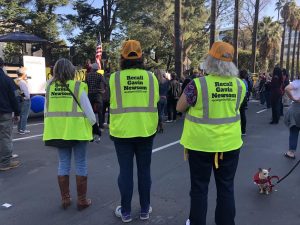 That is why "this isn't a Republican thing – it's a California thing," Netter said. "Politics is a grump sport," he added.
The recall campaign wants all signatures turned in to the campaign by March 10th, as they are due to be turned in to county registrars by March 17th.
The Globe asked recall organizers if they were concerned that Gov. Newsom recently appointed the new Secretary of State, former Assemblywoman Shirley Weber, or if county voter registrars would be an issue. Economy said "We are watching," noting that with the thousands of volunteers and campaign organizers around the state, if this became an issue, it would be addressed swiftly, properly and legally.
A reporter at the press conference asked what the people are so angry about with this governor. "The lack of transparency, the EDD fraud crisis, the unfulfilled COVID vaccines, and Gavin Newsom behind the scams… all of the things going really badly for Gavin… this has brought it to the forefront," Netter said.
"The highest taxes in the nation, and then you find out that your government has wasted $10 billion to $31 billion of EDD funds – this is a scandal," Orrin Heatlie said. "The frustration is building. And people who voted for him feel abandoned."
A few Antifa showed up to the event part way through, but were quickly removed by recall supporters and Capitol police.
"Today the media from around the world saw what it looks like for people to take back their government," Economy said. "This is historical. Today the People of California were heard around America…not the political swamp."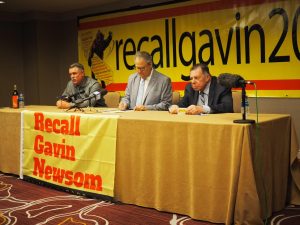 Latest posts by Katy Grimes
(see all)