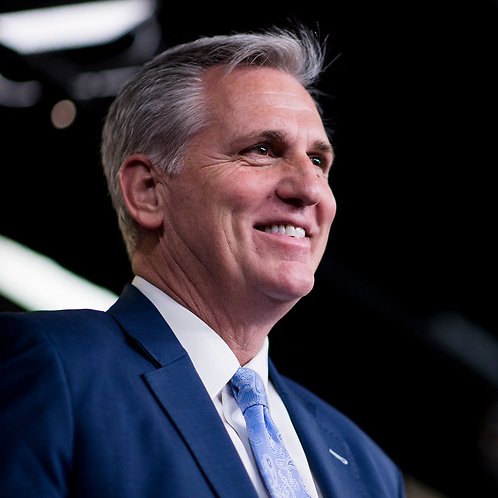 Republican House Leader Leader McCarthy Introduces the 'Lower Costs, More Cures Act of 2019'
New bill saves drugs available to consumers, and 27,000 biopharmaceutical sector jobs in California
By Katy Grimes, December 10, 2019 8:31 pm
Do Americans want more affordable medication for seniors, more availability of generic and biosimilar drugs, and greater price transparency through information about drug costs available in the doctor's office before a prescription is written? Or do Americans want fewer new drugs available to consumers, and fewer new cures and more government control?
What may seem like an obvious answer to most Americans is being argued in Congress.
Sunday evening, House Republicans introduced H.R. 19, the Lower Costs, More Cures Act in response to Speaker Nancy Pelosi and the Democrats' bill H.R. 3, the Lower Drugs Costs Now Act.
"California is a known leader in innovation, and unsurprisingly, 30 percent of the nation's biopharmaceutical sector jobs are in the state," Republican House Leader Kevin McCarthy (R-CA). "Sadly, however, should H.R. 3 be signed into law, it would kill 80,000 jobs in this industry, disproportionately hurting Californians working to research, develop, and test new treatments.
The Lower Costs, More Cures Act (H.R. 19) ensures that innovation can continue so that we can further identify life-saving cures, while also making prescription drugs more affordable for all Americans."
Recent data from the California Life Sciences Association  suggests that patient choice, access to medicine, and innovation for new treatments would all be greatly diminished under the Democrat bill.
"The analysis shows that implementing foreign reference pricing in Medicare Part D, as H.R. 3 proposes to do, will lead to the wholesale destruction of California's world-class innovative biopharmaceutical sector and decimate the life-saving R&D that thousands of companies are engaged in to help develop new treatments and cures for patients around the world," the CLSA said.
The State of California will also be disproportionally affected if Pelosi's bill passes. H.R. 3 would eliminate 80,000 biopharmaceutical sector jobs across the country; approximately 30% (27,000) of those jobs, are in California.
Specifically, H.R. 3 would:
Decrease the number of drugs brought to market by small companies by 88%.
This is a direct threat to modernization and the development of new treatments.
Reduce industry revenue by $71.6 billion a year, or $358 billion over 5 years.
Unlike the Democrats' bill, Republicans' legislation is full of bipartisan solutions and accountability. 
Specifically, H.R. 19 would:
Encourage innovation
Stop drug companies from withholding samples to delay patient access to generic drugs
Place a cap on seniors' annual out-of-pocket prescription expenses
Make insulin more affordable
H.R. 3's Negative Impact on Jobs in California
The U.S. currently dominates the global biotech sector, with 70% of global biopharmaceutical intellectual property owned and developed in the U.S. This has led to over 100% job growth in biopharmaceutical R&D and the movement of biopharmaceutical from the rest of the world to the U.S.
H.R. 3 would cause a 58% reduction in total biopharmaceutic revenue likely resulting in a corresponding percentage of jobs lost – more specifically, a minimum of at least 80,000 biopharmaceutical jobs mentioned above.
"Americans are interested in putting the best available ideas into action. They deserve solutions, not political posturing filled with empty promises," McCarthy said. "With the Lower Costs, More Cures Act, we have a serious solution that would give Americans greater peace-of-mind on their medical needs. Congress should pass it without delay."
"We cannot afford to short-circuit life-saving innovation occurring in California's world-leading biomedical sector," said Mike Guerra, President & CEO of California Life Sciences Association. "Our new data shows that, if enacted, the foreign reference pricing provisions in H.R. 3 would have a catastrophic impact on patient choice and access to medicines and would handicap the development of new treatments for unmet medical needs."
"And unlike other proposals, the Lower Costs, More Cures Act draws on ideas that have bipartisan and bicameral support," McCarthy said.
"By contrast, Speaker Pelosi's partisan plan, H.R. 3, would make our broken healthcare system worse by slashing the number of new drugs available to consumers. It could kill upwards of 100 new cures in the first ten years, according to recent reports."
A poll by the Kaiser Family Foundation found an overwhelming majority of Americans favor government action to restrain prescription drug prices. "Eighty-two percent of those polled said they want Medicare to negotiate prices with the companies, which Congress does not allow. Seventy-eight percent favored limiting the amount companies can charge for high-cost drugs, such as those that fight cancer or hepatitis, according to the poll. And more than two-thirds want to let Americans buy drugs imported from Canada. Support is strong no matter the political party."
McCarthy added, "The best way to lower costs is certainly not to lose cures. Even the loss of one potential cure is one too many."
Latest posts by Katy Grimes
(see all)