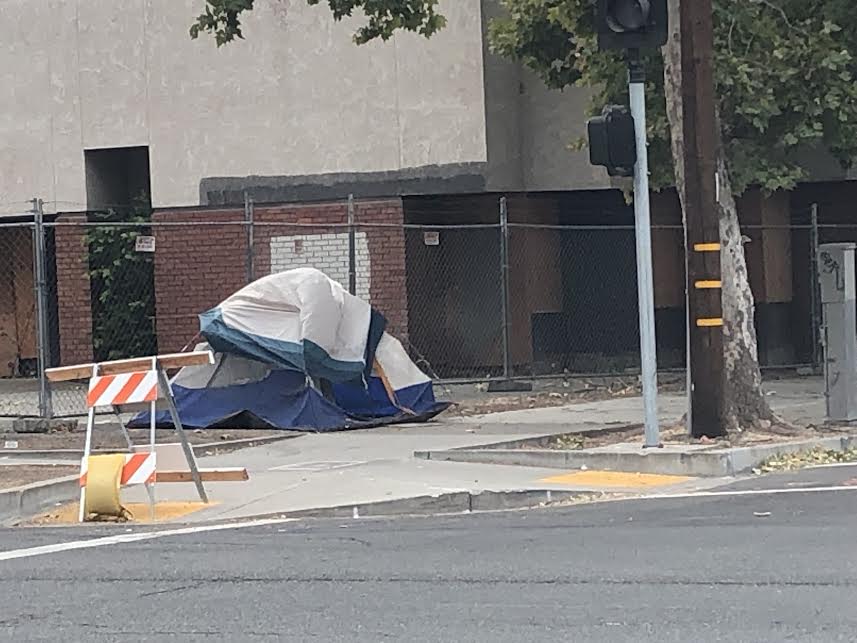 Sacramento Has 11,000 Homeless; City 'Outreach Effort' Moves 26 'Guests' into Navigation Center
The City's sensitively worded article touts the success as 'making a difference'
By Katy Grimes, October 15, 2021 9:37 am
Sacramento's new homeless shelter has moved 26 transients off the street. Sacramento has 11,000 homeless transients, and increasing commensurate crime rates.
The City's sensitively worded article touts the success as "making a difference":
"Sacramento's newest homeless shelter is now providing safety, security and sanitation to approximately 30 people who had been living in tents nearby.
The X Street Navigation Center, located near Broadway and Alhambra Boulevard, officially opened to guests on Sept. 21. Since then, it has steadily been increasing its number of guests."
"As a community, we are making an immediate difference," said Vice Mayor Jay Schenirer, who was a driving force behind the center. "First and foremost, we're making a difference in the lives of unhoused individuals by providing shelter and wrap-around services. Second, we hope to see a visible difference in neighborhoods who have patiently waited for meaningful shelter options – and are directly impacted by trash and vandalism."
"Trash and vandalism?" How about rat-infested camps and violent confrontations with taxpaying residents of the neighborhoods in which the city has placed the homeless tent camps?
Treating the drug-addicted homeless transients as if they are patrons at the Ritz Carlton, the city refers to them as "guests," never acknowledging how violent and dangerous many of these "guests" are, or that they are meth and heroin addicts.
"Mayor Darrell Steinberg applauded the DCR staff and said he hoped its success could be replicated to help people experiencing homelessness while at the same time responding to neighborhood concerns about the effects of unsheltered homelessness."
"People experiencing homelessness" is supposed to soften the fact that many of the city's homeless transients were let out of prison and jail early, and are violent drug addicts. The police reports prove this.
The Department of Community Response was not even up and running September 3rd when a "homeless" transient guy out on the streets despite his recent violation of parole, was recently arrested for raping and murdering Sacramento resident Kate Tibbitts in the Land Park neighborhood, killing her dogs and setting her house on fire, as the Globe reported.
"When we have open shelter spaces to work with, we can help people get off the streets and into a much better situation," said Bridgette Dean, director of the Department of Community Response. "Safe Ground and the X Street Center aren't meant to be permanent housing, but they do give us low-barrier options for people who are currently living with no support at all. And the services they receive help them move toward permanent housing."
Mayor Steinberg called for sweeping changes to the Sacramento Police Department, but says it is not to "defund" the police. He called for changing police officer's duties so "they would no longer respond to calls that don't include a crime."
This resulted in the city of Sacramento directing the police department to stop responding to all transient-related calls, unless it's a "violent in progress." Instead, residents of the community are directed to file online police reports, call 311 which is months behind, or the Department of Community Response, which appears to be solely focused on finding "people experiencing homelessness" and "guests" shelter.
Sacramento City Manager Howard Chan proposed adding new police positions to the city budget, but Mayor Steinberg urged the City Council to reject the proposal.
And now the "guests" are lining up for the new shelter. Oh wait – 10,974 are not lining up, and instead are still living in tents on city streets, residential neighborhoods and city parks, terrorizing residents and business owners.
Latest posts by Katy Grimes
(see all)