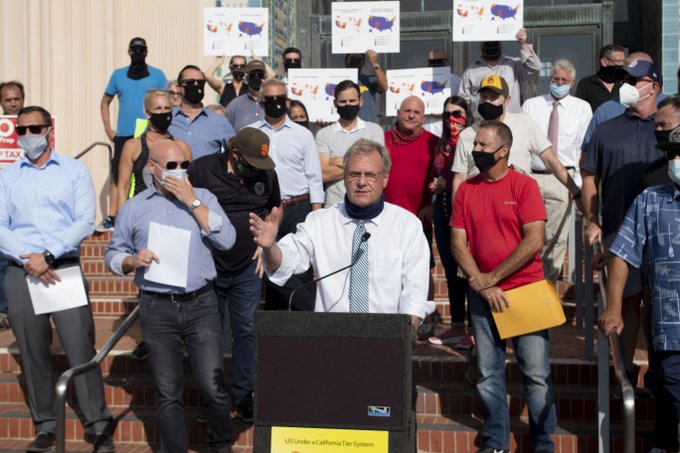 San Diego County Small Businesses Leaders, Owners Rally for Re-Opening
'We Mean Business Coalition' is pushing SD County to ignore state orders, legally challenge state to reopen
By Evan Symon, September 22, 2020 2:44 am
On Monday, a group of local businesses in San Diego rallied outside the County Administration Building, urging the San Diego County Board of Supervisors to stop the state from instituting measures from the purple tier, the strictest reopening level in California, and legally block the state to allow San Diego County to take control of reopening itself.
A possible purple tier move for San Diego County
San Diego County has seen higher COVID-19 positive test rates in recent weeks, with many local leaders and business owners fearful that a move to the purple tier will mean a return of mass business closures. San Diego County has seen rates near and above 7 out of 100,000 new COVID-19 cases per day in recent days – one of the two thresholds for entering the purple tier.
San Diego County has 3.3 million residents, and 760 deaths attributable to coronavirus.
With San Diego County likely to go on the purple tier this week, many local small businesses joined together to form the "We Mean Business" Coalition and rallied to encourage the Board of Supervisors to take action and point out the flaws in the states reopening plan.
"We believe that the Governor's newest color-coded metrics are flawed," said the rally organizers in a statement. "There is currently no real end to the lockdown because it was not designed in such a way it can be reasonably ended. We support our County leaders taking control and creating a plan that works for San Diego. We are committed to using safety measures that are prescribed by our County Health Advisors and elected officials."
Many local businesses leaders and owners attending agreed with the goals of the rally.
"I'm at 10% capacity as is," SD County gym owner Ryan Shaw said to the Globe. "If we go to this new level, that's gone. I'm done. A lot of business owners are done for. Right now I'm open just enough to keep on the lights."
"We should be looking at the overall positivity rates for reopening, which is a threshold on the tier."
Total positivity rates have been steadily below the 8% purple tier threshold in San Diego County for the last several weeks, on par with the overall state rate dropping, leading many, such as Shaw, to point out that San Diego County is still doing well enough to keep out of the purple tier.
"But no. Sacramento doesn't understand about the more varied dynamics of larger counties in SoCal," continued Shaw. But they won't listen to us and insist one a 'one size fits all' plan. The state is failing me. I'm doing all the right precautions, sacrificed a lot to stay open and keep people safe, and now they're on the verge of saying 'You're closed.'"
"This is why we're at the rally today. Counties should be making these calls, not Sacramento. Big chains might survive, but smaller places like mine are just going to annihilated. And the state just doesn't care."
"Do you see our frustration here?"
Monday's rally in San Diego
The "We Mean Business Coalition" has many prominent backers, with speakers on Monday including SD County Board of Supervisors Vice President Jim Desmond and CEO of the San Diego Air and Space Museum Jim Kidrick.
"I stand with all those business owners who are barely hanging on," said Supervisor Desmond on Monday. "I'm listening and I'm going to continue to fight for you!"
Today, I stood alongside business owners who are at their wits end. They have poured their life savings into their businesses while trying to provide for their families and employees, only for the government to wipe it out. Open our businesses, protect our most vulnerable! pic.twitter.com/xeNSu3fyxz

— Supervisor Jim Desmond (@jim_desmond) September 22, 2020
Desmond, who has been attempting to give local businesses the power to ignore state orders to close and set capacity limits in exchange for having all patrons wear masks, is expected to attempt similar motions before news on a tier move is given. Desmond has been the sole Supervisor to vote on the measure in previous meetings, but the rally happening shortly before the next Supervisors meeting has supporters hoping that they may change a few minds.
"A lot of the media likes to portray us as extremists or not caring about COVID-19 deaths," added Shaw. "But we do. We really do. But we are also looking at the economic fallout around it, which many have been ignoring. Or if you look at gyms, the welfare and health of others. Or restaurants, safely delivering food to those stuck inside because of COVID-19. And lots of other examples from small businesses.
"This is amazingly important, but a lot of people turn a blind eye to small business owners. We're here today to show that we need another way."
Most SD County supervisors against disobeying the state
Other San Diego County Supervisors have been against the County controlling reopening and going against state orders as it has been deemed a public health emergency and not for any ulterior motives or reasons.
"I know this is difficult," explained Supervisor Nathan Fletcher on Monday. "Being in small business is hard as it is, much less during a global pandemic. But simply telling you ignoring pubic health orders, or to blame anyone else, I would not be telling you the truth. It wouldn't be honest. My colleagues are exploiting your pain and your anger, and it's wrong."
"I know you want to feed your families and support your workers, but what is being sold to you as a solution will not help your situation. It will only make it worse."
The Supervisors did not act or press legal action on Monday, announcing they were waiting for new data from the state. New data is expected on Tuesday, as is the announcement if San Diego County will be moved from the Red tier to the Purple tier.

Latest posts by Evan Symon
(see all)