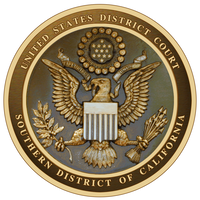 San Diego Pfizer Employee Sued for Allegedly Stealing COVID-19 Documents
U.S. District Court Judge places temporary restraining order on employee
By Evan Symon, November 27, 2021 2:30 am
A Pfizer employee in San Diego was sued in Federal District Court this week over allegedly stealing documents covering the COVID-19 vaccine and trying to go to a rival company with them.
Chun Xiao Li, the Associate Director for Clinical Statistics at Pfizer La Jolla, has been accused of taking more than 12,000 documents to personal Google Drive accounts via a company laptop. According to Pfizer V. Li, data on internal assessments and recommendations about the Pfizer/BioNTech vaccine, the companies dealing with European partners, medical research on the COVID-19 vaccine, as well as info on other non-COVID data such as monoclonal antibodies were in the accounts. Some info was also allegedly hidden by a "decoy" laptop to help hide what she was doing.
While Pfizer noted that Li had initially complied with the company over the documents, after it came out that she was soon leaving to take a job at Xencor, a Pfizer rival, the company grew more suspicious.
"Li has misled Pfizer about what she took, how she took it, when and why she did it, and where those files (and possibly others) can be found," said Pfizer in their suit.
In an NBC interview on Wednesday, Li defended herself from the accusations, noting that she did not mean to download the files, nor did the files contain medical research. However, she did say that she was taking a job with Xencor.
As a result of Pfizer's findings, and the suit, Judge Cathy Ann Bencivengo of the U.S. District Court for the Southern District of California granted part of a temporary restraining order against Li, blocking her from using any of Pfizer's trade secrets or information, not to destroy any files, not to destroy any devices with any pertinent info, and to keep all hard copies of needed information.
"This has been happening more and more, especially with drug companies that are making advances with COVID-19 research," explained Helen Charlton, a former corporate security officer for a pharmaceutical company, to the Globe on Friday. "A lot of employees are being enticed from these companies to others that are behind or are trying to get an edge with their own research."
"It's happened in the past, especially with painkillers and psoriasis medications, but COVID-19 is more urgent. Drug companies really want to bring back normalcy since that means a lot of potential profits, public goodwill, and some won't believe this last one, genuinely wanting to help people. This employees, if the allegations are true, went too far and tried to take information out, and that's a big no no."
The next preliminary injunction hearing is currently for December 9th, with the case itself likely to be heard early next year.

Latest posts by Evan Symon
(see all)