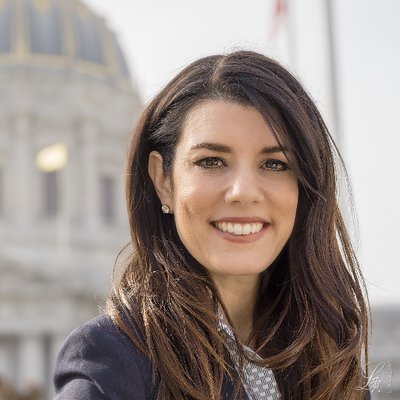 SF Supervisor Catherine Stefani Announces 2024 Run For Assembly
Current Assemblyman Phil Ting will be termed out
By Evan Symon, March 8, 2023 6:06 pm
San Francisco Supervisor Catherine Stefani announced her run for San Francisco and San Mateo County-spanning District 19, on Wednesday, becoming the first of likely many candidates in the race.
District 19 is currently served by Assemblyman Phil Ting (D-San Francisco), one of the most sought after open state Assembly districts heading into 2024. While Ting has won by landslides in most of his elections, he will be term-limited out in 2024, with his political future in question following an affair revealed in 2020 and Republicans managing to nearly  get to 25% of the vote the first time in decades in the area as a result. With Ting out, many candidates have been rumored to try and grab the rare open San Francisco-area seat, similar to what has happened in the last few months in the California Senate race and several House races. On Wednesday, Stefani became the first to enter the Assembly race.
Stefani, who is also the cousin of No Doubt singer Gwen Stefani, first served as a Deputy District Attorney in Contra Costa County following graduation from the University of the Pacific. From the early 2000's to 2016, Stefani became an aide for many prominent lawmakers, including then-San Jose Vice Mayor Cindy Chavez, then-Assemblyman Herb Wesson, and former San Francisco Supervisors Michela Alioto-Pier and Mark Farrell. In 2016, San Francisco Mayor Ed Lee appointed Stefani as the San Francisco County Clerk. She held this position for two years until January 2018 when she was selected to take over Farrell's Assembly District following his elevation to Mayor following the death of Lee. That November she was formally elected in.
Stefani has had a very chaotic time as a Supervisor since being first sworn-in. She has battled scandals over alleged financial impropriety, contract mismanagement, and inappropriately applying for and accepting a Paycheck Protection Program loan from the Small Business Administration. She has steered far left on social issues, such as trying to declare the NRA as a terrorist organization, and helped rename Columbus Day in the city.
She has also been seen as fiscally conservative by many, with Stefani the lone dissenting voice against the first city budget passed after the Pandemic lockdown took place by calling it "fiscally irresponsible" and, as a landlord, voted against the eviction moratorium in the city. Even her transportation policy has been mixed, with Stefani putting in a new red light camera in her district while also opposing the expansion of bike infrastructure in the city.
Stefani announces run for Assembly
Despite such an odd record, Stefani announced on Wednesday that she would be running for the Assembly. In a Twitter announcement, she specifically highlighted her stance on firearms and her past a a prosecutor.
"As a former Prosecutor and a gun safety advocate, I'll continue to take on gun manufacturers to reduce gun violence," said Stefani. "As the daughter of a nurse and a union activist, I'll fight to protect health services and the frontline workers who deliver them. And as a mom, I want safer neighborhoods, good public schools and better opportunities for our kids.
In a tweet made later on Wednesday, she added that "I'm running for State Assembly because it's time we fix California. I'm a mom, I'm a passionate gun safety advocate, I'm not afraid to tackle big problems — and I will never give up."
I'm running for State Assembly because it's time we fix California. I'm a mom, I'm a passionate gun safety advocate, I'm not afraid to tackle big problems — and I will never give up.https://t.co/NW56Jht440 pic.twitter.com/IaZYXShl3p

— Catherine Stefani (@Stefani4CA) March 8, 2023
Experts noted on Wednesday that her entrance into the race could easily be challenged by other prominent Democrats, as her past scandals and moratorium vote would likely hurt her in the primary, especially against fellow Democrats.
"This is one of the two San Francisco Assembly seats, so just like anything in San Francisco, it is going to be fought over tooth and nail," Bay Area pollster Erica Chau told the Globe Wednesday. "Stefani has a good reputation, but like you pointed out, there are many flaws there. A lot of voters likely won't forgive her for that, or would be less inclined to vote for her. And you can't forget that a lot of voters see her more as someone who got the job rather than earned it, even though she has been elected in on her own merit. She just has that odd reputation on her shoulders, and what she has done for the city may not be enough should other candidates come in who have less baggage."
Other candidates for the District are expected to declare their intent to run soon.

Latest posts by Evan Symon
(see all)