The Great California Mask Off: 'Let Kids Breathe' Rallies Across California
Masks and vaccine passports becoming very unpopular in California
By Katy Grimes, May 13, 2021 11:27 am
The Informed Parents of California are hosting the first "Mask Off" and "Let Kids Breathe" Sit Out and Zoom Out rally Monday May 17th in Orange County, together with twenty other locations across the state.
They point out that under California Education Code 49005.8 (3), it is illegal to restrain or impair a pupils' respiratory airway and/or breathing capacity.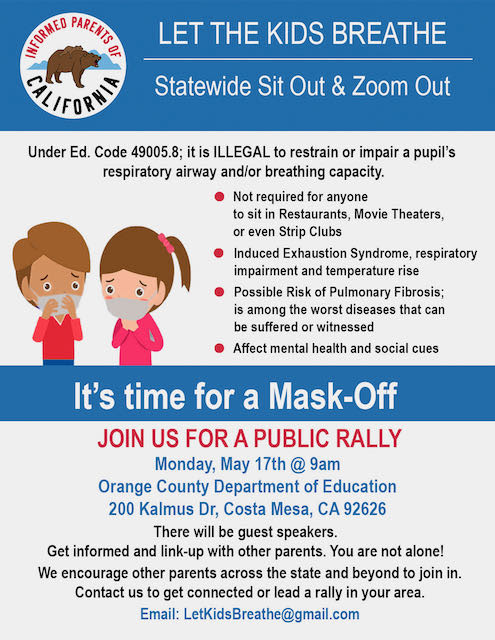 Many now conclude that masking children inside or outside is absurd and cruel as the data has consistently shown children are not only at a much lower risk of falling ill to COVID than the elderly, the obese, diabetics, and those with underlying health issues, several studies have shown children are not the spreaders of the coronavirus. It's also quite difficult to find documented cases of people catching COVID-19 outside.
The Globe recently reported on this:
Harvard Medical School Professor Martin Kulldorff, a biostatistician, and epidemiologist, and Dr. Jay Bhattacharya, a physician, economist and professor at Stanford Medical School, said in a recent Wall Street Journal op ed, "The young are at low risk, and children—for whom no vaccine has been approved anyway—are at far less risk of death than from the flu. If authorities mandate vaccination of those who don't need it, the public will start questioning vaccines in general."
Orange County has been in the news recently, as Dr. Clayton Chau, director of the Orange County Health Care Agency and acting county health officer recently proposed a pilot program for "vaccine passports" in the county – a "show-me-your-papers" or "digital passport" program to provide COVID vaccination evidence, the Globe reported.
Orange County residents were so outraged, hundreds protested outside the Orange County Board of Supervisors meeting, and more than 700 signed up to speak in opposition to the proposed vaccine passport. Informed Parents of California also opposed this plan.
In April, the Globe reported Save Our Sonoma held a "PEACEFUL NO MASK MARCH" in Sonoma advocating for reopening the county and its schools.
A movement is definitely afoot.
For more information and/or to host a rally, send an email to LetKidsBreathe@gmail.com.
Other Scheduled Events 
Shasta County Office of Education
Los Angeles County Office of Education
Hemet Unified School District Office
Fresno County Office of Education
Fresno County Office of Education
Orange County Department of Education
Los Alamitos Unified School District
San Joaquin County Office of Education
Tehachapi Unified School District
La Cañada Unified School District
Ventura County Office of Education
Chino Valley Unified School District
Kern County Superintendent of Schools
Ramona Unified school district
Nevada Department of Education
San Luis Obispo Superior Court
El Dorado County Public Health Division
Corona Norco Unified School District
San Bernardino County Board of Education
Hollis M. Stewart Park
Latest posts by Katy Grimes
(see all)