Pastor Counsels Roseville Kids on Sexual Identity & Gender Without Parents' Approval
'I call Child Protective Services when parents misgender their kids'
By Katy Grimes, March 20, 2023 4:01 pm
Earlier this month the Globe reported on a "church" group applying for a permit to use Roseville High School for an upcoming meeting, which turned out to actually be a Drag Show. The "Landing Spot" claimed to be a church group, and applied for a permit to use the school for an upcoming "Church Fundraiser."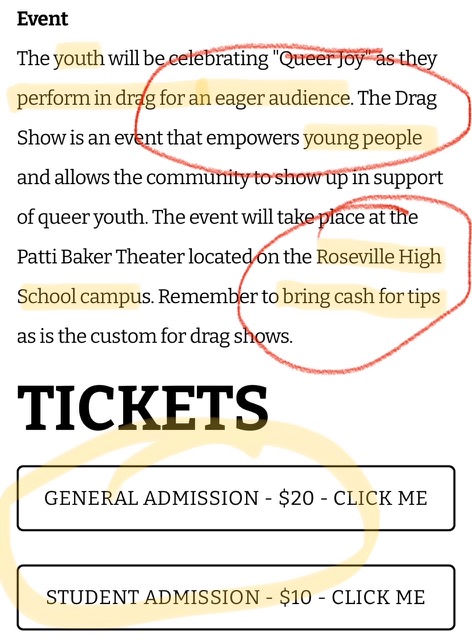 The "Landing Spot" is listed as one of the ministries under the umbrella of the Loomis Basin Congregational United Church of Christ (LBCUCC), "a progressive Christian church serving Placer County."
RJUHSD parents contacted the school board, which immediately went to the district superintendent exposing the group cloaked as a "church" event, and said that because of the direct appeal to the students, the group needs to be banned from the school grounds.
"This is adult entertainment," a mom said. "These are kids. And they lied about being a church group having a church event."
The Landing Spot announced on its Facebook page the same day our article was published that they have cancelled the Drag Show for this year.
However, the Landing Spot is apparently as busy as ever. If you recognize the name the "Landing Spot," besides recent Globe coverage, Project Veritas just dropped a new video featuring the Landing Spot's leader, Pastor Casey Tinnin.
Pastor Casey Tinnin, also known as The Queerly Faithful Pastor, says in his bio, "For anyone who does not know me I am a Preacher, protester, and (some would say) 'everybody's pastor.' I love to hike, talk theology, politics, and sex."
The problem is, parents say "everybody's pastor" is talking graphic sex with their kids, and turning parents in to Child Protective Services when they object.
And now, parents and members of the community want to know, who at the Roseville school district made the decision to use the Landing Spot as a counseling referral outside of the official school district wellness centers.
Oddly, on the Landing Spot webpage it says it is "non-religious" support group for LGBTQIA+ youth and their parents, on the Loomis Basin Congregational United Church of Christ website.
The Project Veritas video reveals that Pastor Tinnin clearly has an agenda that goes beyond inviting teens to youth groups and faith circles when he says, "I call CPS [Child Protective Services]" when parents misgender their kids. (Warning: Pastor Tinnin has a potty mouth)
BREAKING: Groomer Reverend @rev_tinnin Says it is 'Critical' to Discuss Sexual Identity & Gender with Children at a Young Age; Admits Calling Child Protective Services on Parents Who Misgender Their Children

"We're like this close to having parents freaking the f*ck out…When… https://t.co/zEt4JC79cA pic.twitter.com/ibh0mFoDmM

— Project Veritas (@Project_Veritas) March 19, 2023
The parents from the Globe's earlier article have stayed in touch, and told the Globe that even with Pastor Tinnin cancelling the annual Drag Queen Show, many of the high schools in the Roseville Joint Unified High School District (RJUHSD) have wellness centers that refer LGBTQIA students to the Landing Spot, without parents' knowledge or consent.
The Project Veritas video appears to confirm this when they talk to "Anna," a psychiatrist at the Roseville High School Wellness Center. She verified that they don't have to call parents. "That's a protection thing in California," Anna says. "We have some parents that are really upset about that," she says as she giggles and smiles.
"I and the older queer folk are mentoring these young adults," Pastor Casey Tinnin told Project Veritas.
He says parent get really angry, "When they [parents] know that their queer kid is coming to me for support, they're going to be upset," he said. "We're like this close to having parents freaking the f*ck out."
He said he went to the Gay Straight Alliance club meeting at a school and there were 50 kids attending. "Half of them are Mormon," he said. "Those parents don't want me talking – encouraging this lifestyle, right? Like, that's the thing."
So Pastor Tinnin says he has the kids tell parents that they are going to a youth group meeting, or to the library, where his Landing Spot team of over-18 college students meet them. He says his college students are running his monthly meetings now. "I literally have not been to one in two months, because they are killing it."
He then talks about high schools having safe spaces for kids under age 13, and calls them "the easiest low-hanging fruit."
Pastor Tinnin said it is critical to get them while they are young "because puberty is where we will see these kids really spin out because all of that dysphoria beginning to arrive."
"And so if we can start helping parents talk about 'how do you talk about puberty?' 'Have you considered blockers?' You know, all of these things, it is beneficial for them [children] in the long run."
He explained to Project Veritas how it has been possible to hide this information from parents, even claiming that he is "not lying" to them — "but it's not fully telling the truth" to the parents either.
"If we want these kids to thrive and survive, we must get to their parents first," Pastor Tinnin said.
RJUHSD parents told the Globe their students have been invited to Landing Spot "Ask me anything" sessions, where Christian students say their parents and church tell them masturbation is bad, a sin. Their kids told them Pastor Tinnin says that is wrong, and that they should explore all aspects of sexuality.
"This is hurting kids and ripping families apart," one mom told the Globe. "Particularly Christians and Mormons."
The parents said the Landing Spot is recruiting Christian and Mormon kids without their parents' knowledge.
The Globe issued a California Public Records request Monday to the Roseville Joint Unified High School District (RJUHSD), to Superintendent John Becker, Asst. Superintendent Dr. April Moore, Director Human Resources Rob Hasty, and to RJUHSD Board President Pete Constant asking for all communications, contracts, current and past and future, with The Landing Spot, Loomis Basin UCC Church, and Pastor Casey Tinnin, working with or for the RJUHSD.
We also asked if Pastor Tinnin and his adult college students who are "counseling" the RJUHSD students if they are licensed by the state.
We asked about the school district's security measures: "Did Pastor Casey go through the standard, required RJUHSD background check, fingerprinting, requirements that any of the Wellness Center staff (or volunteers) have gone through?"
And "Does Pastor Casey bring other Landing Spot or Loomis Basin UCC Church staff, volunteers or parishioners with him when he comes onto campus? What is the process for approval for them to enter campuses? Have they been background checked and fingerprinted?"
These are all requirements parent volunteers must go through in order to participate in classroom and activities on campus.
The parents say "Pastor Casey" as he is known, has been in their schools since about 2018. But they can't get any information from the schools or school district about if and how he was vetted, and who made the decision to use the Landing Spot as a counseling referral outside of the official school district wellness centers. What about liability?
Parents also want to know if Pastor Casey Tinnin is getting paid for his counseling services from the school district referrals, and if he is, is the money being collected under his Church?
Pastor Tinnin's Landing Spot webpage is devoid of any information, and the link to its Facebook page doesn't link – although the Landing Spot Facebook page is active.
Latest posts by Katy Grimes
(see all)