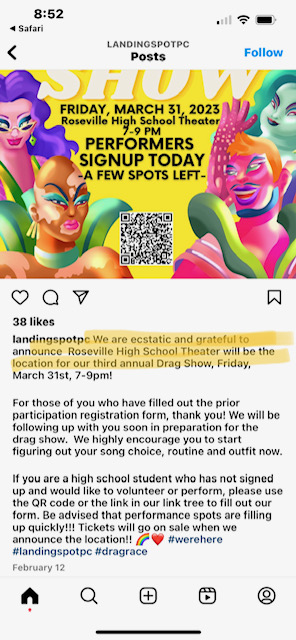 Roseville High School Parents Aghast at 'Church' Group Drag Queen Event
'Sexual exploitation is sexual exploitation'
By Katy Grimes, March 1, 2023 3:41 pm
It's not unusual for public schools to allow non-school meetings and activities on campus; Girl and Boy Scout meetings, church group meetings, musical events, sporting and athletic events — all kinds of community meetings.
But when a "church" group applying for a permit to use Roseville High School for an upcoming meeting turned out to be a Drag Show, parents weren't happy. At all.
Making the sketchy situation worse, the drag show organizers solicited kids to dance at the event and collect cash "tips."
Parents say this is sexual exploitation, and a violation of California law.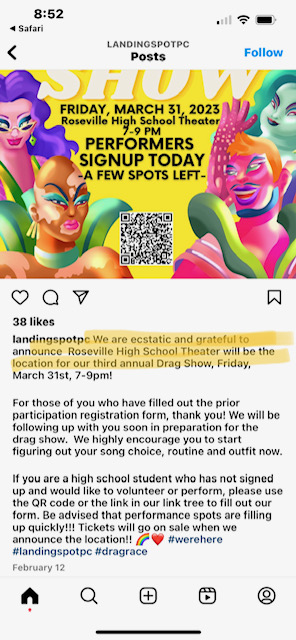 A group of Roseville High parents contacted the Globe and said "The Landing Spot," the group claiming to be a church group, applied for a permit to use the school for an upcoming "Church Fundraiser" during a week when school was out. Then the group sent out a Google permission form to students asking the students' age, including a parental signature for the event.
"It looked a lot like a form from the school," one parent said. And because the event was at the school, it initially fooled some parents. "It looked school-sanctioned."
But it also said on the form, "Bring $1 dollar bills to tip your favorite dancer," and "come in drag."
"These are minors!" another parent said.
Who exactly is The Landing Spot targeting?
The parents contacted the school board, which immediately went to the district superintendent exposing the group cloaked as a "church" event, and said that because of the direct appeal to the students, the group needs to be banned from the school grounds.
"This is adult entertainment," a mom said. "These are kids. And they lied about being a church group having a church event."
While most people do not care what adults do behind closed doors, there is no official Church of the Raging Drag Queen, so far as the Globe is aware. And if there is, no public school is obligated to offer its auditorium for events. More likely, a public school for children will refuse such an event.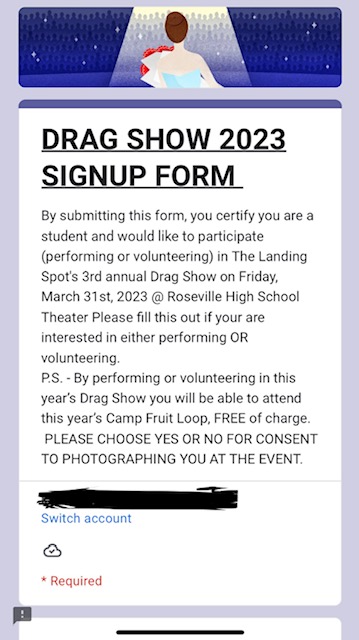 Schools are required by law to keep all students safe from harm. There are health and safety protocols which must be met, under state and federal law. In fact, "The California Constitution guarantees California children the right to attend public schools that are safe, secure, and peaceful," the California Department of Education states.
Notably, the parent said this "church" has a church facility and have done the last two drag show events at their own church facility, making this request to use the school particularly devious in the eyes of parents.
"The Landing Spot" Facebook page says it is a "support group for LGBTQ youth and their adult caregivers in Placer County."
It turns out The Landing Spot is affiliated with Loomis Basin Congregational United Church of Christ (LBCUCC), "a progressive Christian church serving Placer County."
"Our congregation is an open and affirming congregation," Loomis Basin Congregational United Church of Christ says. "Open and Affirming is an official designation within the United Church of Christ applied to churches who have formalized their commitment to welcoming members of the LGBTQ+ community."
However, on the Loomis Basin Congregational United Church of Christ website, The Landing Spot link states, "The Landing Spot is a non-religious support group for LGBTQIA+ youth and their parents in Placer County."
So when the The Landing Spot applied for a permit to use Roseville High School for a "church" event, it did so deviously.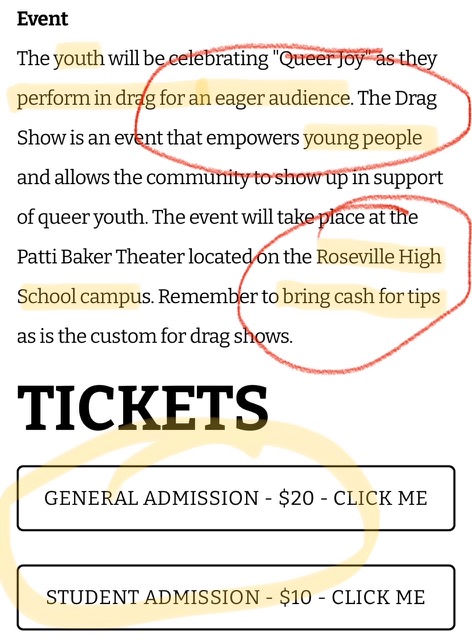 One parent immediately did some quick research and found The Landing Spot social media sites with the references to "cash tips," and other dubious LGBTQ references inappropriate for children and teens.
The parent said The Landing Spot has since cleaned up their social media pages and website to remove the references to "cash tips" as well as removing the google form soliciting minors to perform in the drag show. "Fortunately, I have screen shots of all that," a parent said.
Another parent said, "Imagine if your pastor planned to hold a fundraiser for the Teen Youth Group and solicited 14 year old girls to sing in a Burlesque show or 15 year old boys to dance in a 'Magic Mike' revue, the community would be up in arms in protest and law enforcement would be called. Why is that same care and concern not levied for our LGBTQ youth?"
Parents lauded the school board for its swift and decisive action with the superintendent. But where else is this happening? What if parents don't catch the event flyer or aren't as tuned-in to their schools?
Roseville parents say their kids were at risk of a "grooming" opportunity at the Drag Queen event held at the local high school.
A parent put it most succinctly: "At a minimum someone needs to report it to law enforcement.  And it doesn't have to be a mandated reporter from the district, but it should be now that they know.  Just because these kids are LGBTQIA+ doesn't mean they have different protections.  Sexual exploitation is sexual exploitation."
Since our first interview with the Roseville parents Tuesday February 28th, The Landing Spot announced on its Facebook page they have cancelled the Drag Show for this year. 
Latest posts by Katy Grimes
(see all)