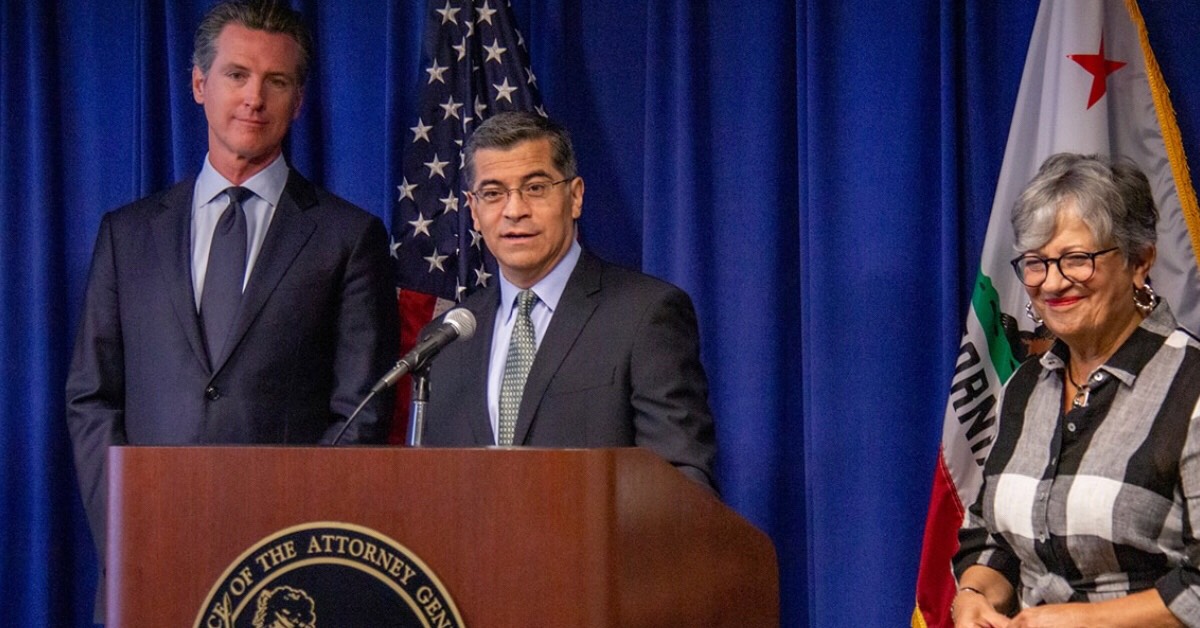 Attorney General Files Lawsuit Against Trump Administration After EPA Revokes The State's Vehicle Emissions Standards
"The Trump administration is right to end this 'one state dictates to everyone' car and truck policy"
By Michelle Mears, September 25, 2019 6:40 am
Attorney General Xavier Becerra has filed a lawsuit opposing President Donald Trump and his administration for revoking California's ability to set their own car emissions standards. Becerra is joined by Governor Gavin Newsom, the California Air Resources Board, 24 Attorneys General, the City of Los Angeles and New York in the lawsuit against the Highway Traffic Safety Administration.
California has been receiving waivers for the past 50 years from the Environmental Protection Agency to set their own vehicle emission standards, until last week.  Trump now wants California to follow the federal emission standards already set in place. The last waiver for California was given in 2013 under the California Advanced Clean Car Standards which was designed to reduce greenhouse gas emissions and Zero Emission Vehicle standards. 
"We're suing the Trump Administration over its attempt to trample California's authority to maintain Clean Car Standards. We can't afford to retreat in our battle against climate change," said Becerra. This marks Becerra's 60th lawsuit against the Trump Administration.
But the Trump Administration is claiming it is California who is trampling on the nation's Federal emission standards and automakers ability to produce safe, cost efficient vehicles.
Policy Analyst in the Government Relations Department from the Heartland Institute, Tim Benson said, "This move by the Trump administration just ensures that the climate zealots in the California legislatures don't get to dictate policy to rest of the country."
Becerra has been posting memes on his Facebook page stating the administration is pushing back EPA standards.
"We can't afford to let President Trump backslide and take us back to the days of dirty, toxic air," wrote Becerra with a photo of a man wearing a gas mask.
H. Sterling Burnett, PH.D. as a senior fellow on environmental policy with the Heartland Institute and managing editor of Environment and Climate News told the California Globe, "Trump is not rescinding but freezing the emissions standards that we have today set by the federal government."
Burnett said it was disingenuous for Becerra to instill fear in the public.
"No one is going to be wearing gas masks," said Burnett.  "Trumps' refusal to issue California another waiver is expected to be fought in courts for years eventually landing in the Supreme Court."
The regulations set by California require automakers to build vehicles that have an average of 50 miles per gallon by 2025. Under the federal standards the mileage is targeted at 37 miles per gallon for cars built after 2020. California is forcing the automakers to choose between making cars that fit California standards or creating two lines of vehicles, one for California and one for the rest of the nation.
"The 1975 Energy Policy and Conservation Act specifically preempts states from adopting or enforcing laws or regulations 'related to fuel economy standards,' which California was allowed to do through its waiver. The Trump administration is right to end this 'one state dictates to everyone' car and truck policy," said Burnett.
A  program called the "corporate average fuel economy" (CAFE), has been around for 30 years. It mandates to automotive manufacturers how efficiently their engines must run. CAFE was first introduced  in direct response to the 1973 Arab oil embargo. The intent was to improve the fuel economy of only cars in the United States to reduce the need for fuel from Middle East. This is what fueled the influx of SUV's in the 90s' because SUV's were categorized as light trucks not passenger cars.
Safety is another matter not mentioned by  Becerra and others fighting  for more fuel efficient cars. In order to meet the fuel efficient standards set by California the vehicles must be made lighter. However, there is a correlation between lighter cars and higher traffic fatalities, according to a 2003 National Highway Traffic Safety Administration (NHTSA) report. The NHTSA concluded that traffic fatalities tend to go up as car weights go down. 
The lighter weight of cars also can raise the price of vehicles. Becerra cites in his press release that vehicles that are more fuel efficient will save consumers money but fails to mention the state's emission standards can inflate the sticker price at the dealership.
Burnett said California essentially could control the selection of vehicles the average consumer can afford across the nation.
Edmunds reported that cars  are getting lighter but that changes once they install the safety features. Air bags, and roll over cages for example, are adding weight to the vehicles, and consumers continue to ask for more features to be added in their vehicles. From 1991 to 2011 Edmunds reported the average vehicle 1,000 pounds heavier, a reversal of the intended goal in fuel efficiency.
Safety was at the forefront of Trumps decision rejecting California's emission waiver. He posted on Twitter , "The Trump Administration is revoking California's Federal Waiver on emissions in order to produce far less expensive cars for the consumer, while at the same time making the cars substantially SAFER. This will lead to more production because of this pricing and safety……"
The Trump Administration is revoking California's Federal Waiver on emissions in order to produce far less expensive cars for the consumer, while at the same time making the cars substantially SAFER. This will lead to more production because of this pricing and safety……

— Donald J. Trump (@realDonaldTrump) September 18, 2019
Vice Chairman of Edmunds.com Jeremy Anwyl wrote, "The point is that when we want higher mileage and fewer fatalities and injuries, we are pulling in opposite directions. That's something we should think through."
Latest posts by Michelle Mears
(see all)